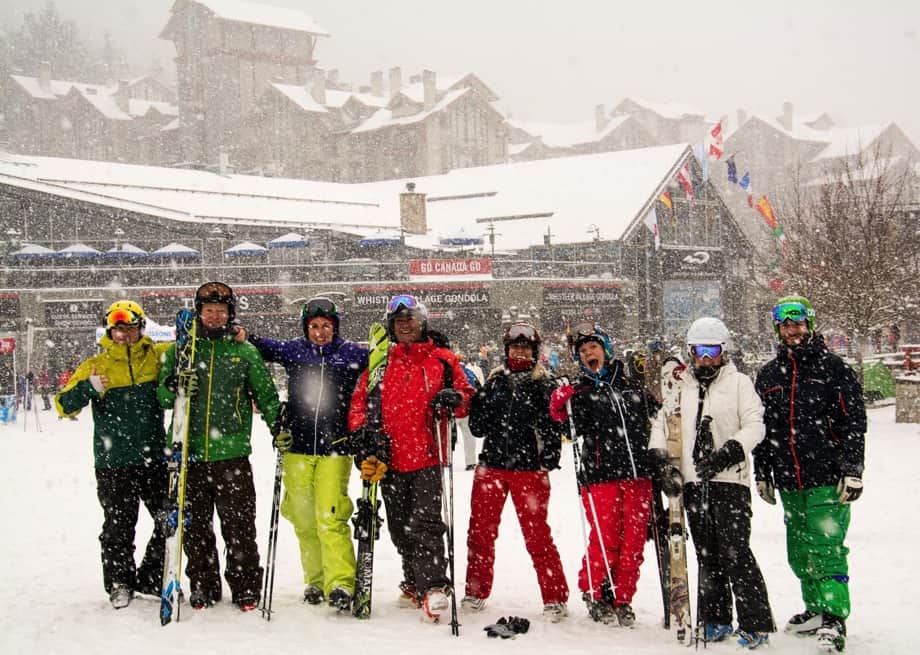 As we edge closer to the spring stretch of the ski season, it's the last chance saloon if you didn't make it out to the mountains yet this year. If you haven't, I have to wonder – what's the hold up?
Few things can be more exciting than the prospect of leaving it all behind, jetting off to Canada to tackle the best runs in Whistler Blackcomb… or indeed any resort. Skiing or snowboarding is ideal at this time of year, and provides a great escape and way to free yourself from the UK's dull, rainy weather.
But before you grab your passport and head for the nearest airport, there's a couple of things you should bear in mind…
Preparation Is Key to a Successful Ski Holiday
Unlike a city break, which can be booked spontaneously and requires little planning, a ski trip does require quite a bit of forward thinking. For instance, what are you going to take with you? A simple change of clothes and a passport may be enough for a short break in Paris, but the same cannot be said for a trip to a ski resort.
Instead, your packing list could include skis, poles, clothing, and a whole host of other equipment. Luckily, today I've put together a handy article to guide you through some of the key issues you might face – whether to rent or buy your ski equipment, what other bits to pack, and everything in between – to ensure you're completely prepared and ready to tackle the slopes as soon as you arrive.
Firstly, Let's Consider Your Equipment
One of the most important decisions when it comes to planning a skiing or snowboarding trip abroad is whether you're going to hire equipment when you arrive, or buy it beforehand.
Unless you're a Russian oligarch with bags of money, it's not a clear-cut decision, either. Consider the following…
Should You Buy or Rent Ski Boots?
Let's start with ski boots. As with all types of footwear, ski boots must be a perfect fit in order to ensure comfort on the slopes. The last thing you want is to have boots that are painfully tight, or ones that are at risk of falling off halfway down the epic Musical Bumps backcountry trail featured in this post (check out the awesome video of it below).
[youtube id="96CObjeVShY" mode="normal" align="center"]
To be put it another way: if you don't have ski boots that are fitted properly by a master bootfitter, you won't be able to control your skis.
With this in mind, my advice to skier who meets the minimum ability standards required to take part in an Alltracks course, and really to anyone who's progressed beyond their first week or two of skiing, is to invest in your own pair of properly-fitted boots.
If the job's done properly, they'll make a huge difference to how quickly you improve. If you're serious about improving your skiing long-term, the cost of getting your own boots custom fitted shouldn't be a deterrent.
Should You Buy or Rent Skis?
The case is different for the skis themselves. Again, purchasing your own isn't going to be cheap. And that's without taking into consideration the additional costs of flying the equipment over (not to mention the very real risk of damaged skis), which can often exceed the price of hiring your own equipment.
As noted in this great article from popularmechanics.com, once upon a time ski rental was merely the domain of the beginner. The gear served up for hire in local shops was usually out-of-date and beaten up by a succession of holidaymakers who didn't know any better.
But as the pace of technological innovation has sped up, so has the rate at which rental shops upgrade their inventory to stay current. As a result, better rentals together with the soaring cost of flying with skis mean renting skis in resort is actually very popular and can be quite worthwhile.
The decision for you should really come down to:
a) Can you really afford to buy and travel with a brand-new pair of skis?
b) How quickly are you going to progress beyond the ability range that the skis are designed for?
If you're only doing one or two weeks a year, you're probably going to have to keep hold of your skis for at least a decade to recuperate the initial costs – by which time they'll be a relic of technology from ten years ago. Whereas hire equipment will be modern and well-serviced every time you go.
If you ask me, I think the answer is: rent until you're at an advanced level, unless you're planning a gap year ski season or some other extended period of regular skiing.
What Else Should You Pack?
With skis, boots and poles sorted – either packed up or pre-booked with a hire shop in advance – you'll now need to turn your thoughts to everything else needed to brave hurtling down a icy hill each day.
Start with what you're going to wear, your ski clothing. Plenty of pants and some quality socks (buy some that are designed for skiing!) should be first into the suitcase.
Just as important is your base layer – a long-sleeve top and long johns made from polyester, polypropylene, wool or bamboo that is engineered to wick sweat away from your skin. This is essential, and the key to keeping you warm on the hill all day. You'll find an in-depth rant on the issue in this post I wrote earlier in the season about ski clothing.
Only then should you consider a breathable midlayer or two, which can be a technical insulated jacket if you want, but can also be a couple of fleeces or woolly jumpers if your base layer is a good one and your outer layer is waterproof. And as long as the weather's not freezing, obviously!
Your outer layer should be a waterproof, windproof, breathable jacket and trousers. Look for GORE-TEX or similarly high-tech fabrics, rather than the brand name. Again, plenty more on this can be found in 'Here's How You Can Get It Right With Ski & Snowboard Clothing This Winter'.
As for a headwear, well… unless you're an idiot, you'll buy a helmet. It's essential, as this video from the BBC shows.
And Then There's Everything Else…
With the essentials sorted, there are countless other bits and pieces that will prove seriously handy and you'll want to bring with you.
Ski goggles
Sunglasses
Beanie hat (for the evenings, not on the slopes!)
Camera (for taking great skiing photos)
Travel wash
Regular shoes or boots with good grip (for walking around the resort)
High-SPF sunscreen
Lip balm (perhaps also with SPF)
Energy or chocolate bars
Plug adapters
Hand warmers (pocket-sized with charcoal sticks are a good long-lasting, refillable solution)
Hip flask (filled with water, not alcohol, and kept in an inside pocket to prevent water from freezing)
Of course, these lists are in addition to the multitude of other equipment – including phone chargers, toiletries, swimming gear and, of course, your passport – that are vital for any trip abroad, not just a skiing one.
A really handy resource for remembering all these smaller items is this ski trip packing list on Welove2ski.com.
What Do You Reckon?
I hope you've found the advice contained in this post useful. The list is by no means exhaustive, and there'll no doubt be countless items that you rely on that I've missed out, but it should give some rough guidelines on what to take next time you're prepping your gear for a ski trip.
What do you think? Did I miss anything out? And was I on point about the rental/buying dilemma? I'm keen to hear your thoughts so please leave a comment below.