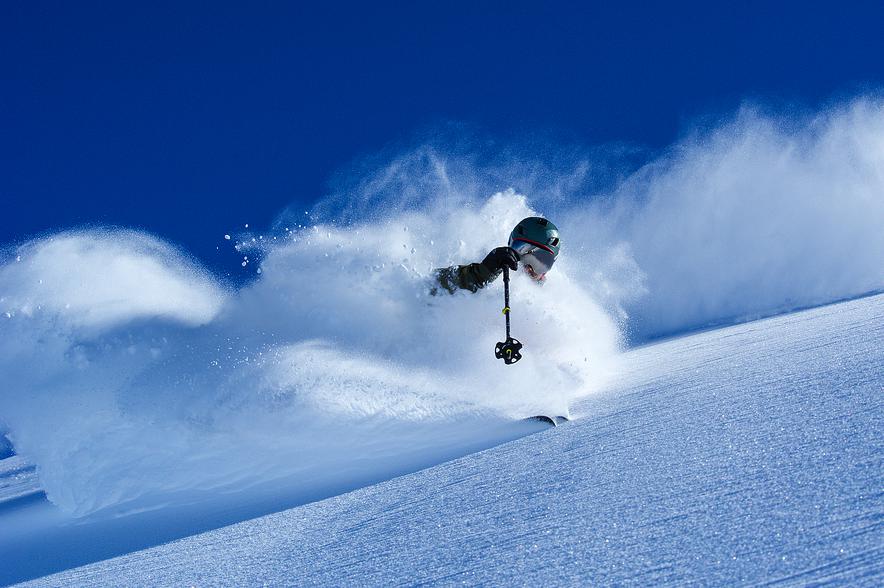 The Best Ski clothing for Canada
In the mountains, having comfortable clothes that protect you from the elements is fundamentally important. As the Norwegians (and possibly all skiers) say:
'There's no such thing as bad weather, just bad clothes.'
Having the right type of clothing goes a long way in helping you have a great day on the slopes. This is even more important in the backcountry when you're further away from shelter and support.
Today I'll concentrate on providing you with some fundamental advice on ski clothing for resort skiing, as well as snowboard clothes, with another post about backcountry equipment to come later in the season.
Prepare For Extremes (And Spend Wisely)
Many resorts – including Whistler Blackcomb where ALLTRACKS is based – have huge ski areas so temperature and weather conditions can vary greatly from the village to the highest, most exposed parts of the mountain.
So it's wise to be prepared to encounter a variety of temperatures, and to always bear in mind that the weather in the mountains is changeable. Be warm and comfortable so you can concentrate on enjoying and improving your skiing or snowboarding.
If you're going on a ski course, or anything similar where you'll be spending an extended time in the mountains, my advice is not to cut corners on the quality of clothing you buy. Yes, it can be a significant cost if you need everything. But remember: you're going to be using every day, and quality gear should last a long time if you do it right – more on that in a moment.
Start With The Base Layer
First things first, though. If you do have to buy a whole outfit for the winter, or even if you're reviewing your current kit… start with a top quality base layer. It's a rookie error to go out and spend hundreds of pounds or dollars on a top-of-the-range ski jacket, and think that knackered old Rolling Stones tee in the bottom of your wardrobe will suffice as an undershirt.
Remember this: the point of your base layer isn't to keep you warm. It's to keep you dry. And in a sense, that's what keeps you warm – nothing will get you shivering more quickly than a sweat-drenched cotton t-shirt if the weather suddenly turns.
By comparison, a top and long johns made from polyester, polypropylene, wool or bamboo is highly unabsorbent, and is designed to wick sweat away from your skin.
If you're willing to spend a bit more (which I highly recommend), then a merino wool layer like the Arc'teryx Rho LTW, made of 95% New Zealand Merino Wool, is a great choice. Purists will argue it doesn't wick quite as well, but the fabric's natural ability to stay smelling fresh after a day (or more) of hard skiing will serve you well during a long season. In other words, you can wear it for several days without having to wash it.
The Secret To An All-Conditions Outfit? Layers
With your base layer sorted, the next step is to build out your mountain wear with some suitable mid-layers. Dressing in layers is an effective way to regulate your temperature. Wear a rucksack and you'll easily be able to add layers when you're cold and lose some when it warms up.
In the backcountry, it's a no brainer: the weather is changeable, you're a long way from shelter, and you'll go from exerting a lot of energy when hiking to cooling off quickly when resting or going downhill.
Although you'll warm up and cool down throughout a day in a resort too, the changes are not quite so drastic.
I therefore think that an increasing number of people are deciding to eschew multi layering for the convenience of having a slightly warmer outer layer with only a few inner layers underneath. Ultimately it's your choice though, and comes down to what works for you and whether you run hot or cold.
A simple system that should work for most people is:
1. Base Layer: A moisture wicking thermal top and bottoms. Not cotton.

2. Mid Layer: A couple of fleeces, woollen jumpers, down- or synthetic-insulated jacket. Remove or add more depending on conditions or individual preference.

3. Outer Layer: Waterproof, windproof, breathable jacket and trousers.
By the way, the old adage about losing the majority of heat from your head is true, with the torso a close second. If you get it right with those (but a helmet, for crying out loud), you don't need to worry about your legs. The previously mentioned long johns and your ski pants will be more than enough unless you decide on a heli-skiing trip to Alaska.
Now You're Ready to Think About Jackets (And Pants)
Unless you're daft, you'll complete the look with a waterproof, windproof and breathable jacket and ski pants. It's the part of your outfit where it's easiest to blow a small fortune, so do yourself a favour and think carefully.
The secret is to consider fabrics (or 'technology') before anything else. By this I mean: is it made of GORE-TEX? And if not, what is it made of?
GORE-TEX is the most well-known and arguably the most effective technology for delivering waterproof and breathable material, but it's generally the most expensive too. Most top-end products utilise GORE-TEX, but many also have their own in-house technical materials for mid-range options which are usually effective enough for resort skiing (even if they're not quite as good as GORE-TEX).
Another material technology utilised by high-quality manufacturers like British brand RAB and many others is eVent, so keep any eye out for that.
Which Brands Should You Consider?
For some skiers, it's important to have the very latest high-performance equipment available. Previously-mentioned brands like Arc'teryx – who provide the uniforms that our team uses – and RAB certainly offer that.
However, it's not necessary to go more for the most expensive clothing. There are a number of excellent, sensibly-priced options out there.
The pick of the lot for me has always been Columbia, who offer a variety of different price levels and are widely available. The North Face is another good option with a fairly broad selection of clothing ranging for supremely high-quality items suitable for full-on mountain expeditions to perfectly serviceable mid-range options.
If you're coming on one of our courses, you'll be pleased to hear that there are Arc'teryx, North Face and Columbia stores in Whistler Village, so if you want to buy your gear when you get to the resort there's plenty of choice. We also provide a full kit list with recommendations, so you'll know exactly what you need to get and what you needn't bother with.
There are countless other good high-end and mid-range brands out there too, so these are really just a starting point of some of my favourites – not an exhaustive list.
Happy Shopping
Hopefully that gives you a solid grounding on some of the key things to consider before you make any purchases for the season ahead. What do you think the most important factors are for ski & snowboard clothes? If it's something I haven't mentioned, let me know in the comments.
Equally, if you have a question or two, just ask – I'd love to offer you some advice and help you with anything you're not sure about.