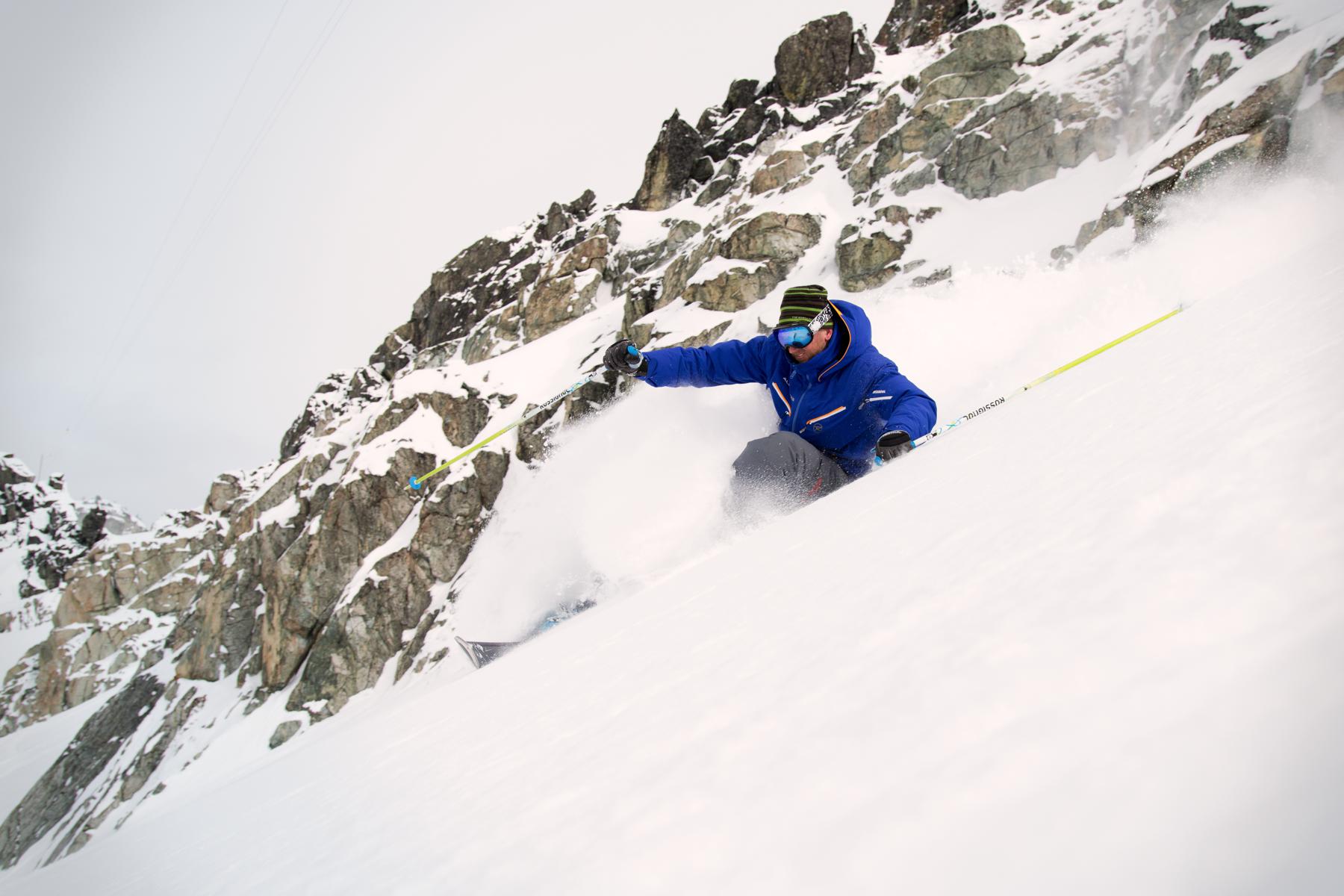 If you love skiing or snowboarding, or maybe both, you may have decided you want a career in the ski industry. But where do you begin? To help prepare you, today we're taking a look at a day in the life of a ski instructor, plus some insight into things like pay and career pathways, to give you an idea of what you need before you pack your bags and head for the mountains.
Skiing and snowboarding for fun is one thing, but teaching others all day every day is totally different, so as well as having a passion for skiing, you must also have the passion to share what you enjoy with others. Whilst highly-qualified, experienced ski instructors can earn a good salary, a career in the ski industry is usually chosen for the lifestyle and should only be taken by those who have a real love for the sport and mountain lifestyle.
What's a Typical Day as a Ski Instructor Like?
Your day will depend largely on who you are coaching. There is a big difference between teaching beginners and coaching advanced skiers to become even better. Some may be responsible for just children, others teach adult groups, but many have a go at everything. In a lot of ski schools, developing snowboard and ski instructors will be given a combination of lessons, and in your first season after achieving initial qualifications you'll often be responsible for beginner and kids' lessons almost exclusively. So if you're an advanced skier and are expecting your working day to involve racing down black runs with a small group of skiers, stop right there. BUT, this will come if you prove yourself reliable, talented and gain experience
You'll just have to make your days off like this count…
The more experienced you become, and the higher your level of qualifications, the more you will be able to pick and choose. It's worth noting, however, that teaching beginners can be extremely rewarding. Many students who've taken gap year ski instructor courses and then given beginners lessons have commented on how great it feels when you see someone who had never skied before master their first turns thanks to your instruction.
Teaching children to ski can also be a lot of fun. There tends to be fewer long-winded explanations of the ski techniques they should be using, as kids won't understand this. Kids ski lessons are more practical and involve lots of skiing, demonstrations and games.
When you have a group to teach on a ski week or longer, you really get to know each other as you have the same people each day, so you see them improve as the week progresses. I know this is something the ALLTRACKS coaches really value. They get to know you well and see your riding transform. Of course, if it's an adult group you're working with then there will often be a social side to enjoy with them in the evening too, when après-ski gets going!
Instructor Qualifications and What You Need
It's a given that once you become a professional instructor, there's a whole bunch of skills, tactics and techniques you'll need. That doesn't just mean having an excellent understanding of modern technique, either. You'll need to have great communication and motivation skills, as you will be teaching people of all ages and abilities.
But here's the thing: to start yourself on a career path and become instructor, you don't have to already be a pro. Not only are the ability standards required to join an instructor training programme more modest than many expect, but teaching techniques can be taught and developed too. There is an ability level that you should be at before embarking on instructor training, but you do not need to be the finished article. Instructors of all levels go on learning and developing throughout their career, and Whistler Blackcomb resort in partiucualar provides excellent on going development. As important as your skiing or snowboarding is a positive, enthusiastic and motivated outlook and the ability to work happily in a team environment. Having some good teaching or leadership experience in another field will also help.
In order to be able to work in a world-class ski resort like Whistler Blackcomb, you must have the right attributes. There are a wide variety of ski and snowboard instructor qualifications available with most principal skiing nations offering a series of levels. Particularly popular ones are the Canadian Ski Instructors Alliance (CSIA) & Canadian Association of Snowboard Instructors (CASI), British (BASI), French (ESF) and American (PSIA & AASI).
At Alltracks we concentrate on offering qualifications within the Canadian system. Not only is Canada one of the best places in the world to ski, but as the CSIA and CASI are internationally very well-respected, it's also a great place to train and work as a ski or snowboard instructor.
The CSIA has a certification system of four levels:
• Level 1 instructors are likely to teach beginners and children
• Level 2 allows you to teach up to intermediate parallel ski level.
• Level 3 allows you to teach those skiers of an advanced parallel level. On achieving level 3, you're also eligible for the International Ski Instructor's Association stamp (ISIA Stamp). The prerequisites, however, are that you have first aid and basic avalanche safety training.
• Level 4 is a senior certification. This grades you as an instructor of an expert level. It will be someone of this level that generally trains and certifies other instructors.
• The CSIA Snow Park Certification will allow you to teach freestyle and terrain park skills.
Once you get through the four instructor levels, you can also begin the examiner courses. Guy Hetherington, the ALLTRACKS head coach, is one of a handful of Level 4 Examiners in Canada.
Visas and Work Permits for Foreign Nationals in Canada
Those who are considering visiting Canada for ski and snowboard courses will need a visitor's visa. This is usually granted when you arrive in the country, for up to six months at a time, provided you don't intend to take on any work during your stay. It is your responsibility to ensure you have the visa necessary.
Those who are looking for a ski or snowboard instructor jobs in Canada will also need a work permit. Be aware that working visas are in high demand and often get booked well in advance. My advice is to apply as early as you can, as soon as the visas are released.
The best option in nearly all cases is to apply for a working holiday permit via the International Experience Canada (IEC) programme, which typically allows you to travel and work in Canada for up to one year, or two for some nationalities.
In some countries, you can make an IEC application via an independent organisation who charge an additional fee to help you with the application process. In the UK, try BUNAC, and in Ireland check out USIT.
Many other countries have similar ways to apply and we have had people from all over the world join our courses. Some other useful resources and information about working in Canada as a foreign national are available on this page of the Canadian Government website.
How Well Paid Are Ski Instructors?
Rates of pay will vary from one ski resort or school to another for ski and snowboard instructors. How much they pay you will depend on the experience and the level of certification you have achieved. In Canada, tipping instructors is a common thing and many ski instructors have been known to almost double their wages with the tips they receive on the slopes, especially in private lessons.
That said, at the start of your career you can expect to earn little more than the Canadian minimum wage of C$11 per hour (around £6). So if you have designs on being super rich, this probably isn't the career for you. Instead your earnings are offset by the numerous benefits of the lifestyle a career in the ski industry affords:
• Free lift pass for the season
• Skiing every day in some the most beautiful places in the world
• Free or cheap accommodation (some resorts provide this free)
• Discounts at the resort you are working in
• Getting paid for doing something you love
When you take these into consideration, the pros easily outweigh the cons; at least it should for those who are serious about it and have a real passion for skiing or snowboarding.
For those who really want to make a career in ski or snowboard instruction, you should aim to get the top level qualifications. To do this you should choose a training course that comes highly recommended with a good track record, at a resort with reliable conditions and a social environment that you enjoy.
You will need to be prepared to train hard and regard yourself as an athlete. Although instructors are generally sociable, fun loving people, you won't find the top professional ski and snowboard instructors in the bar partying every night; you're more likely to see them in the gym working on their flexibility, core strength and general skiing fitness.
High-level ski instructors are expected to be role models for others that are working their way up, and will also be seen ambassadors for the resort they are working in.
Tips for Would-Be Ski and Snowboard Instructors
Don't teach the lesson, teach the student. A good instructor will watch the student and adjust the teaching accordingly to help the student improve. Individual feedback will be given, even in group tuition, and the instructor should be versatile in their teaching.
Whilst you need to be qualified and hold the right levels of certification to be able to teach, time and again I've seen first-hand that the most sought after ski instructors are the ones that make the learners' lessons fun and their holiday memorable. So if one of your students wants to spend an hour chatting and drinking hot chocolate with you at the end of the day, go with it. It's the little extra attention that lots of people remember, and that will make them ask for you as their instructor next time.
Good ski instructors will check to ensure a student understands what is being taught. This is where great communication skills are needed. The best instructors will get the guest to reflect on how the lesson is progressing and ask them questions throughout. If any of the students are unsure, the instructor will rephrase and demonstrate before moving on.
Ski and snowboard courses can train you to achieve certain levels of ability, but they cannot teach you how to have a great personality. To do this job well you need to have great social skills and the ability to communicate with people of all ages and backgrounds.
Where Can You Learn to Become an Instructor?
Whistler Blackcomb in Canada is the place where all Alltracks courses take place. You'll find a combination of huge snowfall and terrain size here, and it offers some of the very best skiing and snowboarding anywhere.
Whatever direction you're going in, we'll have a course for you – from courses for those who are looking to start a career in skiing or snowboarding to those taking a gap year. We even have courses for individuals who just want to improve their off-piste technique, or enjoy the best snow the mountain has to offer.
Over to You
They say the people who love their job usually do very well at it. So if you have a real passion for skiing or snowboarding and prefer snow-topped mountains to mountains of paperwork, I hope this article has encouraged you to check out the courses we offer – full details of which are available here – and learn with the best at a fantastic ski resort.
What are the things holding you back from becoming a ski instructor? Or perhaps you've already started on your path towards a career in the industry? Get in touch to discuss….