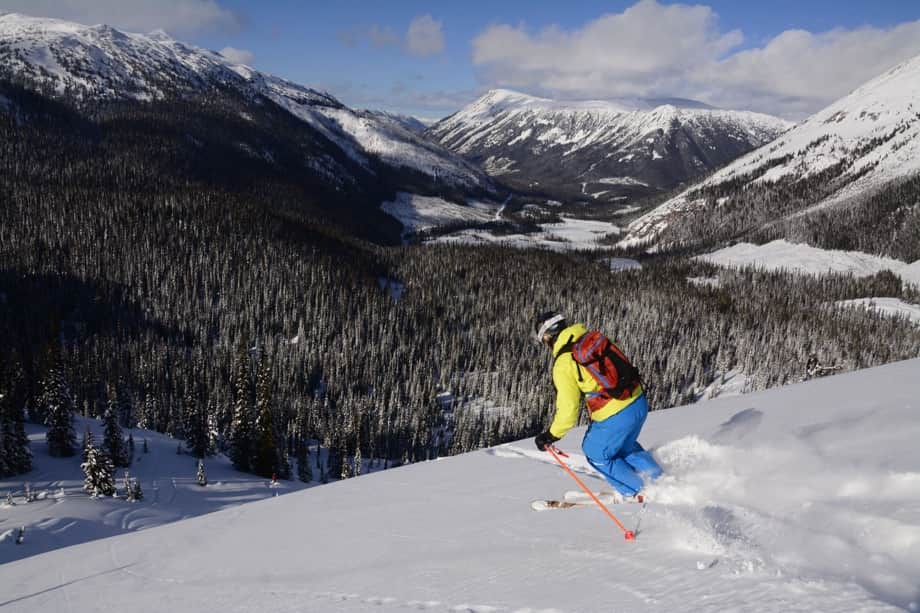 For many skiers and snowboarders the thrill of riding deep powder off-piste is the pinnacle of our sport. As you improve your technical skills, there is typically a strong desire to push beyond the groomed runs of a resort and enjoy all the mountains have to offer.
This is why we include Avalanche Skills Training on virtually every ALLTRACKS Whistler course, as it is important to develop your avalanche awareness as your ski or snowboard ability improves. Canada is fortunate to have the Canadian Avalanche Association (CAA) which, amongst other roles, offers an extremely well-thought-out structure of avalanche safety training for mountain users.
Here we provide an overview of both the Avalanche Skills Training Level 1 (AST1) and Level 2 (AST2) as these are the training programmes that we include as part of our courses. You can check which level of training is included in a particular course you are interested by selecting it from the upcoming courses page.
Avalanche Skills Training Level 1
The AST 1 is the introductory avalanche course, providing an entry-level decision making framework. No previous avalanche skills training is required. The course runs over two full days plus an evening classroom session.
The training ratio is eight students to one trainer during sessions on the mountain. The aim of the course is to teach students the following:
Understand the basics of avalanche formation and release
Identify avalanche terrain
Learn how to plan an off-piste trip
Use the AVALUATOR to help make decisions
Learn about avalanche ratings and how to find the resources to obtain them
Use appropriate backcountry travel techniques
Carry out companion rescue
Understand the limits of the training
Avalanche Skills Training Level 2
The AST 2 is the next step and provides an intermediate decision making framework. This is a four-day course with both theory and practical training involved. All mountain sessions involve use of ski touring or splitboarding equipment.
The training ratio is six students to one trainer during field sessions. The aim of the course is to teach the following:
Use the AVALUATOR to help decide whether additional planning is required
Learn about Avalanche Danger Ratings verification techniques for personal use on a local scale
Learn about the ATES model
Learn about route finding to manage risk when travelling
Learn about travel techniques appropriate to the avalanche conditions
Be able to carry out a companion rescue proficiently
Understand the limits of the training
For further information about AST training available in Whistler, please contact us or visit the Canadian Avalanche Association website www.avalanche.ca