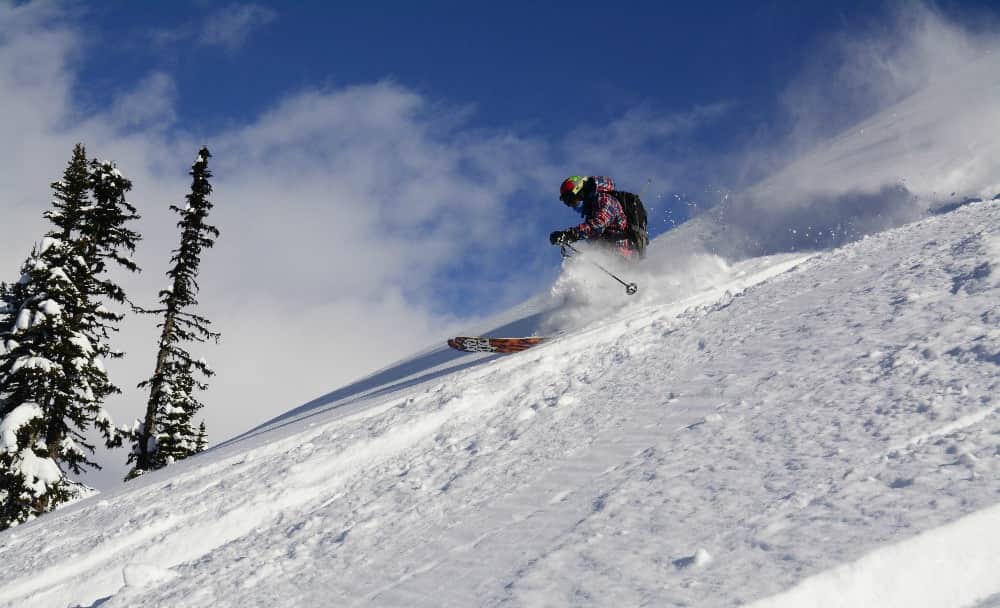 If you're a keen ski or snowboard enthusiast like me, then you'll know all about it. Even beginners will have witnessed the delighted look on the faces of their more experienced skier friends after a foot of snow falls overnight.
Yes, I'm talking about powder skiing. There's really nothing like it – whether it's carving long, fresh tracks in untouched snow, or charging through a tree line waist-deep in the white stuff. It's the ultimate thrill.
It's no surprise then that with modern equipment evermore suited to backcountry, skiers these days are heading further and further from the groomed trails to explore more of the mountains and to hit the best conditions available.
Quite right too! Just one problem though: it also the potential to be a seriously dangerous activity. This has to be addressed thoroughly and with respect, and if you follow my advice in this post, you'll be well on your way to doing just that.
Where Is the Best Ski Resort for Off-Piste?
A number of world resorts offer access to extensive terrain beyond their pistes. Chamonix in the French Alps, St Anton in Arlberg and Jackson Hole in Wyoming can all stake their claim to some of the best backcountry skiing in the world… as can Whistler Blackcomb where ALLTRACKS is based.
Whistler is located in the mighty Coast Mountains in British Columbia. This range runs the length of the West Coast of Canada all the way up into Alaska. As a result, the terrain here is big and offers some of the most snow sure skiing anywhere in the world – check out this infographic for the cold, hard facts about that.
It won't shock you to learn then that some of the top pros in the business make the area around Whistler their home. Members of the Whistler Blackcomb Pro Team include 'Godfather of New School' Mike Douglas, big mountain superstar Sean Pettit and Olympic gold medallist Ashleigh McIvor.
Being just 100km from Vancouver gives the resort easy access to an international airport and all the conveniences of being close to a major city, whilst in skiing terms the options are virtually limitless. Popular trips close to the ski area include the Spearhead Traverse, the Musical Bumps, Decker, Pattison and the Duffy Lake area close to Pemberton.
Expert Advice for Backcountry Adventuring
If you're planning on making any of these trips, or if you're just looking to safely explore beyond the bounds of any ski area at all, here are six of the finest nuggets of wisdom I know for getting the most from the mountains after a big snowfall. Whilst some of it is Whistler specific, at lot of it is universal advice for riding off-piste – so listen up, wherever you're heading this winter.
1. Go With a Qualified Guide
More than anything, this is the single most important piece of advice I can give you. Skiing or boarding with a guide will enable you to make the most of your trip – whether it's a day out of bounds or a full-on expedition – and ensure you hit the most appropriate terrain for your ability and experience.
But more importantly, a guide brings years of knowhow and experience to the table to make sure you minimize the risks you'll take. They'll take the weather and snow conditions into account before deciding where to ski, as well as supplying your group with avalanche safety equipment where necessary.
2. Check Your Equipment
If you have your own safety gear, or even if you don't, take the time to get organised. Pack the night before and double check that you have everything you need. Are there fresh batteries in your transceiver? Is everything in full working order?
Dress appropriately but always be prepared for significant weather changes in the mountains. It's also wise to talk to your guide the night before and discuss any required kit and clothing.
3. Check the Forecast
Whether you speak to your guide the night before or not, it makes sense to do your own checks of local weather, snow conditions and avalanche hazard level. As you build up your experience, knowing the conditions inside out will become an increasingly fundamental part of preparing to go off-piste.
If you decide to take the next steps towards mountain mastery, planning and safely pulling off your own backcountry tours, you'll be thankful that you took an interest in the weather early on in your off-piste career instead of blindly following a guide.
You can check the official Whistler forecast and get a read on the current avalanche hazard levels here.
4. Take an Avalanche Skills Training Course
Skiers and snowboarders in Canada are fortunate to have a national body, the Canadian Avalanche Association (CAA), dedicated to public avalanche safety. As well as being the go-to organisation for avalanche safety information and forecasts, the CAA also runs a number of Avalanche Skills Training (AST) Courses in many of the country's ski resorts.
If you're serious about becoming less dependent on guides and building your knowledge of mountain craft, doing an AST course is the essential first step. 

AST 1 introduces the fundamentals of avalanche awareness and companion rescue, whilst AST 2 builds on this introduction and includes training for further decision making skills.
CAA AST 1 is included on virtually every course we run at ALLTRACKS, and the AST Level 2 is too on our longer off-piste courses. Read 'What Avalanche Safety Training Can You Do in Whistler?' to find out more.
5. Plan Your Route
Being able to navigate, use a compass and knowing how to read a map should be second nature for people venturing into the mountains – regardless of the activity. GPS devices can be a useful aid, but you should never utterly rely upon them. A useful map for much of the off-piste terrain close to Whistler can be purchased here for $20.
6. Become a Student in the Art of Mountaincraft
Whilst not a substitute for a knowledgeable guide, there is a range of good reference material out there that you should begin accumulating. Again, the more knowledge you can start building, the better equipped you'll be when you eventually reach a level where you can begin planning your own expeditions.
Some of the best resources include:
What Do You Think?
If you're ready to get the most from the mountains, check out ALLTRACKS off-piste courses. We can help you improve your technique in all-mountain conditions, as well as introducing you to avalanche safety skills, backcountry ski touring (or split boarding for snowboarders), cat skiing and lots more at one of the very best ski and snowboard areas on the planet.
Bit of a seasoned backcountry veteran yourself? Why not give us some of your own top tips in the comments below – we'd love to hear from you.