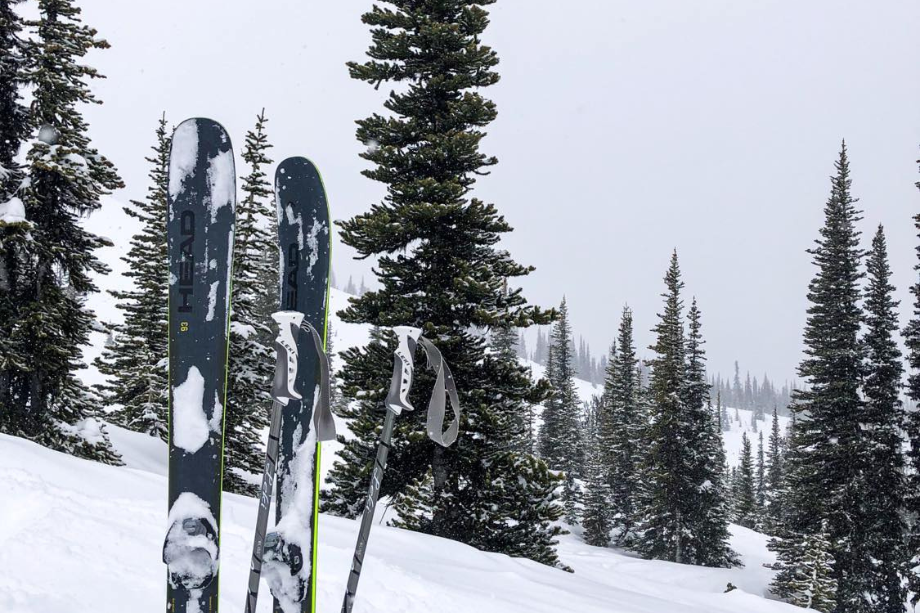 When embarking on one of our courses, it's important to have the right equipment for you and your goals. Jason Albert from WildSnow, quoted, "The saying goes like this: you are married to your ski boots and date your skis."
Depending on the conditions on the day, combined with what you want to ski, will determine which skis you use. Looking for smooth carving down groomed runs? Grab a piste-focused ski with a thin underfoot width. Prefer gliding through deep powder? Go for something wider underfoot with more of a rocker to be more manoeuvrable. Want to venture into the backcountry? Invest in something lightweight, but super fun for those seconds of euphoria. 
If you already have your own equipment before you start with Alltracks, that's great. If you're looking for a new pair or to upgrade, then our team will be happy to help in the resort upon your arrival. Here, we break down how to find the right skis for your course.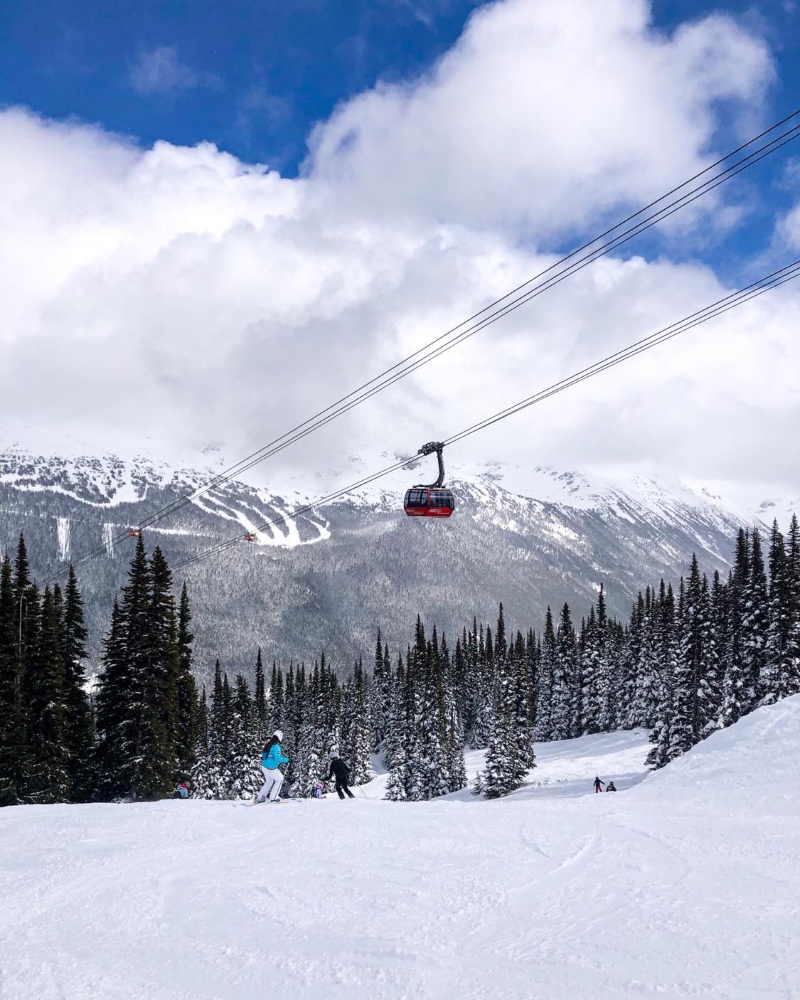 ALL MOUNTAIN SKIS
For most of our courses, especially the Level 1 and 2 ski instructor course, an all-mountain ski will do the job perfectly. When looking for a pair, you want to choose something with 80-95mm underfoot. You want the skis to be responsive and manoeuvrable while on piste and during your BASI & CSIA exams. However, this width is also wide enough for you to enjoy floating on fresh powder days and exploring the mountain off-piste too. For those taking a European instructor course – we advise going for a narrower, more piste orientated ski. 
Some manufacturers and makes we'd recommend for the upcoming 2022/23 season.
Völkl 
Völkl is a German brand known for its durability and ability to hold an edge. They create premium, high-end products with innovative tech and very precise skis. 
The Völkl Kendo 88 is a great choice for an advanced skier looking for something stiff and responsive that thrives on speed. This would be a great all-mountain ski as it can perform on all radius turns on firm conditions as well as decent powder and off-piste. 
The Völkl M6 Mantra is also a solid choice for a confident skier. It's a little wider at 96mm underfoot, so requires more attention and aggressive skiing to get the response you're after. However, it's a great, dependable ski that can be trusted in all conditions.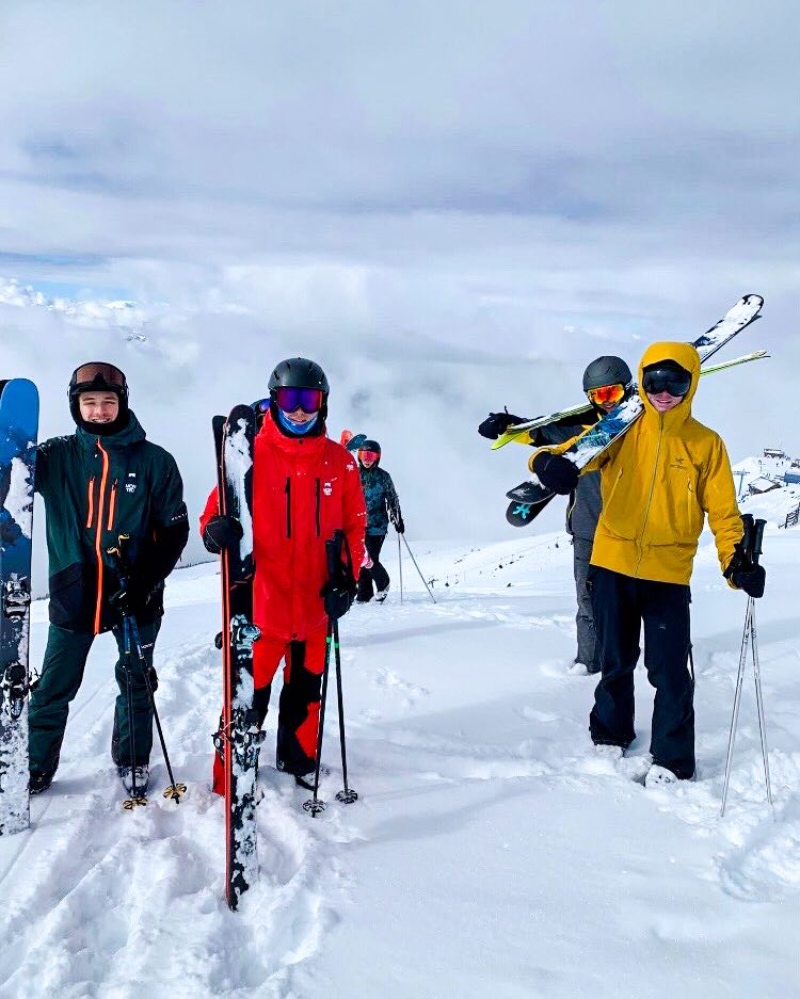 Blizzard
Blizzard is an Austrian ski company well-known for its all-mountain range, as well as their touring skis. 
The Blizzard Rustler Series has a great array of all-mountain skis, that urge you to push the speed limit. Being accessible to intermediate skiers who are starting to push their limits, they're ideal for the majority of our courses. The Rustler 9 is 94mm underfoot and great for those who prioritise edge hold and stability over playfulness. 
Blizzard Brahma 88 is another excellent option for all-mountain advanced skiers. Its rocker at the tip makes for easy turn initiation and floatation. Plus, the camber underfoot ensures edge hold and stability at speed. 
Head
Head was founded in 1950 in Baltimore U.S.A by aircraft engineer Howard Head. The Kore series is another great all-mountain choice. They have the perfect combination of being lightweight and stiff due to the incorporation of graphene into their Karuba wood core. These skis are playful, easily controllable and ideal for a wide range of skiers as they won't punish a less-aggressive skier. 
Rossignol 
Originating from France, with years of reliability and also one of the first companies to produce plastic skis, Rossignol is a classic ski choice. Their Experience Series is a strong all-mountain choice. With new technology, their Driver Tip has dampening filters that smooth out the ride and reduce chatter. This allows more contact with the snow making for easier control and smoother power transfer.
Salomon
Salomon's history of alpine and backcountry dates back to 1947 when François Salomon founded the company. Since then, they've been a powerhouse for consistently delivering strong ski technology. Their Stance and QST Series are well set up for an all-mountain rider, striking a nice balance between being aggressive and playful that feel good skied at any pace. Salomon uses cork in the tip and tail to provide vibration absorption and damping while maintaining a lightweight ski.
K2
K2 is one of the most recognised ski brands in the world. Originating in Seattle, K2 has been pushing their ski technology with the help of its stacked team of pros. Their Mindbender Series will have you stoked in every condition. 
Ultimately, your all-mountain ski needs to be responsive and easily controllable for your on-piste performance and when navigating through the trees. But, you can't forget that playful side which is essential when floating above the powder. Any of these makes of skis will be an excellent choice for the majority of our courses, especially the Level 1 and 2 ski instructor course.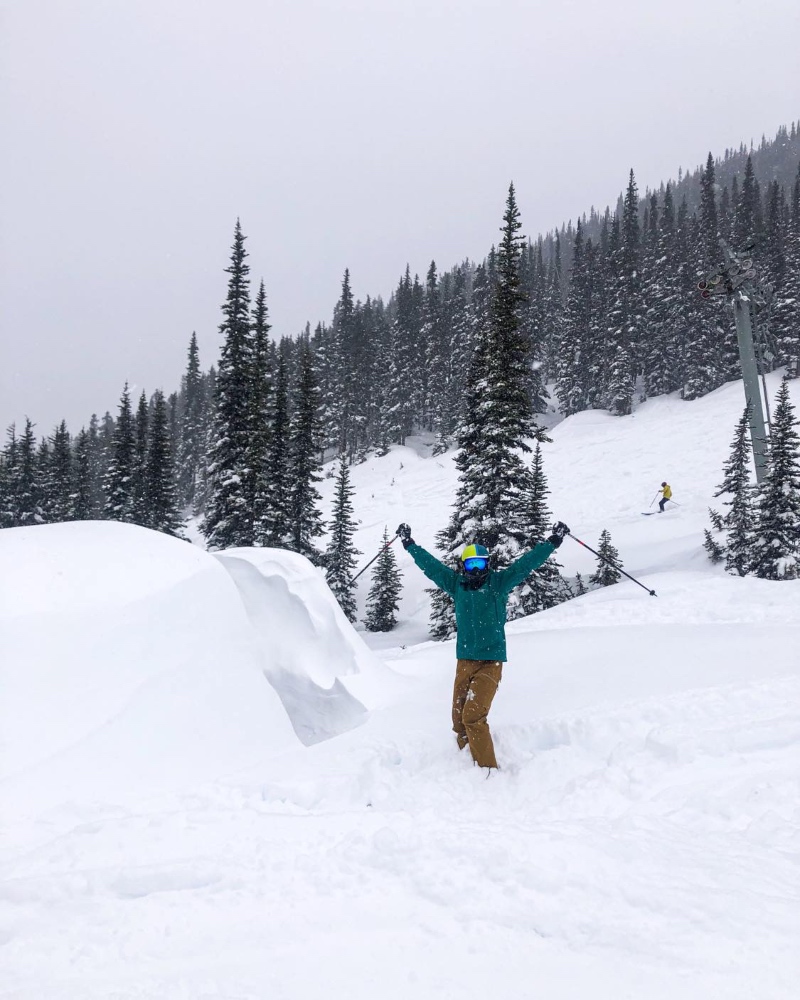 PISTE SKIS
For those embarking on our Level 3 course, you will need a ski that is more piste-focused. The criteria for the exam require precise and controlled turns, so having equipment that is responsive and agile is essential.
Your piste skis should come up between chin and eye level, depending on your skill level. The best piste skis have a positive camber profile which provides maximum contact and therefore control along the length of the ski. 
Some skis to consider are; Rossignol Hero Series, especially the Hero Elite ST which is best for athletic intermediate to advanced piste skiers. Its narrow waist makes it super responsive and is designed to be skied hard and fast. 
PHOTO: AT – Whistler – Mel skiing
Another ski worth considering is the Völkl Deacon Series. With widths of 70-80mm, this series has come straight out of a ski race department with plenty of high-performance technology. With a high-density wood core and metal throughout, it makes for a stiff ski, thus requiring an elite skier to control it, but super fun when carving up groomers! 
Finally, Blizzard's Thunderbird range of racing skis is a constant top performer. The series is designed for skiers who like to carve hard and cruise the groomers, and who want to access high-performance skis that offer total control and turning precision.
Ultimately, if you're after a piste-focused ski, you're looking for something narrow, strong and agile. You want a ski that's responsive to your turns and allows you to show the examiners what you're capable of during your Level 3.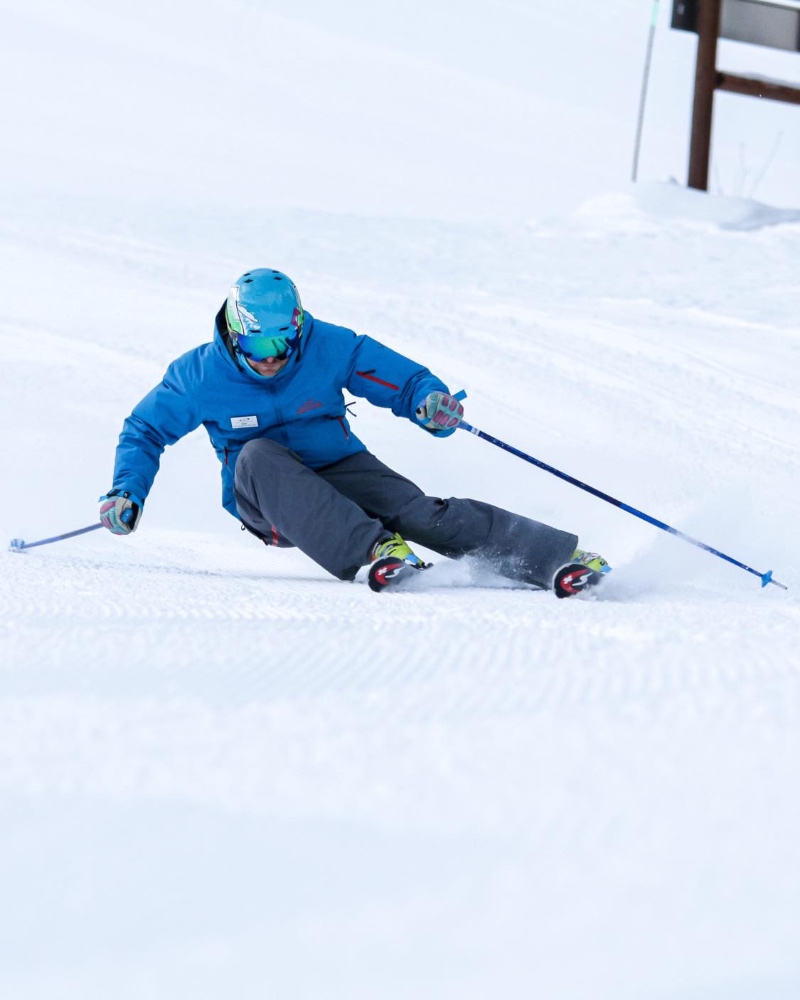 TOURING 
For those looking to go beyond the boundaries of the mountain, a touring ski will be better suited. During our off-piste courses, you'll venture into the backcountry while completing your Level 2 Avalanche Safety Course and additional training. 
When looking for a touring ski, you want something lightweight to ensure an easier climb to those hidden gems. Plus, you'll want it to perform well in all types of terrain, especially in untouched powder, and on the ski in to resort. 
Black Crows are a great choice to take touring, especially the Freebird Series, which are versatile, light, responsive, powerful and quick. Their poplar wood core and fibreglass and carbon reinforcements keep the skis light and responsive but still stiff. Its traditional camber and sidewall constructions make it excellent for handling speed on hardpacked and uneven terrain.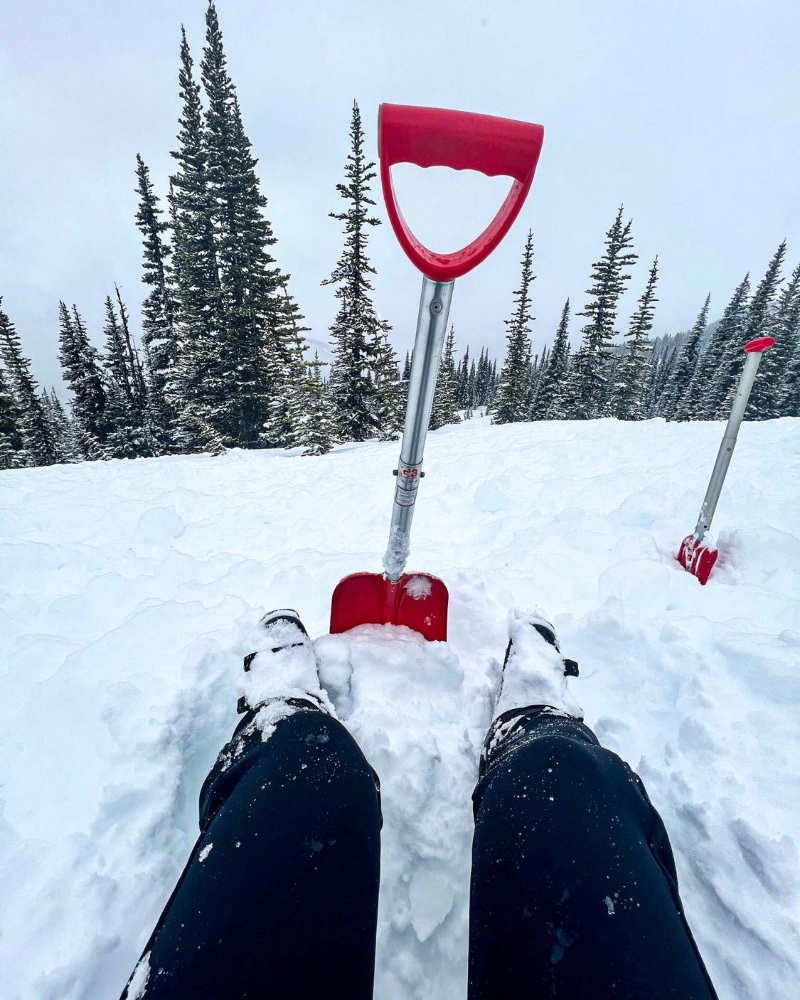 Verdict
With technology advancing all the time and plenty of strong ski brands, there's no wrong choice when it comes to picking your skis. If you focus on what your goal is and the terrain you'd like to ski, you'll easily find a few options to try. 
On day 1 of your course, you'll join a welcome tour of the resort. If you need equipment, you will be aided in your decision-making in one of the ski shops by our team. When embarking on a course with Alltracks, we're here to help.