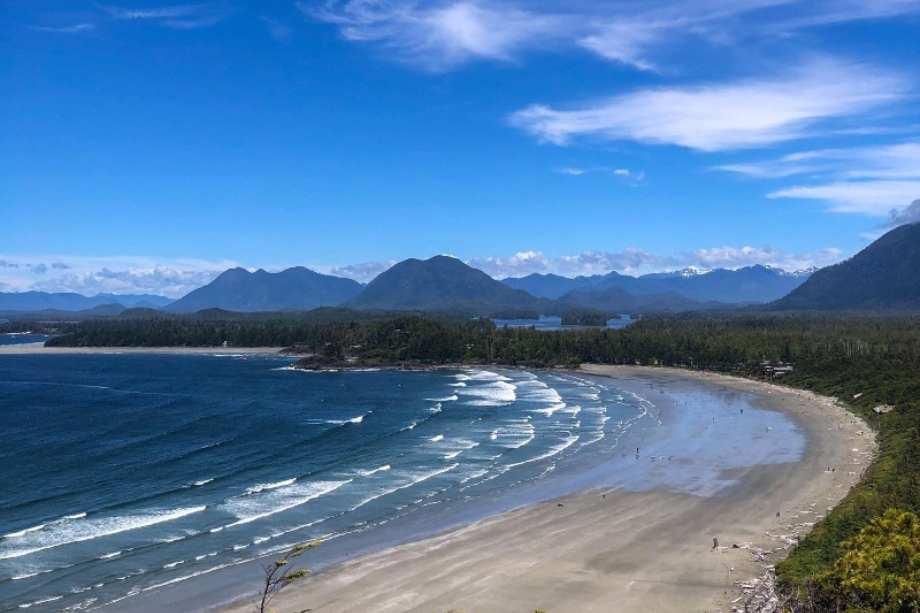 5 reasons why you should visit Tofino
Located on the Pacific coast, the quaint town of Tofino on Vancouver Island is one that will have you returning time and time again. It thrives in the summer with plenty of international visitors intent on experiencing Tofitian life and the cold-water surfing it's known for. In the winter, it's the perfect place to escape city life and watch the storms roll in. Tofino just oozes charm.
After receiving her IEC Visa, ex-ALLTRACKS student, Ellie, has found herself on Vancouver Island for the summer. Here, she's working at a surf school before heading back to Whistler for the winter as a ski instructor. These are her 5 reasons why you should visit Tofino.
PHOTO – NORTH CHESTERMAN BEACH SUNSET
How to get there
As one of the most westerly towns in Canada, reaching Tofino takes some effort. However, it's definitely worth the trek! Either take an Uber, the 257 bus from Downtown Vancouver or drive to Horseshoe Bay ferry port in North Vancouver. The 1.5-hour ferry ride is stunning and you might even be lucky enough to spot a whale or two along the way! The ferry drops you off in Nanaimo, on the eastern side of Vancouver Island. From here, continue your drive, or take the coach for the 4-hour journey across the island towards Tofino. 
PHOTO – FERRY FROM VANCOUVER TO NANAIMO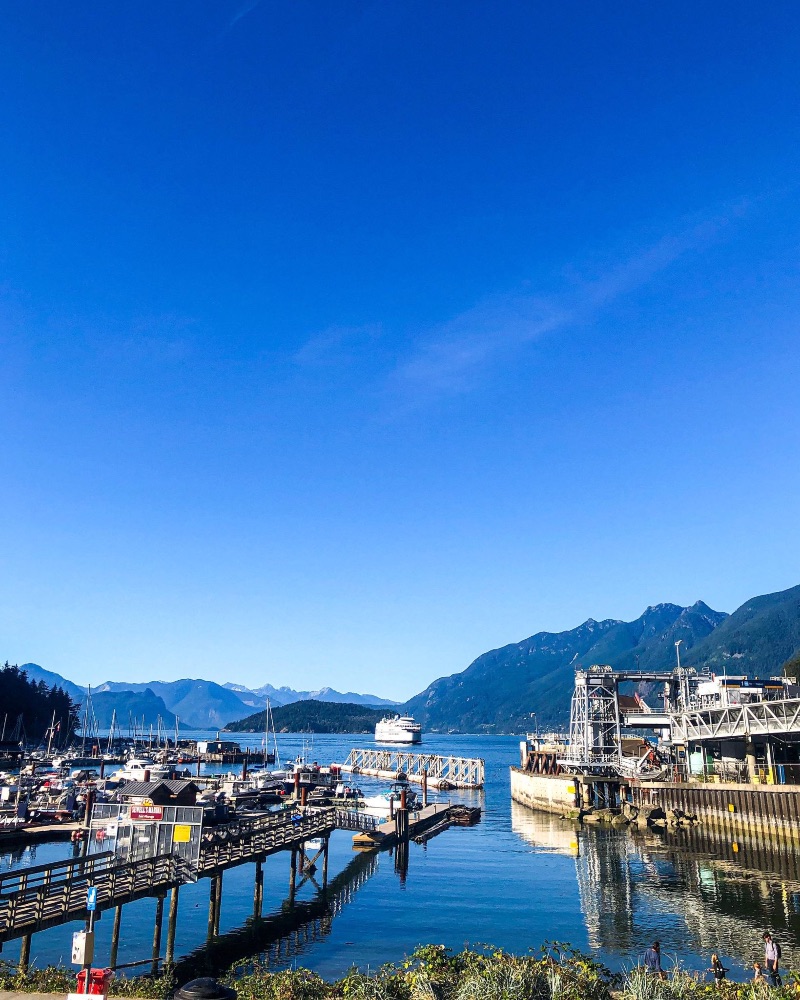 Surf the Pacific Ocean
If you're looking for an activity to keep you busy in the summer, then surfing is a great idea! Utilising your core, endurance and agility, surfing will help get you into shape for the winter season. 
With swell coming in from the Pacific, there's always something to ride for beginners and more experienced surfers. You'll need a thick wetsuit though, as temperatures are chilly!! 
PHOTO – ELLIE SURFING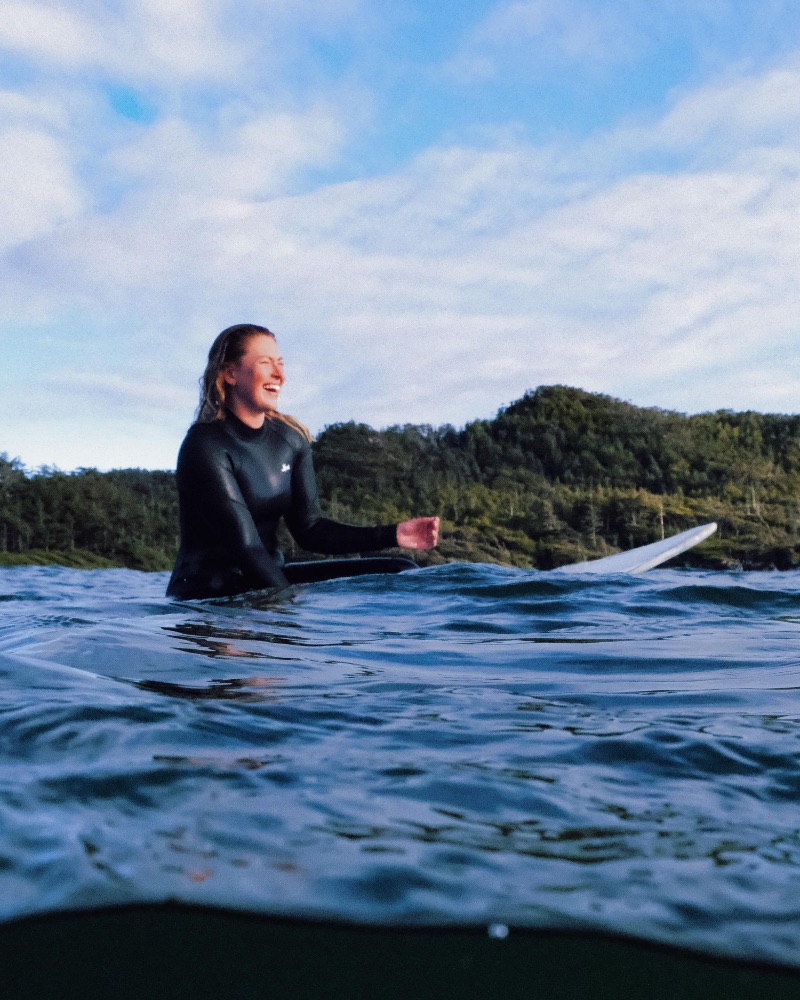 Visit the Town
Everything in the town is independently owned, keeping large corporations out. The whole town can be walked within a couple of streets and there's a market held every Saturday on the Village Green 10 am – 2 pm. Enjoy a morning of strolling with a coffee in hand from Rhino or Drift while you browse the surf shops of Pacific Surf Company or Storm. Or, spend an afternoon wandering one of the galleries or Tofino Clayoquot Heritage Museum.
PHOTO – TOFINO LICKS ICE CREAM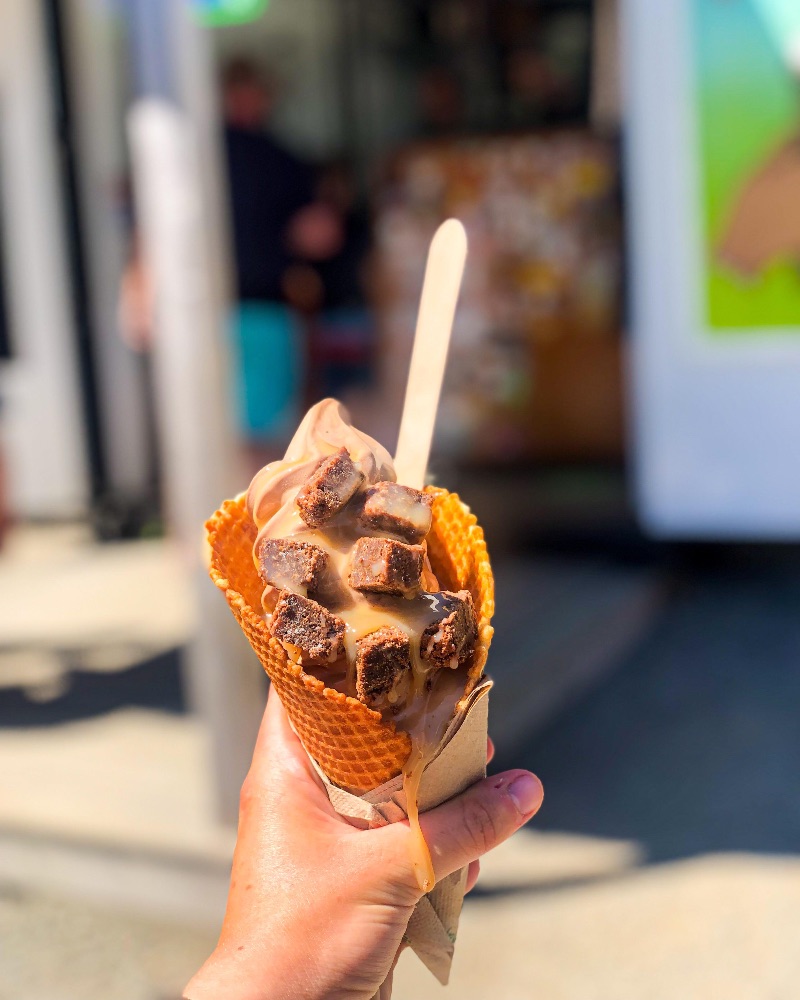 Explore nature
Well known for its wet climate and rainforest environment, Tofino is encompassed with gloriously lush greenery all year round. One experience is walking the Rainforest Trail near the Pacific Rim National Park. This 2km walk along wood boardwalks & a gravel trail will take you through a forest of cedar & hemlock trees hung with mosses.
PHOTO – RAINFOREST TRAIL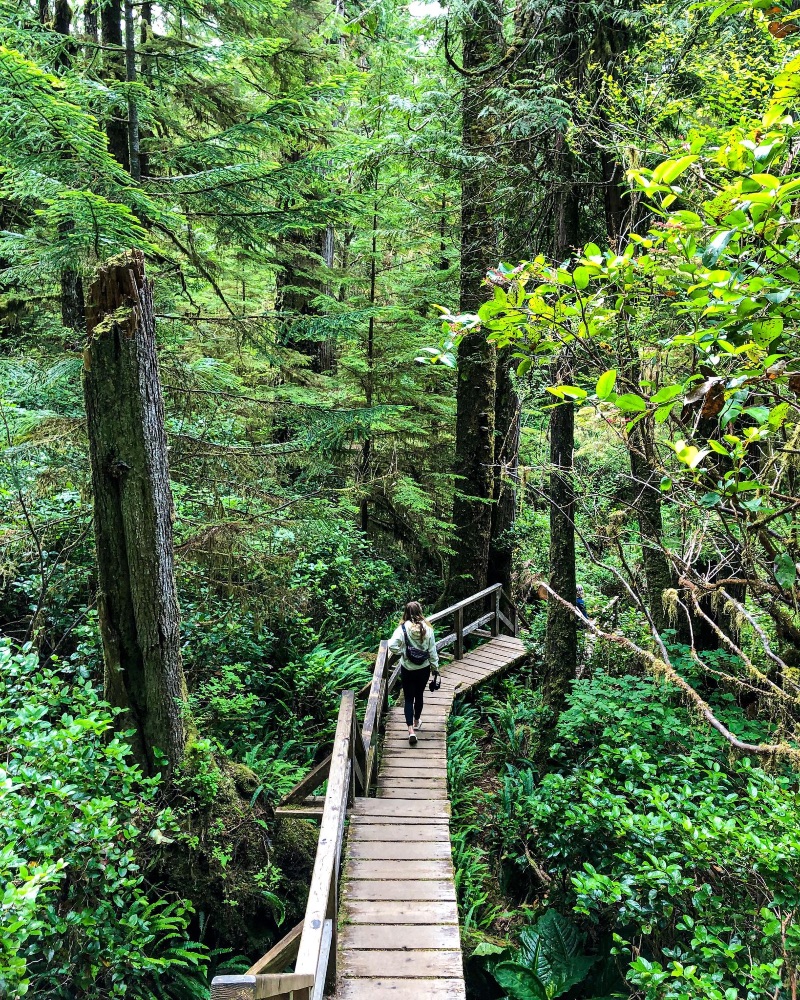 To prepare your legs for the winter, there are plenty of hikes with unreal scenery from the top. One not to miss is the 20-30 minute climb to Cox Lookout. On a clear day, this often muddy hike boasts incredible views of Cox Bay below and of the inlets beyond. 
PHOTO – COX BAY LOOKOUT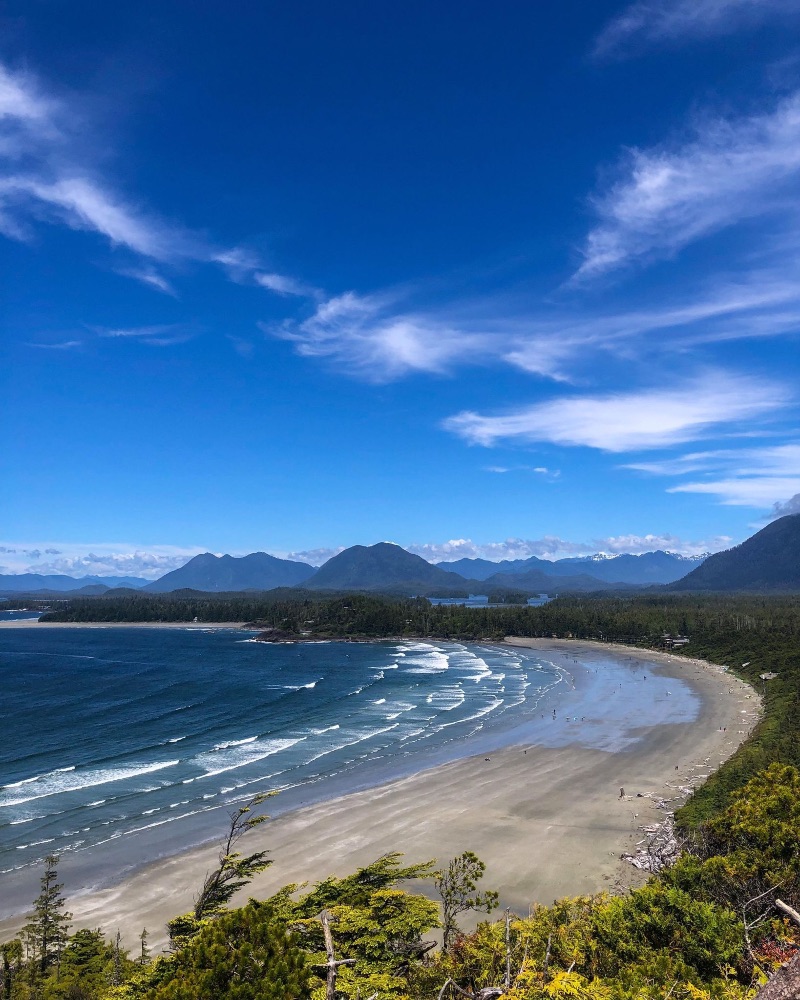 Eat Out
For being a small town, Tofino is a hub for foodies that ranges from fine dining to beachside cafes. For a truly memorable experience, head to the Wickaninnish Inn for brunch. Enjoy your Eggs Benedict or Smoked Salmon Rosti while enjoying the sea views of North Chesterman beach. 
Tofino is home to the original Tacofino food truck. Here, they produce delicious tacos, burritos and gringas, perfect for that post-surf fuel!
You can't leave the peninsula without heading to Chocolate Tofino for delicious ice cream. This thick and creamy gelato is worth every scoop.
PHOTO – WICK BREAKFAST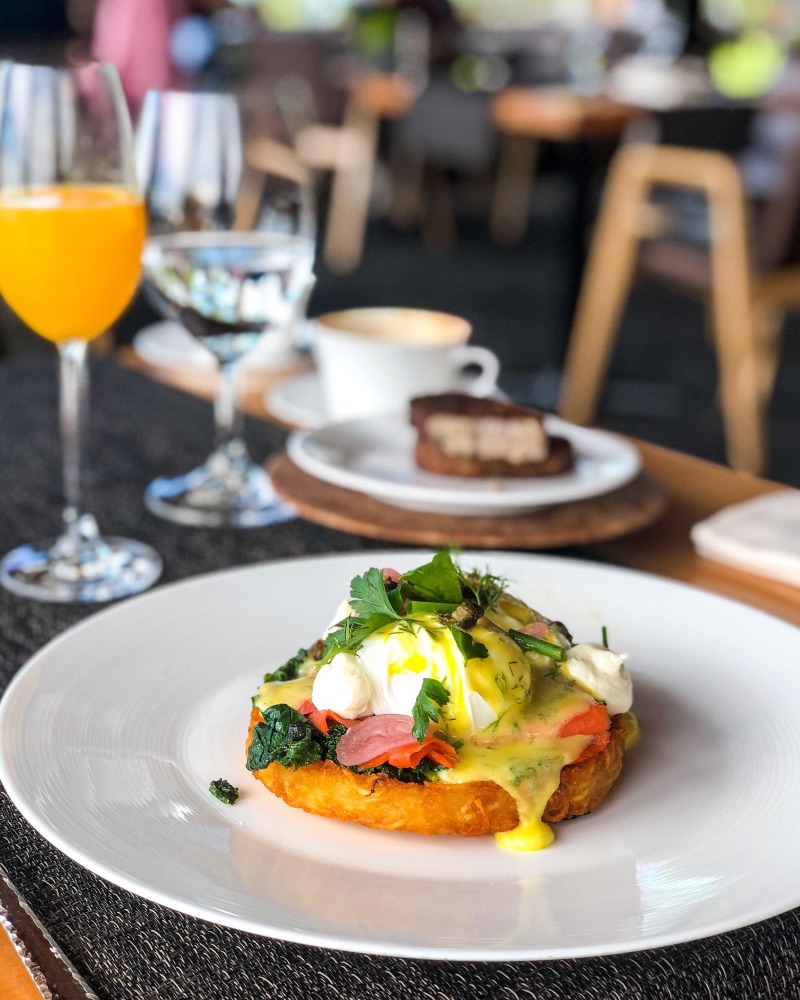 Watch the Sunset at Long Beach
Whether you've spent the day surfing, browsing the shops, walking the rainforest or indulging in your own food tour, there's something about finishing it by watching the sunset. For the best seat in the house, take to the skies. Tofino offers plenty of plane tour options for a breathtaking experience. Either that or your nearest beach for a wood fire and s'mores will certainly result in the perfect end to your trip.
PHOTO – LONG BEACH SUNSET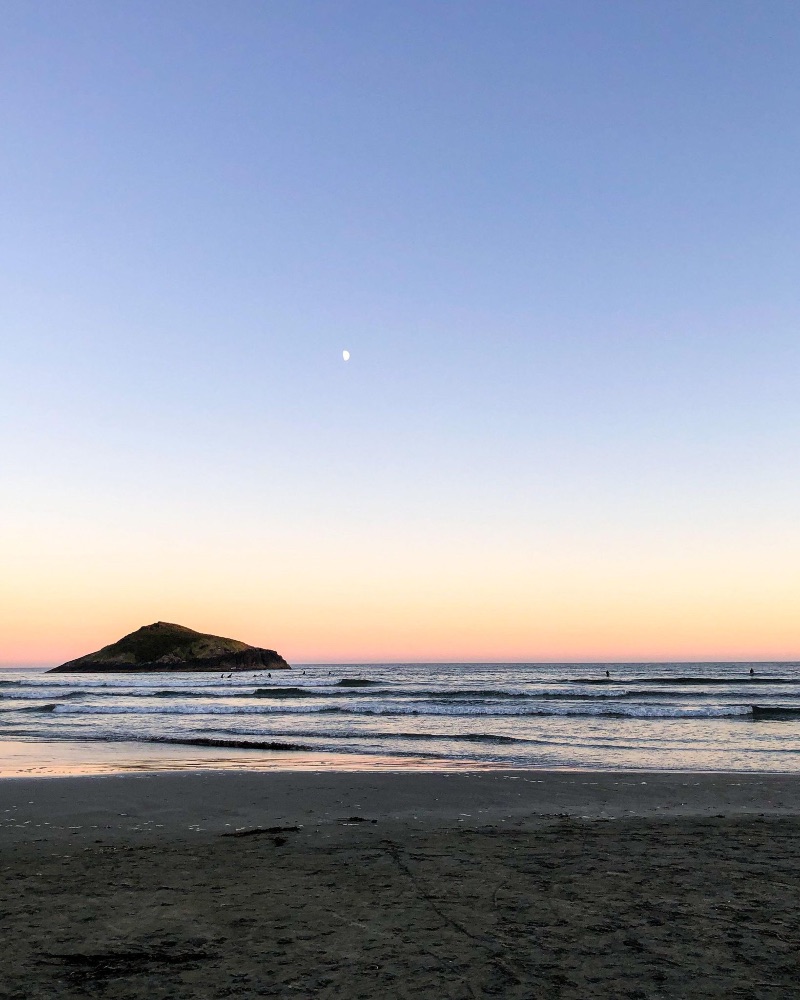 If you're embarking on one of our courses in Whistler, we'd highly recommend a visit to Tofino.
Book a course with ALLTRACKS and take a leap Into something new. You never know where it may take you.
Elle Joined the Alltracks 8 week Combined Ski Instructor & Off Piste Course in 2022 and is returned to work as a ski instructor in Whistler this winter.