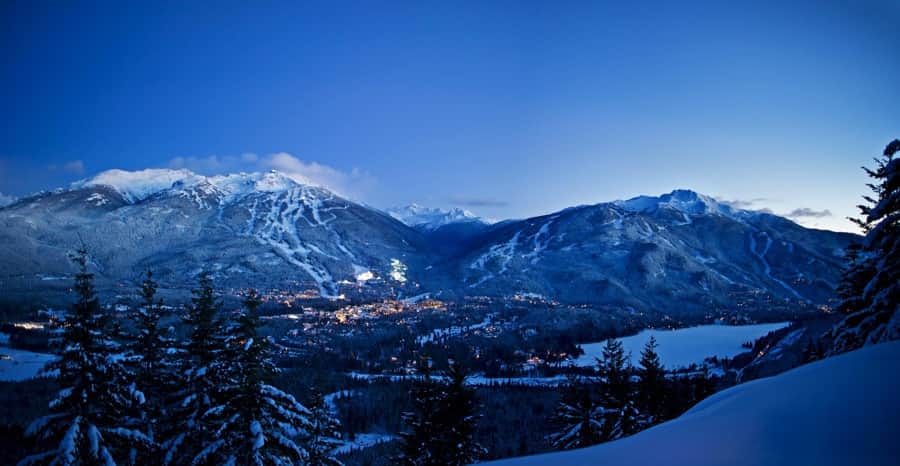 It's an age-old argument at Canada's premier ski town. Which is better – Whistler or Blackcomb? You may remember that earlier in the season we looked at why you should want to ski Whistler Blackcomb as a whole. It's a convincing argument too – together these two mountains offer over 200 runs, 8000 acres of terrain, 16 alpine bowls, 3 glaciers and over 39 feet of snow.
But putting the statistics aside for a second, which mountain offers skiers more? If you could only tackle one, is it an obvious choice which you'd go for? Today we're going to consider just that…
A Little Bit of History
Historically Whistler and Blackcomb were two separate, independent resorts. Whistler, originally known London Mountain, was founded by a group or Vancouverites led by Franz Wilhelmsen in 1960 with the aim of developing an alpine ski area to host the 1968 Olympic Games. While it would take another 50 years and four Olympic bids before Whistler would realize its Olympic dream, Wilhelmsen and his friends pursued their ski area plans with great vigour and the resort officially opened to the public in 1966.
Meanwhile the lifts didn't start turning at Blackcomb until December 1980, featuring five triple chairs and 1240m vertical of skiing on opening day. The two rivals developed rapidly over the following two decades, constantly lifting the bar for one another until in March 1997 Whistler Mountain Ski Corporation (which owned Whistler) and Intrawest Corporation (which owned Blackcomb) merged to create one of the biggest and most exciting mountain resort companies in the world.
Which Has the Most Skiable Terrain?
As the guys at Whistler Blackcomb HQ said last year:
There are those who will argue that bigger isn't always better. Most of them haven't experienced all of 8171 acres, 5280 vertical feet, and 200+ trails, that is Whistler Blackcomb's inbounds terrain.
It's a pretty fair point! But what does the division look like between the two mountains? Looking at the hard facts, it's pretty close:
Whistler pips Blackcomb for size with 4757 acres compared to 3414
But Blackcomb has the edge with vertical rise of 5280ft to 5020ft
And it has a superior top elevation of 7494ft to 7160ft
Both have over 100 trails
Ok, But What's The Actual Skiing Like? And the Off-Piste?
Here's where it starts to get interesting. There are some clear differences in the profile of each mountain. Runs on Blackcomb are generally steeper, for example, with more tree runs and trails cut through the woodland. If the weather's bad or the visibility sucks, that makes Blackcomb by far the superior option for the day.
But equally, Whistler Mountain is characterised by its open alpine bowls – a completely different type of terrain with some great views when the sun shines. And it's not like it's all flat either – whilst there are some solid green runs at high altitude (which makes this mountain a popular choice with beginners), the summit of Whistler Mountain has some of the steepest marked terrain on the entire continent.
Off-piste access is great from both. On Whistler, by touring up Flute you enter the Musical Bumps area and, beyond that, Fissile and Whirlwind. Meanwhile climbing up to the East Col of Blackcomb Peak takes you above the magnificent Spearhead Glacier, Circle Lake and the usual beginning of the Spearhead Traverse – all featured prominently in The Five Best Backcountry Skiing Trails in Whistler Blackcomb.
Both Have Plenty to Offer for Freestyle Fans
Both mountains are a freestyler's dream, which goes a long way to explaining the quality of freestyle skiers and riders you see around the resort. Countless world class skiers and riders have honed their skills here – including the likes of Mike Douglas (check out the video below), Sean Pettit and Victoria Jealouse.
Although Whistler has two parks, Blackcomb boasts three along with a ski cross course (2010 Olympic champion Ashleigh McIvor is a local) and halfpipe.
There's Plenty of Great Lifts, But Only One Superstar…
Sitting on the lift waiting to ski can be a little dull. Then again, it's an opportunity to chew the fat with your mates, plan your next powder run, and enjoy the stunning mountain views. And let me tell you – both mountains have some stunning ones.
A powder day on Whistler Mountain's Peak Chair, for example, will not only have you salivating about the run to come – in the right conditions it's also an opportunity to watch local pros tear lines around (and occasionally right off of) the 185-ft cliff drop Air Jordan.
On Blackcomb, the stashes might not all be as easy to spot but they're there alright. My choice of lift has got to be Glacier Chair. To your left, you've got access to the Spanky's Ladder area which opens up some of the best ski terrain in the resort. And you've also got countless great runs heading back towards the bottom on the lift. It's a great place to lap in nearly all conditions.
The undisputed champion of the lift system, though, belongs to both mountains. The first of its kind in North America, the amazing Peak 2 Peak Gondola announced its arrival in 2008 as Shane McConkey base jumped off one of the cabins:
Today the lift connects the resort making the two mountains into one amazing ski area with the largest lift network of any resort in Canada. It travels 4.4Km in 11 minutes making it one of the most impressive engineering projects in any ski resort.
When The Lifts Close, It's Time for Après-Ski
As tough a choice as any. Merlins is the spiritual home of many a Whistler ski instructor and the atmosphere here after a big day is fun for everyone. When local favourites The Hairfarmers get rocking things can really get going…
Whistler's GLC and Dusties are also great spots for a beer. On any given day, both patios which are right at the base of the mountain are home to skiers regaling their friends with the day's heroics. One of the best things about Whistler is the fact that the village is right at the foot of the ski area making for a vibrant ski resort atmosphere.
The Decision
For me it's Blackcomb, just. I love the top runs off Sudan Couloir, a coffee or hot chocolate at the Horstman Hut, the breathtaking view of the Spearhead Glacier and the countless best days of my life that I've had there. But the best thing is I don't need to choose. If you're coming to Whistler Blackcomb any time soon, you can enjoy both.
Still, I'd love to know what your favourite is. Let me know in the comments!