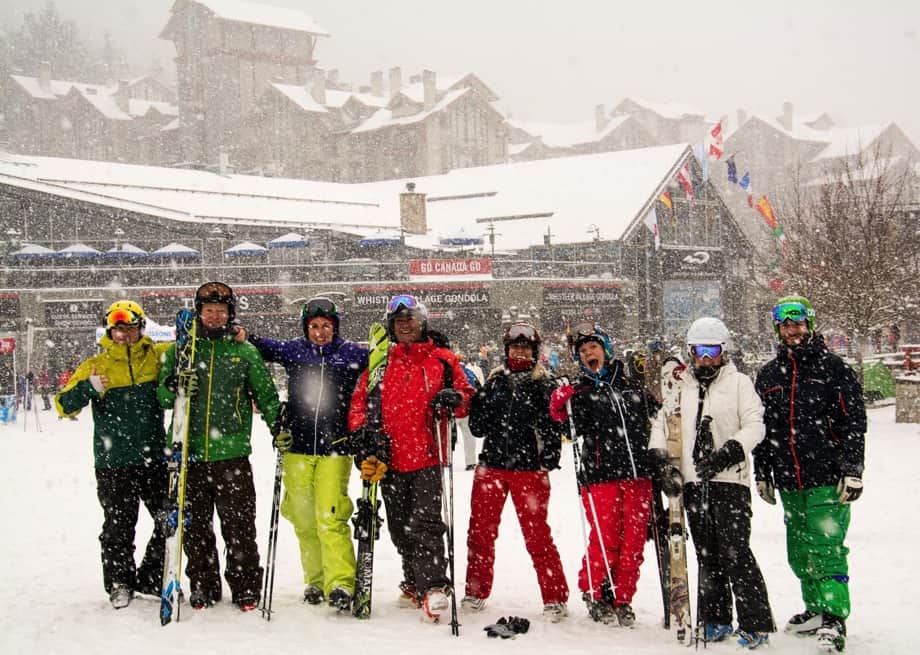 Are you looking for the ultimate ski holiday? Make this season the one to take your skiing or snowboarding to the next level whilst having a great holiday in Whistler.  We don't include bottomless cheap plonk, but we do often have bottomless powder!
Expert Coaching
The key difference between a regular ski holiday and an ALLTRACKS course is that our programmes are based around expert snowboard or ski coaching. You'll still have a great time and enjoy all the usual things that you do on holiday but also really improve your riding. Our courses range from 4 days to 15 weeks, so regardless of the length of trip, we should have a course to suit.
How it Works
Training is typically four days per week and all follow the ALLTRACKS Training Formula, devised by our Head Coach, Guy Hetherington. In the mornings, after a couple of warm up runs, we run the deliberate coaching sessions which look at particular aspects of your skiing and provide lots of detailed individual feedback and some video analysis.
In the afternoons, we up the tempo with our Freerange Ski Coaching so that you enjoy all the best runs and the best conditions available – the coaches all know Whistler like the back of their hands and you'll ski the best lines in the resort.
As well as coaching your skiing or snowboarding technique, many of our courses include Avalanche Skills Training from the Canadian Avalanche Association if you are keen to learn more about the backcountry and skiing off piste. There is also the opportunity for cat skiing & heli skiing in Whistler if you want the ultimate powder experience and these are included in some of our programmes.
Accommodation
As well as great ski and snowboard coaching, our courses include comfortable accommodation close the centre of Whistler. You'll typically share a chalet or condo with other ALLTRACKS guests, or we can arrange private accommodation if you prefer. We appreciate that high quality accommodation is of equal importance to the actual training for many people.
If none of our course dates suit you, we may well be able to put together a bespoke programme. Please feel free to contact the office team and we'll answer any questions about the various options.