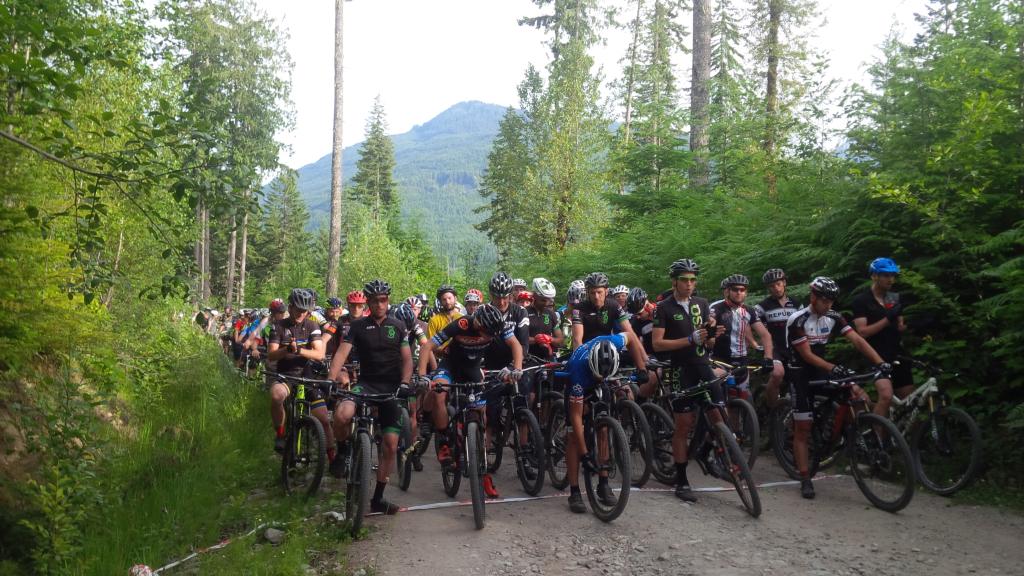 Alltracks Top 5 Mountain Bike Adventures
Whistler's name has been around since the 1990s in the skiing world as a big and buzzing resort attracting skiers and snowboarders from all over the globe. Complete with an awesome range of terrain, enormous amounts of deep powder and a buzzing nightlife, Whistler has so much to offer.
And guess what? It's not only famous for arguably the best skiing in Canada, but more recently it has crept up the ladder of highly-rated summer destinations too. Much more than a ski resort, when the sun comes out and the snow is a distant memory, Whistler is something of a mountain bike magnet.
That's right, when the temperatures start to soar the skis and snowboards are packed away and out come the summer steeds on two wheels. Because there is a lot more fun to be had in the mountains throughout the summer than there is in a beach resort, topping up your tan by the pool.
Whether you're rolling old school 26er, 27:5 or the big boys at 29, Whistler has the terrain to suit. So if you want to push your boundaries higher than ever or simply take things easy and enjoy the stunning mountain scenes, here are a few ideas for you to try out.
If it happens that you find yourself staying on after one of our ski courses, you'll soon see there's something slightly magical about the transformation of the resort once the snow has melted away. No frostbite, no soggy ski jackets – just sun, smiles, and, well, mountain bikes.
1. WORCA Toonie race
The Whistler Off Road Cycling Association (worca.com) does a lot of good to promote cycling in the Whistler community and maintains a great number of the area's trails with a heavy emphasis on environmental standards. Founded in 1989, WORCA has become an integral part of the Whistler community and has more than 1,800 members.
Races are run every Thursday evening throughout the summer, usually starting at 6.30pm. They cost a "Toonie" which is only CAN $2 (half the funds go towards the trail maintenance fund, the other half into a pot for the top riders). It's open to all standards, so there is absolutely no excuse to not get involved.
You'll find yourself amongst riders of all ages and abilities, so don't worry if you don't feel up to competing seriously and just want to head over for the socializing. The riders are usually locals training for nationals or even World Cup so you'll see some pure talent if you make an appearance. Check out the schedule and routes here: http://www.worca.com/toonie-ride/
All they ask of you is that you wear a helmet and always stay on the trail (that goes without saying surely?) and that competitors remain patient and courteous to one another – none of that pushing and aggressive racing nonsense. Oh and the après is a must – a beer and a bite for just CAN $2 and a chance to chat to your fellow racers.
https://www.youtube.com/watch?v=7PWU9D-qCn0
2. Plane-Assisted Mountain Bike Expedition
I first heard about this from Paul, one of our Whistler snowboard instructors. It's a bit of a treat and a few more dollars than a "Toonie" race, but worth every penny. Book yourself a slot on a float plane out to the Chilcotin Mountains, a beautiful wilderness area. Here you'll be flown up to Spruce Lake – along with your bike – and then you'll be able to enjoy a mammoth descent back to Whistler.
Prepare yourself for breathtaking views of still water reflecting the majestic green meadows. If you fancy it, there's also the option to stay overnight in a lodge. I'd definitely recommend this if you're interested in multi-day bike expeditions. Waking up in this peaceful lakeside setting before setting off on a second exhilarating day of cycling makes for an unforgettable adventure on two wheels.
It's said that there are few places that compare to the Chilcotin Mountains when it comes to epic alpine mountain biking. Sounds like an offer that must be taken up! But be warned, as beautiful as these rides may be, they are physically exhausting due to their sheer length.
3. Whistler Bike Park
The Whistler Blackcomb Bike Park (http://bike.whistlerblackcomb.com) has claims to being the planet's number 1 downhill, lift-accessed cycling terrain park. Located on Whistler Mountain and making use of the ski-lifts, this park has 4,900 feet of descent and offers three district zones – the Peak, Garbo and Fitz. The terrain generally gets more challenging as you go higher up, so start out at Fitz before moving on up the hill.
Here's a little video about the middle area, Garbo: https://youtu.be/H7pnnRS3tcs
If you like the look of it, get yourself a season pass and you may well find yourself enjoying summer as much as the winter. You would not be the first person to arrive at Whistler as a ski instructor and end up teaching biking too. It is an ideal way to continue earning throughout the summer and enjoy living in the mountains year round – not a bad life, really.
4. Lapping the lakes on the valley trail
Not every day has to be a marathon. Mountain biking in Whistler doesn't always have to be about pushing yourself with tricky terrain or competing for speed as you whizz through the mountains.
Sometimes cruising the valley trails and relaxing at the lakes with your mates on a gorgeous summer's day is the most enjoyable way to be out on your bike.
The Valley Trail is a 40km long stretch, paved trail and boardwalk running from Function Junction to Emerald. It's open to runners, skaters, walkers, strollers….you name it. Think beautiful scenery, plenty of picnicking spots and easy rolling. Super scenic and with plenty of photo opportunities, this is for sure one of Whistler's absolute gems.
If you want to get the most out of your trail experience, two-hour guided tours are available with a local who can show you Whistler's finest spots. Tours set off every day at 10am and 2pm and include several snack stops – they cost just CAN $99 (including bike, water bottle and helmet) and require a minimum of two and maximum of eight happy bikers!
http://www.whistler.com/activities/valley-trail/
5. Mountain Bike Trails Squamish
If Whistler has an equal in the mountain biking stakes, it is probably the town next door! Squamish, (http://www.tourismsquamish.com) off the Sea to Sky Highway on the way down to Vancouver, has epic terrain too. Sorco (the Squamish Off Road Cycling Association (http://www.sorca.ca) does similar work to its Whistler counterpart. It too maintains the trails, runs races and social rides along some of Canada's most impressive single-track terrain.
Squamish is home to over 600 trails, most of them extremely steep, so only venture over if you are feeling confident!
Over to You
So there we have it, a bunch of fun biking adventures for you to set off on this summer. Hopefully they'll not only enhance your summer but also help to keep you fit for the approaching ski season.