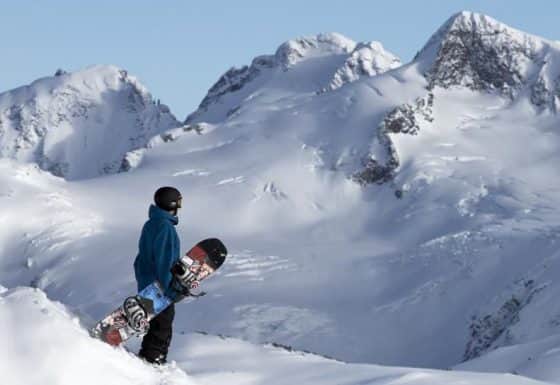 There are so many amazing winter sports resorts in Canada, and it's one of the leading countries for winter sports such as skiing and snowboarding. Did you know though, that even some of top ski resorts in Canada aren't necessarily the best resort for snowboarding? Skiing and snowboarding require slightly different resort features, so it's always worth checking out resorts that have specific features aiming to deliver for snowboarding – instead of generic resorts catering to all winter sports.
So what makes the best Canadian resort for snowboarding enthusiasts?
Look for a few crucial things:
A great snow park

Modern lifts (few button/drag lifts – these are tricky on snowboards!)

Easy access to restaurants and cafes

Plenty of snowboard rental choices
With these things in mind, here are some of the best snowboard resorts in Canada. If you're lucky enough to frequent any of these amazing resorts, you'll know why they have made our list!
A hugely popular resort, and world-famous too – it's one of the best in the world and a wonderful place for snowboarders of all abilities. So it's no wonder it's at the top of our list! But it's with good reason – because of the resort's popularity, there is constantly money being poured into the activities, pistes and facilities here, so it's an incredible place to learn or perfect your snowboarding skills. The views are incredible, the snow fall is reliable, and the lifestyle after a day on the slopes is fun, lively and friendly. It's a winning choice and an amazing destination for snowboarding.
Banff and Lake Louise are hailed as a paradise for snowboarders. With 3 world-class resorts, stunning views, and incredible runs, it's no wonder people love it here. The resorts and runs are uniquely accessible, and you can choose to buy tickets for single resorts, or club them together into one pass. There are endless options for eating out in the various villages and towns surrounding the resorts, and the vibe is friendly, lively and fun. However, it is worth bearing in mind that the resorts are all quite far apart from each other and a fairly lengthy bus ride from Banff town.
This is one of the most popular snowboarding resorts for families, especially those with young children. It's a super family friendly resort, and the facilities and accommodations lend themselves perfectly to family vacation mode. The village in Big White also has Main Street, which is part of a ski slope, and obviously makes it one of the easiest and best "ski-in, ski out" resorts in the world. Add into the mix the endless choice of restaurants, bars, cafes and shops – and you have yourself a perfect snowboarding destination for young kids and beginners.
Known for the spectacular views and incredible vistas on offer – this is a resort people visit time and time again. It's an unpretentious vibe in Jasper, and the slopes are split well between the different experience levels. There is plenty of varied terrain to try out and experiment with too – making this a great choice for those who like a little bit of adventure.