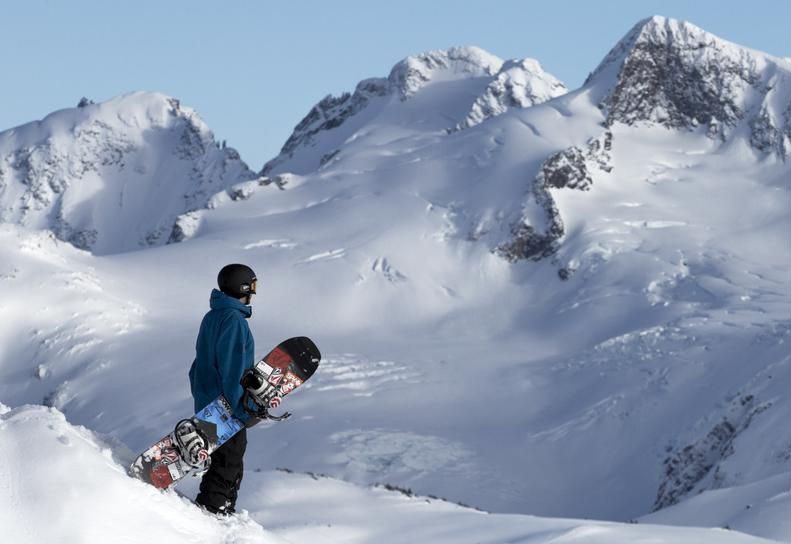 Are you wondering how to become a better snowboarder? If you're headed out snowboarding soon, and want to brush up on your skills and techniques, take a read of these practical tips to help you improve your snowboarding so you're set before you go.
1. Update your gear
Now we're not saying that good gear is the key to good performance… But it does make a difference! This is perhaps the easiest way to start improving your technique. Upgrading your gear and investing in higher quality items can really help elevate your skills, comfort and performance on the slopes. If you can, we recommend heading to a good snowboard shop, getting fitted for new boots, and then upgrading your board too (depending on the budget you have available).
2. Increase your strength (especially legs and core)
There's not much 'practice' you can do when you're off the slopes (to perfect your technique and tricks, you really do need to be in the snow and on the slopes)… but you can start building strength in the right areas of your body. Strength exercises in your legs and core can really help when it comes to learning new tricks later on, and added strength in these areas can also give you more control on your board – which will help your skills improve faster. A decent level of cardiovascular fitness is also a great help.
3. Switch your direction
Most snowboarders learn how to snowboard naturally defaulted to a certain direction. Learning to switch direction when riding helps to improve your trick repertoire, but also steps up your general skill set and confidence. Learning basic snowboarding in both directions gives you an edge on other boarders, and steps your flexibility and versatility up.
4. Master the basics
If you've become a little rusty on your basics, a great way to improve your snowboarding is to spend a day or so perfecting the basics, including your stance, posture, timings and tricks. A lot of the time, we get lazy with technique (even for the most basic tricks) and so going back to basics is an ideal way to polish your skills. Take it easy for the first day and get back into your groove.
There are so many incredible resources available online now and YouTube is a perfect place to start looking. The great thing about many YouTube videos is that a lot of them will go through tricks and tips step by step, and even in slow-motion. Whilst it's not the same as being on the slopes – it's a great way to breakdown techniques and understand the theory behind performing a lot of them.
6. Practise tricks on a trampoline
Apparently, if you're good at gymnastics, you'll probably be good at snowboarding. Why? It's because the two skills require very similar balance skills and core strength. If you want to practise your snowboarding tricks, but can't get to the slopes – then practising jumping is great on a trampoline.
7. Get Fit
Like all sports, the fitter you are the better you can become. If you are in good shape you can concentrate on your actual snowboard technique instead of puffing, panting and having to chill out in the lodge or on your backside. So if you're not already in good physical shape, a few months prior to your trip, you should start exercising regularly. Focus on your cardiovascular fitness as well as your core and legs in particular. For further advice, you can get guidance from the NHS live well site.

8. Take Up Yoga
This goes hand in hand with getting fitter. Yoga has well documented health benefits and I feel it is particularly helpful for mountain sports. It is great fro your core strength as well as you flexibility and range of movement. If your snowboarding in Whistler, there are a number of Yoga Classes available for all abilities around the village.

9. Get the right equipment
Nobody wants to have all the gear and no idea, but it's important to make sure you have the most appropriate tools for the conditions. Firstly, look at your snowboard boots. This is the single most important piece of equipment in making you a better snowboarder. Your boots need to fit well in order to help you ride to your potential. When it come to deciding which board to buy or rent, consider your current ability and where you'll be using it.
If you're going to snowboarding mainly at a big resort like Whistler with lots of deep snow, you'll want a board that performs well in powder. If you are going to be based somewhere smaller with less snowfall, you'll need something for that. What's more, if you want to focus on freestyle snowboarding, choose a specific  freestyle board. Before committing, seek advice for knowledgeable friends or at reputable shops. Whistler has a few good options.

10. Look after your equipment
Once you've make your equipment choice, look after it! Ensure your snowboard is waxed and the edges are maintained well. If you're on an ALLTRACKS snowboard course, you'll have the opportunity to join one of our maintenance clinics to show you how.

11. Warm Up Each Morning
Do yourself a favour and warm up each morning. Don't go in for the gnarliest run of the run straight off. Ease yourself into the day with some mellow runs at a modest pace and then build up gradually. This will give you the best chance to perform when you up the ante.

12. Stay Hydrated and Eat Properly
A few beers after riding at Apres Ski can certainly be fun and add to a snowboard holiday. However, if you're keen to ride to your potential, keep it to a couple! Drink plenty of water throughout the day and eat enough to keep your energy levels up.

13. Take a Course
A a leading provider of snowboard courses in Canada, of course we are going to advocate taking a course if you really want to become a better snowboarder. Our expert snowboard coaching in Whistler will take your technical riding to the next level while showing you the goods across the entire resort. Whether you want to become a snowboard instructor, hone your off piste skills or learn more about backcountry snowboarding, we have a course for you.