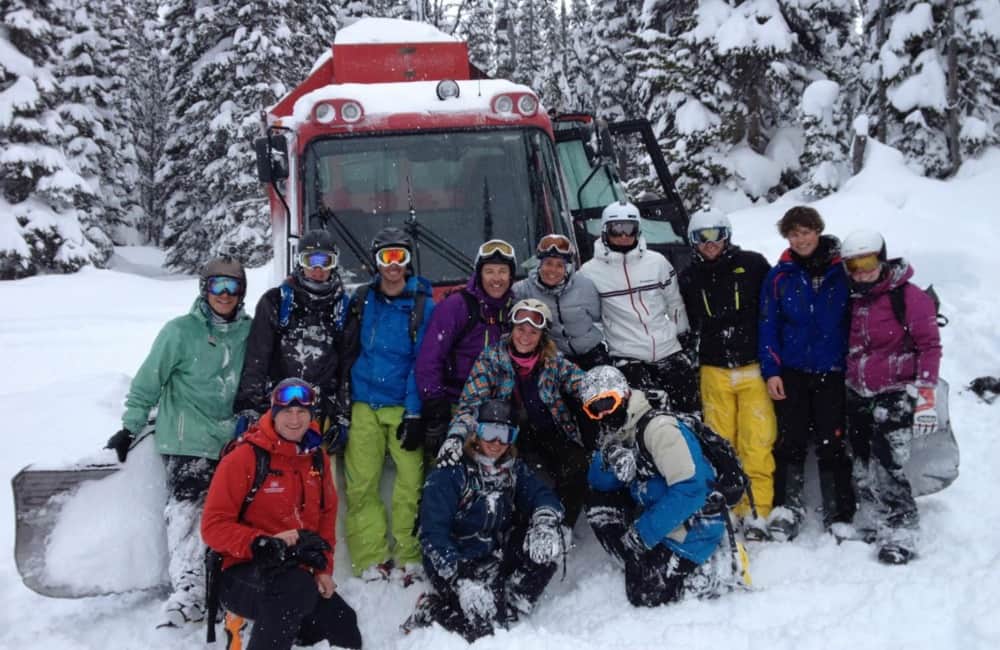 Love powder? Love Cat skiing! If you're the kind of skier or snowboarder who places skiing powder over anything else, then cat skiing is for you. Put yourself in an environment where the powder is deep and the mountains oh so quiet. Yes, resort skiing can be fantastic, especially if you know the best spots, but there is something magical about being up in the mountains with a only handful of friends, skiing some of the best conditions of your life and cat skiing enables you to do that.
What is Cat Skiing?
Cat Skiing is rarely mentioned outside North America. So here is a short explanation of what is is and how it works. Beginning in Canada over 30 years ago, two bright sparks had the idea of using snowcats, or piste bashers as they're often know, to transport skier uphill allowing them to access terrain beyond the confines of a resort. So rather the flatten the powder into easily manageable groomed highways, the cats get you the to the top of deep, untouched runs. Led by a guide, you'll ski the pitch before being collected at the bottom and head off for the next run. And you can do that all day long…..
Why go Cat Skiing?
Like Heli-skiing, cat skiing allows you and your group to access remote, untouched terrain. Whilst a cat is obviously not as fast as a helicopter, they rarely have down days due to weather or technical problems, so you can book a trip and be very confident that you will get out there riding. Although the tenure of a typical cat skiing operation is a lot smaller than the hundreds of thousands of acres available to many heli ski operators, they generally compare with the size of a ski resort. When you think it is just a few people skiing each day, there is more than enough snow to go round with plenty of terrain too.
Cat skiing in Whistler
Like most things to do with skiing, Whistler and the surrounding area offers some of the best in Canada. There are a number of options varying from operations that offer day long excursions from the resort to others that are hut based giving you a multi day trip. Here are a couple of options.
Powder Mountain runs both cat and help skiing with a combined tenure of 1 million acres Canada in BIG!). Most cat groups manages about 7-9 runs a day but there is no charge for additional runs, so if you've got the legs, you can bank of plenty of powder. The guides will meet you in Whistler, transport you the operation which is situated in the direction of Squamish and then bring you back at the end of the day. This experience is easily booked directly with Powder Mountain out in Whistler, especially if you are there for a decent length of time. It can be a great add on to one of our ski instructor courses or improvement programmes.
Home of arguably some of the greatest ski terrain in British Columbia, Backcountry Snowcats is nirvana for any powder skier or snowboard. Located at the Hurley Pass, North of Whistler, they offer hut based cat skiing trips. The lodge might be rustic but the view's amazing, there is an outdoor hot tub and the chef provided the ideal mountain food. Sound good? The ALLTRACKS 11 week combined instructor and off piste course and our 6 week off piste courses includes a 2 day/2 night trip here. It is a great addition to these programmes and something to be savoured for many years.
Cat Skiing Cost
cat Skiing is not a budget option but compared to Heli-skiing it can offer great value. What's more if you compare it to the price of a middle/high range chalet holiday, a week of cat skiing is pretty similar. Exact prices each each operator can be found on there relevant websites. However, if you book onto one of our off piste ski courses, or backcountry snowboard courses, a multi day cat skiing trip is generally included in the price.