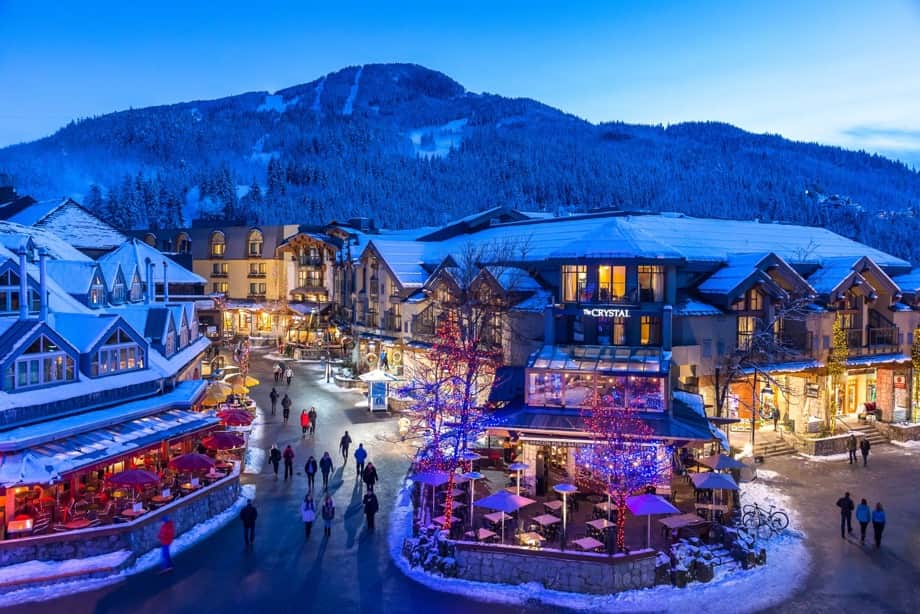 Whistler is an amazing holiday resort – famous for skiing and snowboarding, amazing restaurants and incredible nightlife. It's a winter resort that thousands of people flock to each year, and it's not hard to understand why.
But what else is there to do in Whistler, beside skiing and snowboarding? One of the pleasures of Whistler is that there are lots of things to do other than skiing and snowboarding, making it an ideal place for an extended trip. What are the best activities in Whistler? Keep reading to find out!
The Peak 2 Peak Gondola
This amazing gondola ride provides an elevated ride between two mountains in Whistler. The views are incredible on a clear day, and it's truly something special to experience. You'll cover a huge (record breaking!) 4.4 kilometers on the gondola, but don't worry, the ride only takes 11 minutes from start to finish.
Eating in Whistler Village
Yum! There are so many world-class eateries in Whistler Village, you'll definitely want to make time and try a few of them out. From cosy little taverns, to sleek and stylish restaurants – take your pick. Just make sure to book ahead where possible, as during peak season the best places will always be full.
This museum is a stunning collection of historic carvings, weavings, and stories put together to represent the Squamish and Lil'wat peoples. It's a beautiful way to spend a few hours on an afternoon, and especially interesting if you're into history and culture.
Lost Lake
A trip to Lost Lake could lead to all sorts of activities. Whether you want to give mountain biking a try, or maybe bird watching – there's something for most. This place gets extremely busy in the summer, as it's such a scenic and relaxing spot – so make sure you get there early to bag a good picnic spot.
Visit a craft brewery
If you love your beer, then visiting a local craft brewing company is a must-do during your trip. It can be a nice change from skiing, and gives you a chance to try some new beers, and learn a few things too. Most breweries offer tasting tours too – such as Whistler Brewing, Whistler Brew House or Coast Mountain Brewing.
Visit a spa
After a day of skiing or snowboarding, there's nothing better than an afternoon in the spa, or a massage to loosen your muscles. A spa day is the ultimate feel-good activity in Whistler, and there are some seriously beautiful spas based around the region.
Ice Fishing
This is a truly Canadian experience and it's something you won't get to try in many places other than Canada. Ice fishing is fascinating, fun and has an element of competition to it (especially if you go with friends or family). It's definitely something you won't forget anytime soon that's for sure!