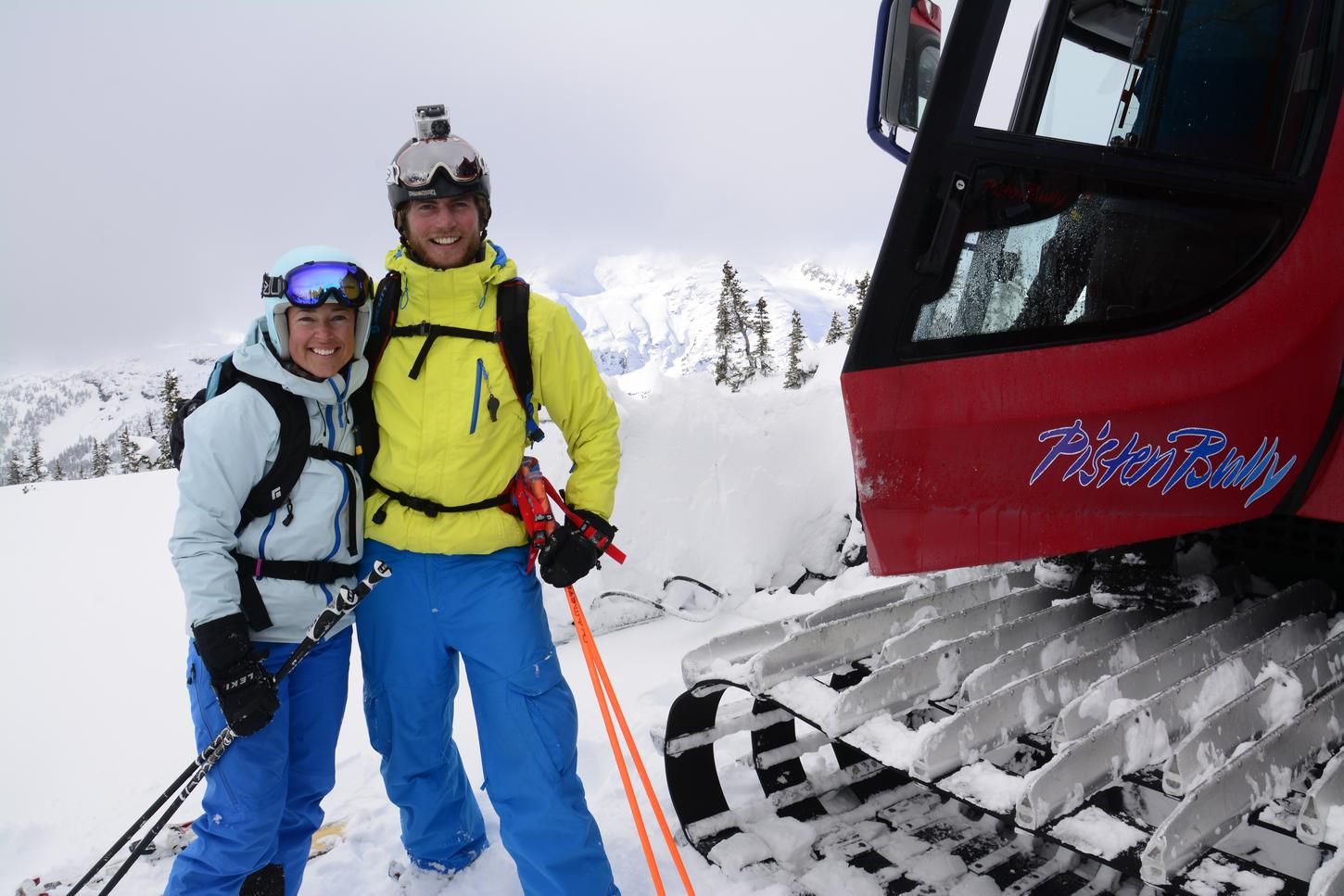 Using wearable cameras for winter sports has been getting more and more popular over the past few years. As tech develops and the tiny cameras reach professional video quality, it's no surprise more people are taking them out when they hit the slopes! It's a great way to record new routes, and if you're looking to improve your skills having videos to watch back can be great for spotting mistakes or areas you could work on. You can also share the videos on social media, letting everyone see the awesome sports you're doing and the sights you're seeing!
If you're thinking of buying a wearable camera to record your slope days, it's important you put your money in the right place. To help you out, our team at ALLTRACKS Academy have put together their top choices for cameras for sports and we've got every option they love right here. 
GoPro Hero 8
If you don't think of GoPro as soon as wearable cameras comes up, you're definitely in the minority! GoPro is the obvious choice for sports cameras and with good reason too. Their gear is usually advanced in terms of features and their tech is tried and tested, so you can be pretty sure you'll be getting a good, durable piece of kit when you buy from them.
The GoPro Hero 8 is our choice of the moment when it comes to cameras for sport. In a smaller design than previous models, this little camera weighs just 4.2 ounces but packs a punch in terms of quality! It has a video resolution of 4K/60 fps, a photo resolution of 12 MP, and 158 minutes of battery life. It also doesn't need a case to use add-on accessories as previous models did, and external lights, mics, and more can be added to increase its functionality. 
TomTom Bandit
If you're looking for wearable cameras for winter sports, the TomTom Bandit a great contender. White with a red band, the camera stands out for its design as well as function. With GPS, you can track routes whilst you film, and motion and heart sensors track you, providing plenty of stats to keep an eye on. It has 4K video, slow-motion capabilities, and an easy shake-to-edit feature to make creating action movies simpler than ever. There's no doubt that TomTom was designing this camera for sports, and the touch screen and clip-on attachment make it easy to use whilst you're on the slopes.
Yi Lite
If you're looking for a budget action camera that's going to stand up to the others on this list, the Yi Lite is our choice. The video quality is much better than other cameras in the same price bracket, and the camera also features image stabilisation, an easy-to-use touch screen, and great audio. The design looks anything but cheap, too, with a sleek, simple look and a Gorilla Glass screen. Overall, the Yi Lite is a pleasure to use and could be on the market for more than it is. However, you will have to buy a separate waterproof case to keep it secure, but even with that it's an absolute bargain!
Polaroid Cube+
Also on the cheaper end of the budget is the Polaroid Cube, which is beautifully designed for those who always want to look good on the slopes. Small and cube-shaped, it's incredibly compact and easy to mount to anything that's metal, making it ideal for quick videos without the hassle. It shoots in Full HD 1080p and captures 6-megapixel pictures, although the quality isn't as good as higher-end cameras. We love the Polaroid Cube+ for its ease of use and being so transportable, but we'd recommend it for those who aren't avid videographers and are okay with footage that's a little less sharp. 
DJI Osmo Action
The DJI Osmo Action has taken the winter sports camera world by storm – and for good reason! Waterproof and made to a high standard of quality, it's incredibly durable and should withstand the wear and tear of action on the slopes.  It's textured sides and simple buttons make it easy to start recording, and an adhesive mount makes sure you can attach it to anything you need. The quality of the video, too, is astounding, with 4K capabilities, incredible image stabilisation, and 8X slow-motion capture. It also features a front screen in full colour so you can turn the camera on yourself and make sure everything stays in frame. In our opinion – and many others – the DJI Osmo Action is a rival for GoPro with a slightly cheaper price tag, and anyone would be happy with this piece of kit. 
At ALLTRACKS Academy, we've got a team of pro skiers and snowboarders who know everything about winter sports there is to know. From the best wearable cameras that we've just spoken about to where to go for the best snow in each month of the year, we know it all! So, if you have any winter sports questions you need answering, get in touch with us and we can help you out.