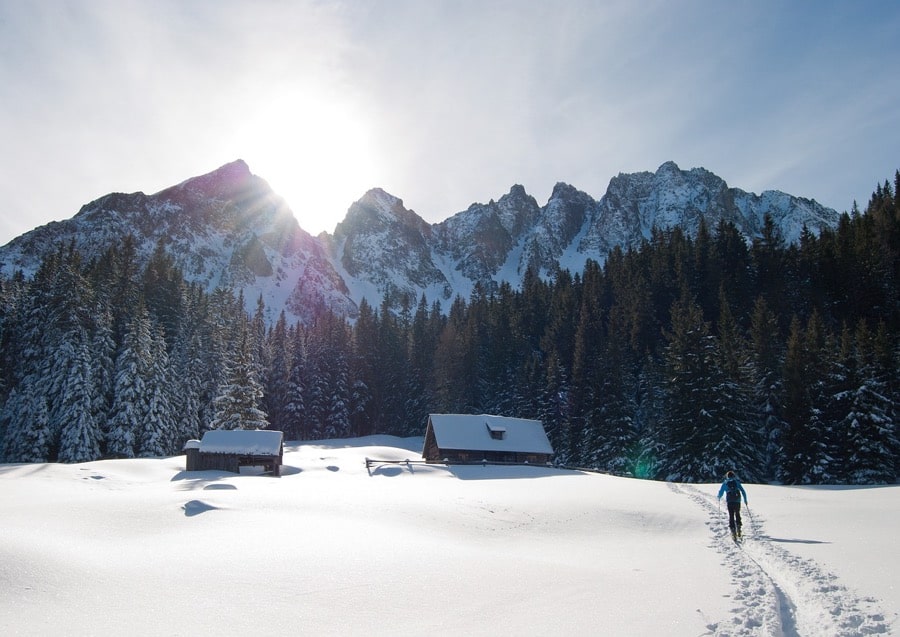 Even if you are an avid skier, on and off-piste in the Alps or Scottish Highlands, there's a good chance you'll never have come across Nordic skiing outside of competition coverage on the Olympics. If you are looking for a better idea of the sport, read on – you would be missing out on an exhilarating new way of discovering the snowscape if you never gave it a shot!
The history of Nordic skiing
The Norwegians gave us the word ski, from the ancient Norse word for a split piece of wood, "skíð" – but the concept of traversing snow-covered hills on stick bound to the feet might date back as far as five thousand years ago in China.
Skiing was used in snowy regions across the globe as a means of travel, until advances in transport technology made it less relevant in much of the world and, with its adoption as a leisure activity, skiing split down two different design routes.
Nordic Skiing vs Alpine skiing
Alpine skis are attached to the boot from heel to toe. Thus, the whole foot has leverage on the ski, but – as you might know from those sad times you overshoot the café or ski lift and have to shuffle back up a tiny hill for what seems like forever – this makes it nearly impossible to travel uphill.
Nordic skis are bound at the toe only, allowing for liftoff at the heel and for the skier to move uphill. While this may make it sound simple, the Outside website has called Nordic skiing the world's toughest outdoor sport, burning 952 calories an hour.
Therefore, Nordic skiing equipment has different requirements, but plenty of guides exist to help you see what is necessary to ensure you turn up prepared.
Finding the best place for Nordic skiing
The greatest advantage of this style of skiing, besides the incredible physical workout it provides, is the freedom to explore your surroundings in a new way – no longer only on or off-piste downhill, but across the whole mountain.
The resort which best lets you explore this new way of skiing is Whistler in Canada, where you can find the number one ski resort town on the continent with a ski area stretching across 8100 acres to ski all over.
Once you are in Whistler, ALLTRACKS ACADEMY can offer a range of life-changing courses with which you can explore the resort – whether you want to discover Nordic skiing for the first time with world-class support, seek the perfect gap year experience, or are considering a ski teaching course.
Combining the athleticism of Nordic skiing with one of the world's largest ski areas and the best après-ski in Canada will certainly leave you with amazing memories.