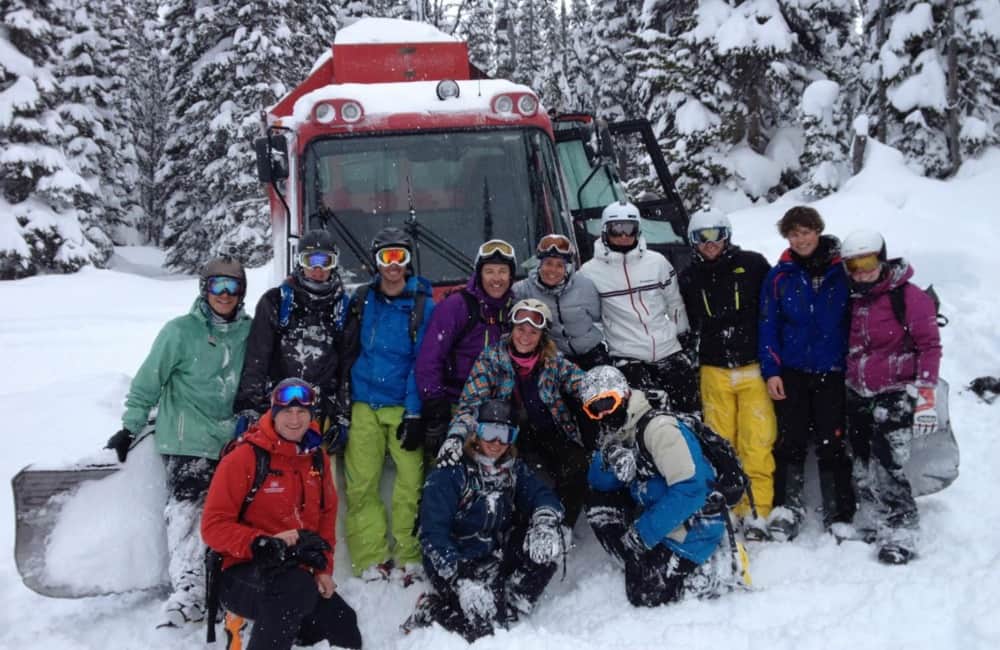 You might not have heard of Cat Skiing, but if you're crazy about skiing and you can't get enough powder snow – it's definitely something you'll want to try out. If you want to learn some new skills in a new kind of environment, then Cat Skiing is certainly for you. 
Here's some more information… 
Love powder? Love Cat skiing! If you're the kind of skier or snowboarder who places skiing in fresh powder over anything else, then cat skiing is for you. Put yourself in an environment where the powder is deep and the mountains are oh so quiet. Yes, resort skiing can be fantastic, especially if you know the best spots, but there is something magical about being up in the mountains with only a handful of friends.
WHAT IS CAT SKIING?
Cat Skiing is rarely mentioned outside North America. So here is a short explanation of what is is and how it works. Beginning in Canada over 30 years ago, two bright sparks had the idea of using snowcats, or piste bashers as they're often known, to transport skiers uphill allowing them to access terrain beyond the confines of a resort. So rather the flatten the powder into easily manageable groomed highways, the cats get you to the top of deep, untouched runs. Led by a guide, you'll ski the pitch before being collected at the bottom and head off for the next run. You'll spend the whole day exploring and skiing places beyond most people's reach. 
WHY GO CAT SKIING?
Like Heli-skiing, cat skiing allows you and your group to access remote, untouched terrain – which is every skiers dream scenario. Whilst a cat is obviously not as fast as a helicopter, they rarely have down days due to weather or technical problems, so you can book a trip and be very confident that you will get out there riding. This is a great advantage, as it means the trips are more reliable, and open most of the season. Although the tenure of a typical cat skiing operation is a lot smaller than the hundreds of thousands of acres available to many heli ski operators, they generally compare with the size of a ski resort. When you think it is just a few people skiing each day, there is more than enough snow to go around, with plenty of terrain too.
WHAT ARE THE BENEFITS OF CAT SKIING?
Cat skiing is an amazing chance to challenge yourself and learn new skills. When you've been skiing and snowboarding for a long time, you can get bored of normal runs, or just become too comfortable and confident on the 'same-old' runs and the same ski resorts. Choosing cat skiing as your next adventure is like choosing to go up a level – you get to try something completely different and have a completely unique experience up in the mountains. It's challenging, and you'll feel pushed, but in a fantastic way! You'll come away from your day cat skiing experience with a new respect for off-piste runs, and with new skills and techniques under your belt too. 
WHY DO PEOPLE LOVE IT? 
What's not to love? Cat skiing takes you right back to what skiing used to be, and it something you'll be overwhelmed by. Words can't describe how it feels to be in untouched powder, often waist deep (yes!) creating new tracks and discovering to routes. It's exploration, it's an adventure, it's freedom. 
There's so much untouched terrain out there to discover, and cat skiing is how you can get out there and find it. You can pick your own untracked lines, and enjoy the stunning scenery through open glades, and forests. If you've always loved skiing, but you've always wanted to expand your experience and love for the sport – this is how you do it. It'll give you a new appreciation for your skis, as well as the beautiful environment and mountains too. 
WHAT TO EXPECT 
Your day of cat skiing will begin early, and that's to ensure you get a full day of skiing and you can make the most of your time in the mountains. You'll receive a briefing from the cat skiing team, and this will include safety information but also information on what to expect from the day, and the timings, etc. 
Avalanche safety is always paramount, so your guides will go over everything you need to know, and ensure you're confident using your equipment too. 
After all the formalities, it's time to head up into the mountains. There's so much excitement at this stage, and it's really incredible making the trip up higher and higher, into fresh snow and untouched terrain. 
Once you reach a suitable pitch, your guide will send you all down the run (likely in pairs). You'll reassemble at the bottom to discuss it and to jump back in the snowcat, to carry on to another run. The day will likely repeat this process multiple times… Finding great pieces of terrain, exploring them, skiing them and then finding new ones!
CAT SKIING IN WHISTLER
Like most things to do with skiing, Whistler and the surrounding area offers some of the best in Canada. There are a number of options varying from operations that offer day long excursions from the resort to others that are hut based giving you a multi day trip. 
Powder Mountain runs both cat and help skiing with a combined tenure of 1 million acres Canada in BIG!). Most cat groups manages about 7-9 runs a day but there is no charge for additional runs, so if you've got the legs, you can bank of plenty of powder. The guides will meet you in Whistler, transport you the operation which is situated in the direction of Squamish and then bring you back at the end of the day. This experience is easily booked directly with Powder Mountain out in Whistler, especially if you are there for a decent length of time. It can be a great add on to one of our ski instructor courses or improvement programmes.
OTHER CAT SKIING LOCATIONS
Cat skiing isn't only done in Whistler, it can be done in many resorts. Here are some others around the world that offer it: 
Copper Mountain, Colorado
Selkirk Wilderness, British Colombia
Chugach Mountains, Alaska
Queenstown Snowcats, New Zealand
CAT SKIING COST
Cat skiing is not a budget option but compared to Heli-skiing it can offer great value. What's more if you compare it to the price of a middle/high range chalet holiday, a week of cat skiing is pretty similar. Exact prices each each operator can be found on there relevant websites.
For more information contact us directly:
UK Office: +44 (0)1794 301 777
Australia: +61 (0) 037 124