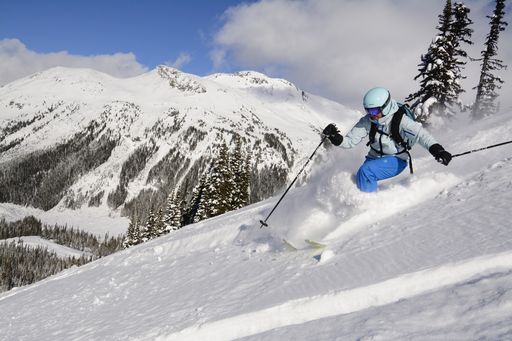 At ALLTRACKS Academy, we think our team have the best job in the world. We love what we do, work in a beautiful place, and have an amazing team, all of which we wouldn't trade in for anything! If you're thinking of joining us but aren't 100% certain, check out some of the top reasons to become a ski instructor.
Work in the Mountains
When you compare an indoor office job to working in the beautiful, snowy mountains, it's not hard to see which is more appealing.  In fact, it's probably one of the best reasons to become a ski instructor – there aren't many places in the world better to work than right here in Whistler. From the crisp, fresh air to the incredible views, there aren't too many spots on earth as gorgeous as the Canadian slopes.
Stay Active
Working in a traditional office job definitely isn't the most active, which can take a toll on both your mental and physical health. Humans weren't designed to sit in a chair for 8+ hours a day! This makes becoming a ski instructor a far healthier career choice; you'll be outside and getting plenty of exercise every day, helping you stay fitter. When you think of it like that, this is a career that can actually prolong your life.
Work Around the World
If you've been hit with the wanderlust bug, training to be a ski instructor is a great way to see more of the world without having to save for years on end. Honestly, how many people want to travel but never do because of money? Don't let that become you! Once you've got all the qualifications you need, you can work internationally, hitting the slopes everywhere from Switzerland to the ALLTRACKS Academy in Whistler, Canada.
Keep Moving Up
A lot of people think becoming a ski instructor is for young, post-college teens who want a cool job for a few seasons, but that definitely isn't true. In fact, ski instructing can be a great career if it suits you. You can move up in the professions, going from a rookie instructor to a more senior position, and increase your pay. You can even move from place to place, finding new and more challenging roles as you go.
Stand Out From the Crowd
That being said, if you are younger and only want to do this for a couple of seasons, there are plenty of perks! The biggest is that it'll help you immensely with getting future careers and help you stand out from other applicants. It'll show a 'get-up and go' attitude – rather than sitting at home doing nothing, you got out into the world and sought out a great job that you wanted – as well as a whole heap of skills that you'll learn on the job. From being in charge of others in a leadership role to having awesome communication skills, there's plenty of reasons to become a ski instructor that'll help you land a future career.
Interested? Get in touch with our team today to see what's available, or come along for a season to start earning your qualifications. For an overview of the skiing courses we provide take a look here.