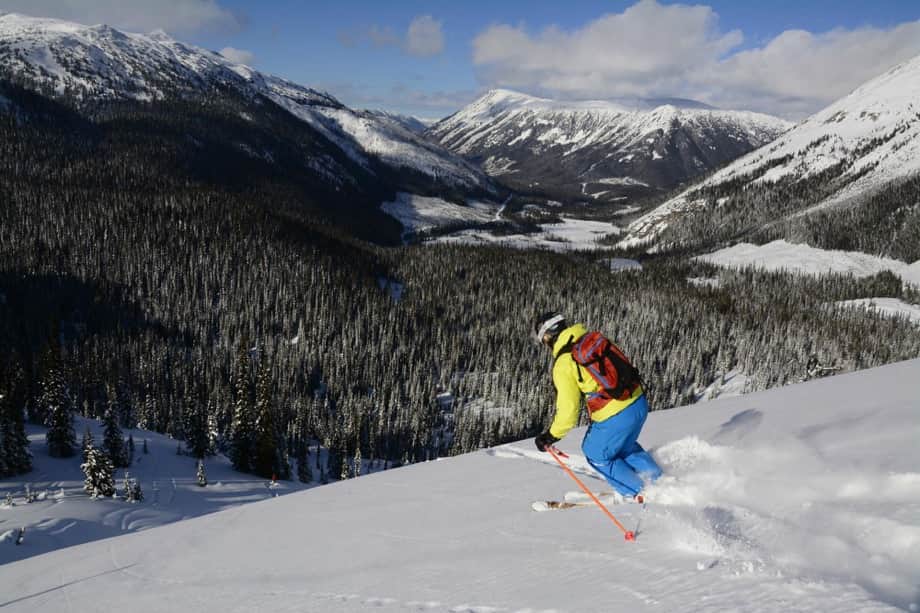 The best Skiers in the World, ever!
When you're based at Whistler Blackcomb, you get used to seeing world class athletes on a regular basis. Indeed, many household names make the resort their home due to the challenging terrain, abundant snowfall and the fact that Whistler is such a cool place to live. But watching these guys in the park and the surrounding backcountry got me thinking – who are the great skiers ever? Guy and our coaching team are good, but who makes it onto my list as the greatest? It's a subjective thing but here's 5 guys from different disciplines of skiing who are a cut above the pack.
5. Andreas Fransson
Andreas Fransson died while skiing in in a remote area of Chile a year ago with equally talented J P Auclair. He was one of a group of world leading ski mountaineers and freeriders who, I believe, were really at the forefront of the sport. He did not go chasing publicity but given the incredible feats he undertook in his short life, he couldn't fail to gain plaudits and recognition. Watch any footage of him in the mountains and you can see just how bold he was. Now I never met Andreas, but I'd read an article about one of his adventures and pretty much immediately want to get out ski touring and push myself (or if the summer and away from the mountains) go on a super long run or some other adventure to make sure I was as well prepared as possible. What's more, he always came across as so humble letting his huge talent and exploits speak for themselves.
You can read Andreas's obituary in The Telegraph here
4. Pirmin Zurbriggen
I started skiing as a kid in the mid 80s and was hooked straight away. When we weren't in the Alps or on some treacherous Scottish dry slope, Ski Sunday gave me the only taste of skiing. The man leading the way more often than not in the late 80s was Pirmin Zurbriggen. The swiss dominated the world cup winning the overall title four times in 1984, 87, 88 and 90. He also took gold in the downhill in the 1988 Calgary Olympic Games in Canada. I think any downhill skier can be described as fearless but Zurbriggen clearly had the skill and strength to dominate.
Here's a video of him taking Gold in Calgary.
3. Alberto Tomba
Around the same time that Pirmin Zurbriggen was dominating downhill races on the world cup circuit Tomba la Bomba was killing it in the slalom and giant slalom. Watching him ski the gates so effectively shows just how strong he was technically. He won over 50 world cup races and also took 3 golds and 2 silvers at the Olympics Games across the events in Calgary (Canada), Albertville (France) and Lillehammer (Norway).
If you want to see how to ski gates, check this out:

2. J P Auclair
Sadly, as mentioned above, J P Auclair died in the same ski expedition at Andreas Fransson. A hugely popular, well respected and liked skier, J P Auclair bridged the gap as a skier who could do it all. He became known as a freestyle pro skier in Canada in the nineties helping Salomon develop the 1080 ski. Anyone into skiing then will realise what a game changer that was. Probably my favourite segment of any ski film of all time is J Ps section in Sherpa Cinema's ALL I CAN. Watch it and you can't help but love the guy! What a legend.

1. Herman Maier
When you do a ski season in St Anton through the 1999-2000 season as I did, there is only going to be one skier who could claim this. The Hermanator dominated that world cup year proving to be one of the most successful competitive skiers there has ever been. Indeed, he won the the overall title 4 times in 1998, 2000, 2001 & 2004. He missed the entire 2002 season due to a serious motorcycle accident before returning to win again in 2004. In addition, he won two Olympic Gold metals in Nagano, Japan in 1998.

But – putting together this list of five reminds my of so many greats not here. What about Shane McKonkey, Sean Pettit, Lyndsay Vonn, Bode Miller, Eric Hjoreifson, Jon Olssen, Sarah Burke and Peter Muller? These guys & girls are on my list too – all awesome skiers more than a match for the ones on this list. So look out for part 2 later in the season.
I can't promise that an ALLTRACKS course will get you to the standard set by these guys, but if you want to really improve and reach your skiing potential, join us this winter on a Ski Improvement or Ski Instructor Course.