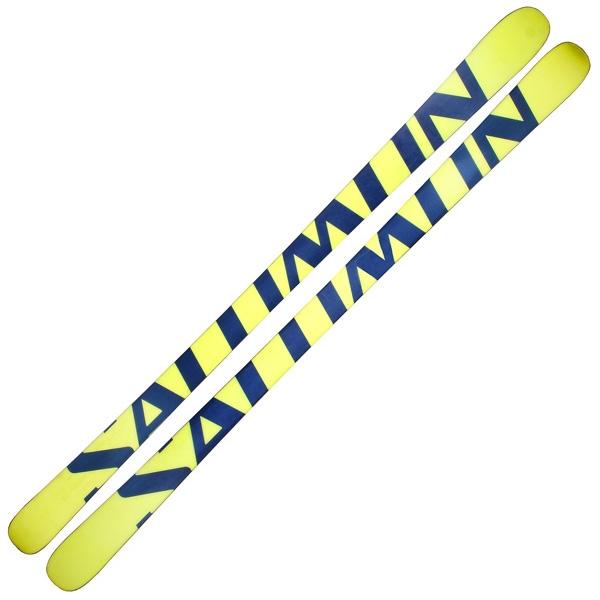 The most iconic skis
Having started skiing over 3 decades ago at the young age of seven, I've had countless skis strapped to my feet.  I can clearly remember the lime green Atomic ARCs that my ski instructor in Obergurgl had and desperately wanting a pair. Nowadays I am pretty much of the belief that most skis do the job, and the majority of manufacturers produce a suitable offering provided you choose a set of planks designed for what you want to use them for. From gunning around the resort, slaying powder, touring the backcountry and precise on piste skiing, there will be a set of skis for you.
Here's my list of skis that didn't only just do the job, but raised the bar for others to follow. These are the trailblazers over the last thirty years.
Fischer Vacuums 1985
Now I am not entirely sure what exactly the "Vacuum chamber" achieved other than help produce a cracking ski. These were on the feet of many a ski racer and ski instructor throughout the mid to late 80s and even my uncle upped his game when he got hold of a pair – and hung on to them well into the new millennium once shaped skis were fully established.  I was too young to know the benefits but these skis helped set the standard at the time.
2. Salomon Force 9s
Salomon began as a ski boot company but expanded into making skis in the late 8os/early 90s. The Force 9 was the first monocoque ski which made it new and different but most importantly it was one of the first skis to target expert skiers not looking to race. These Force 9s were undoubtedly the fore bearer of the all mountain, freeride skis we see today.
3. Salomon Ten Eighty
Another offering from Salomon but the ten eighty cannot be ignored. With lots of input from Whistler's Mike Douglas, the godfather of freestyle skiing, these bright yellow sticks helped revolutionise skiing. The late 1990s saw snowboarding take off, and many though the ski industry was in decline. Indeed, there had been relatively little advancement in ski technology over the last decade but with young skiers taking to the new snowboard terrain parks, they wanted a suitable tool. The Salomon 1080s were those tools. From then on, skis progressed into what many freestylers use today. So whether you are a park rat or not – you owe Salomon for their foresight to really bring fresh thought to ski design.
4. Rossignol Bandit
The sheer success on the Rossignol Bandits over a decade tells the story of how good these skis were. From people cruising the resort to some of the best free riders in the world ripping Alaskan spines – so many of them had these strapped to their feet. They were well marketed for sure, but they were also so usable in a wide variety of snow conditions and terrain that virtually everyone wanted a pair.
5. DPS Wailer 112
These things will get you noticed so if you were going to use them, best to make sure you can ski. BRIGHT yellow and wide, these skis offered two new ideas which have been widely adopted by other, larger manufacturers. Firstly, the made really use of carbon construction enabling DPS to produce wide, but extremely lightweight skis. Secondly, they introduced reverse camber, or rocker, to ski design. These developments helped give skiers a whole new playful experience skiing in deep, powder snow and many major ski manufacturers have begun to offer similar shapes and profiles
A few just missed the cut here. The Salomon X Screams might look and sound a bit cheesy now but the made their mark and competed directly with the Bandits. K2 have given us the Extreme, the Waybacks and multiple Seth Morrison pro models – all of which have been great. The Atomic Redsters come in various models and you'll continue to see these on the feet of many of the world's best ski racers. Whatever skis you go for – get out there and ski! Enjoy them. Joining an Alltracks course and looking for the right type of ski? Get in touch with the team and we can help you choose.