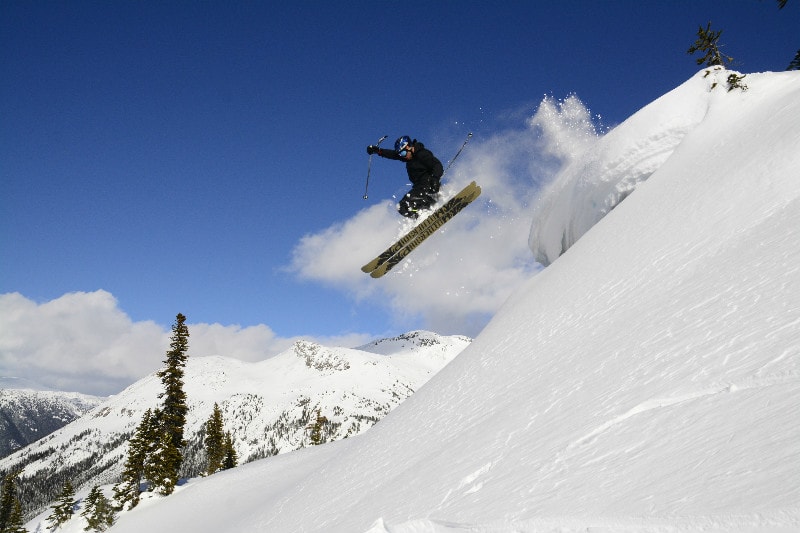 What Skis to Choose for Whistler Blackcomb?
When I first arrived in Whistler in 2012 I didn't really know what I wanted as a ski setup for a powder ski, I was fairly clueless to be honest. So many skis are on the market these days it get's a bit overwhelming deciding what you're going togo for or if I really needed one. However, with Whistler receiving on average over 11 meters of snow on a yearly basis I soon learned that a powder ski is an essential tool in your ski locker!
So I started out with a twin tipped 118mm underfoot ski called the 'Opus' from LINE Skis. I liked the graphic on it and it seemed pretty good from reviews etc. As much as I did enjoy this ski, it was not exactly the all out charging ski I was after. With 2 years worth of coaching from the incredible pros here at Whistler Blackcomb more experienced than me, I started to have a better idea of what ski would be the ultimate powder, cliffs and steeps slayer for me. So many of the guys I looked up to (including Guy) happen to be sponsored by Rossignol and many have skied the Rossignol Squad 7 for the past few years.
Finally this year I treated myself to a set of the Rossi Squad 7's but the first issue was what length to get, 180cm or 190cm? After much debate I decided to go for 'The Big Boy" – 190cm. Here are some stats to get you up to speed on the ski and myself so you can judge length/width of ski you may wish to go for.
Ski: Rossignol Squad 7 – 2013-2014 / 2015-2016 – 190cm
Binding: Rossignol FKS 18
Dimensions (mm): 145-120-126
Turn Radius: 30m
Terrain Suited: Big Mountain / Steeps / Powder / Cliffs & Drops
Athlete stats: Height 165cm / 5'5" | Weight 72kg / 158 lbs
The ski itself has not changed one bit in the past 3 seasons as it's been designed to be the king of all big mountain skis. Here is how Rossignol describe their fattest powder ski.
"Designed for pushing the boundaries of big-mountain skiing, the all-new Squad 7 is a balls-to-the-wall, big-mountain pow-slayer featuring athlete-driven innovation. Powder Turn Rocker's been redesigned, virtually eliminating "tip flap" while delivering maximum floatation and versatility. Patented new Air Tip technology reduces weight by 20% for enhanced agility, control and ultra-light swing weight. With a beefier core profile, 120mm waist and long turn radius, the Squad 7 delivers unrivalled power, stability and float for straight-lining the most daunting terrain, out-running your slough, and stomping the mandatory. 100% Powder."
When they talk about 'Air Tip' technology you can see what they mean in the photo below – they have basically put a honeycomb resin structure in the the tip and tail of the ski which reduces the weight of the ski. This also reduces the 'Swing Weight' of the ski which means it's nice and easy to turn the ski quickly and is great for doing spins in the air with such a big ski.
I find in the steeps it is extremely helpful having a long ski, so long as you have the strength and power to deal with the additional forces. The long edge helps control speed through your turns and makes you feel safe standing above anything of consequence. The width under foot speaks for itself – its big – meaning you float on top of any powder there is. It's also a stiff ski which paired with it's long turning radius means that travelling in a straight line in powder or through crud, this ski will hold it's own. I have straight lined this ski through cornice/avalanche debris at 80+ Kmph with no trouble – that's not to say I wasn't a little on edge (pardon the pun).
My favourite aspect of the ski which I probably use it for most is it's ability to 'Stomp' cliffs and drops. I spend my weekends coaching advanced teenagers who are aiming to get a spot in Whistler's Freeride Club next year. Weekends, along with my free skiing days are spent almost entirely skiing steep lines and hunting for cliffs to drop. I have 100% confidence in the Squad 7 that if I land a 10/20/30+ ft cliff/drop/cornice centred over my skis that I will have no trouble dealing with the forces and the ski out.
The one and only negative about skiing on this beast of a ski is that it's not the best in tight trees, it's doable, but its not amazing. Apart from that I would have to say that it's going to take something pretty special to get me to move to another set of powder skis anytime soon.