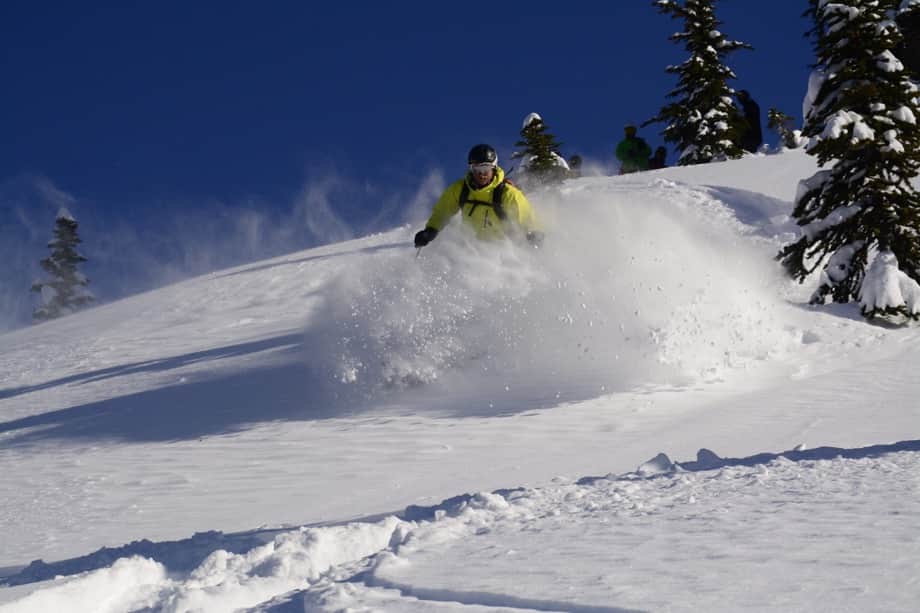 Gap Year Skiing Instructor Courses
Most people who are or have been students have considered taking a gap year at one time or another. And no wonder: taking a year out can be one of the most rewarding times of your life, especially if you spend the time constructively doing something you truly enjoy.
It often comes at a period during, or just after, full-time education and can be a great opportunity to live in a totally different environment and to consider your future. It's a year that you can make your own and you are guaranteed to have some hugely positive experiences.
If you're at a point in your life right now where a gap year could be on the cards, or if you're unsure about what one would involve, then you're in the right place. Today I'm going to tell you a little bit about gap years in general, and show you some of the benefits that skiers and snowboarders on a year out normally get out of coming on one of our ski and snowboard courses.
When you're done, be sure to let me know any questions or concerns you might have in the comments at the end of the article.
So What Exactly Is A Gap Year?
A gap year is a 12-month break from study taken by some students before they start their degree, to help them gain work experience and valuable life skills.
Some people choose to take their gap year before starting sixth form, before they start a postgraduate course or even after they have completed all formal education, before entering the workforce.
Whenever you decide to take your gap year, there are many different things you can choose to do: volunteer, get a paid job, learn new skills, or travel round the world.
Whatever you decide to do, it is important that you do something constructive and you feel challenged by what you are doing. To my mind, lying on a beach in Thailand or Australia just isn't going to give you the same long term satisfaction as learning how to become a ski or snowboard instructor in Canada.
How Will I Benefit From A Gap Year In The Mountains?
Nowadays more and more universities and employers recognise the benefits of an exciting and challenging gap year, as opposed to spending a year sitting at home. They expect to see candidates who have done something interesting and proved themselves in a different arena.
On an ALLTRACKS Academy ski instructor course or snowboard instructor course you are sure to learn to ski or ride well, but you will also learn other valuable skills including:
Leadership – by taking control of a group in the mountains
Presentation skills – by conducting lessons
Commitment – by completing a testing course
These so-called 'soft skills' are often just as important as exam results in the eyes of employers, and rightly so in my eyes.
Why Choose A Gap Year With ALLTRACKS Academy?
'The Alltracks course was really well organised, especially the ski instructors who were really friendly and encouraged you to get the most out of your skiing whilst having great fun. It was awesome!' – Rupert, Whistler Ski Instructor Course 2008
If you've narrowed what you want to do down to a ski or snowboard instructor course, why would you choose ALLTRACKS Academy? To figure that out, start by checking out all the benefits of our courses here.
Our team is hugely experienced in working with young people – we've taught in schools, been responsible for soldiers in Iraq, led mountain expeditions and worked in hospitals. But we're still young enough to go out and have a good time too.
We're also a proud member of The Year Out Group, an organisation representing established gap year travel organisations. Membership is subject to rigorous checks of company procedures and financial security.
Although gap years and our snowboard and ski instructor courses are most popular with those from the UK, Australia and New Zealand, we also have people join us from all over the world. In recent times we've had skiers and snowboarders join us from the USA, Canada, Mexico, France, Germany, Russia, Denmark, Sweden, Hong Kong, Hungary, Slovakia and loads more.
What You Need To Do Next
I hope you're now starting to see that when it comes to running gap year courses for skiing and snowboarding, we feel that we definitely have the edge.
If you're interested in what a gap year spent skiing could do for you, call ALLTRACKS on +44 (0)1794 301777 right now. You'll speak to me (Paul Beard – the founding director of the company) personally for a friendly chat and to find out if we're a good fit for you.
I look forward to speaking to you soon!