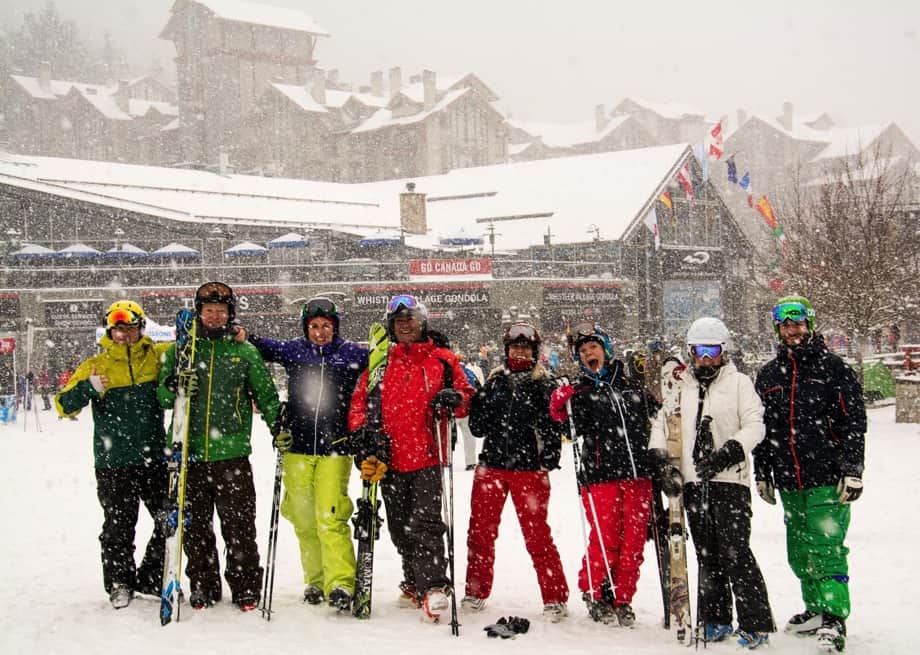 Career Break Ski & Snowboard Courses
Every year, a large number of ALLTRACKS clients take one of our ski or snowboard courses as part of a well earned career break. We realise that for many people, the principle aim of taking a course with us is not necessarily to become an instructor, but rather to improve your all mountain skiing or snowboarding whilst having fun in the mountains. All our courses (whether you choose an all mountain improvement, off piste or instructor programme) take this into account and our coaches largely focus on improving your own skiing.
We offer a Range of Career Break Courses
If you have the time to take one of the 11 week courses, the CSIA/CASI Level 1 instructor qualification is included on all of them and is scheduled into the first half of the course. Sitting this (even if you do not wish to become an instructor) is valuable as it gives your technique and understanding of skiing/snowboarding a solid base. After this, you can decide whether to go for further instructor qualifications, such as CSIA/CASI level 2, or to focus 100% on your own improvement in all mountain skiing/snowboarding – from mastering deep powder, steep terrain, moguls & carving as well as learning about avalanche safety and off piste riding. If you're unsure which is the most appropriate programme, please feel free to call or email – we're here to help.
Benefits of a Career Break
If you are a keen skier or snowboarder, the chances are that you have considered, or at least dreamed about, spending a season in the mountains indulging in your passion every day. However, we appreciate that to step away from your work routine can be incredibly difficult, especially when you have the usual commitments of a family, a mortgage and other responsibilities.
All we can say is that those people who make the bold step of taking a career break, and those who embark on a new career are rarely disappointed. We find that virtually everyone finds that the whole experience far exceeds their expectations. After an ALLTRACKS course you will return to work recharged with enthusiasm for life and this can only have a positive effect on your performance at work.
If you are beginning a new career in snow sports, the training you receive and our comprehensive employment service will give you all the help you need.
More and more companies are now acutely aware of the benefits of a constructive and focused career break and the impact it has on their employees. It is now almost unanimously agreed that taking a well earned career break greatly improves happiness and therefore productivity.
Taking an extended break does usually require some planning. However, this should not prevent you going away for the trip of a lifetime. The ALLTRACKS team is always on hand to answer any questions you have to make it as easy as possible to get you out to Whistler.
I came across the Alltracks Academy while surfing the web and looking for an opportunity to ski during a three month sabbatical from work. As a 39 year old I had some reservations about attending a gap year program which were unfounded. I spent 11 weeks in very comfortable central accommodation in Whistler and enjoyed great service from Paul Beard and his team. The ski instructors were universally excellent and the experience was very positive. – Callum Campbell
Partners / Family
Although most people who attend our courses come alone, partners are more than welcome to join in too. They can decide exactly how much of the course they want to take part in. It may well be they just need accommodation, but if they need ALLTRACKS to organise their mountain pass, meals, flights etc then we will do this with pleasure. If you want to come to Whistler with children — we will happily acquire alternative, private accommodation for you.
Taking a career break is not cheap and most people will have to plan carefully in order to afford a course- you will not regret it. For those of you who cannot physically get away for 11 weeks, perhaps one of our shorter ski or snowboard courses could be the answer.
ALLTRACKS has proved popular for career breakers of all ages from people in their early 20s to others in their 40s and 50s. Although we always see people of all ages mix and socialise together, having others of your own age on the course is positive and we're always attracted guests of different ages.