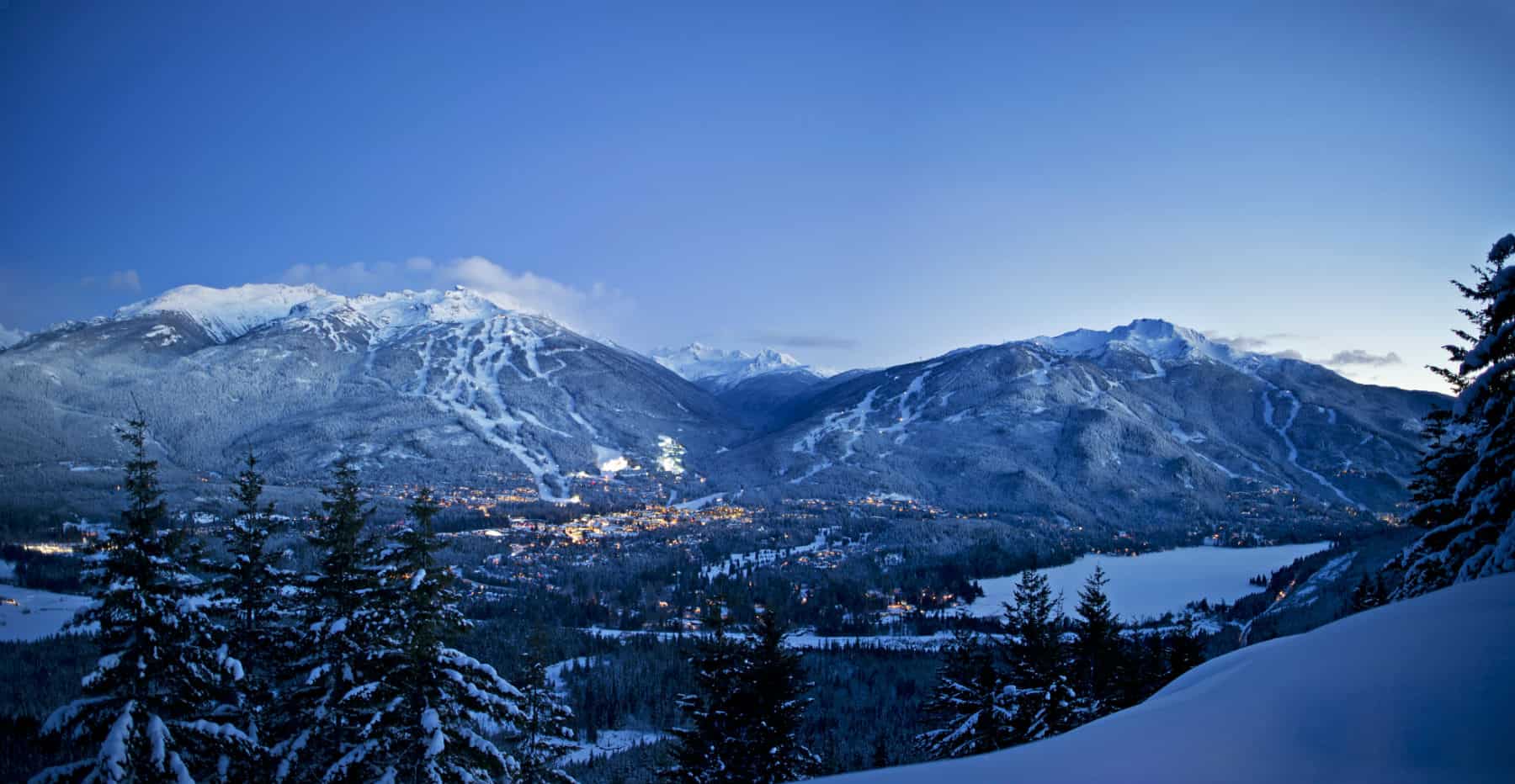 The Insider's Guide to doing a Season in Whistler.
A season in Whistler is like no other and if you're planning a ski season in Canada this winter, the chances are Whistler is already at the top of your list. However, if your still undecided about which resort to go to, I hope this guide to doing a season in Whistler helps 
The word I think of when I'm considering Whistler is choice. Choice of terrain, choice of the type of ski course you want to do, choice of work opportunities and choice of how to spend your time off the slopes. In all these areas, Whistler blows just about every other resort on the planet out of the water. That's not to imply that others resorts are bad, it is just that if you're going to spend a season at a ski resort, that resort has to offer a whole lot more than if you are just visiting for a week or two. Please read on to discover why a season in Whistler will be the time of your life….
Skiing & Snowboarding in Whistler
As a keen skier or snowboarder, this probably seems like the most important place to begin so let's break this down into snow, terrain and access. If you need more details on this, check out our skiing in Whistler page: Whistler ski season.
Whistler's snow record
Whistler's average winter snowfall is 11.63 Metres or 38.2 Feet – either way you look at it, that's a lot of snow and significantly more than almost every other resort in North America let alone Europe. What's more, Whistler boasts a season spanning from late November to late May or early June. If you want powder skiing to be a large part of your winter experience, you now know where to head. Snow stats for Whistler Blackcomb
Terrain
Whistler Blackcomb's huge variety of terrain really does have something for everyone. Whether you're already an expert skier or an early intermediate, you'll easily find lots of suitable terrain from steep chutes, legendary powder bowls to long flowing groomers. By the end of your season in Whistler, you'll have skied trails that you've only dreamed about and there will still be plenty of runs to come back for next year.
Many ski bums arrive pretty advanced skiers across the mountain but lack any real freestyle skills. Not everybody wants to learn freestyle, but if you do Whistler has it covered with 5 terrain parks, 1 super pipe and and skier/boarder cross trail. You can read abou the freestyle and other facilities here:  Whistler trail Map and Mountain Info
Backcountry Access
Some European skiers look on North America as offering a more sanitised version of the mountains. Whilst that might be true of some resorts in the USA, Whistler has direct access to some incredibly exciting off piste terrain which is more than a match for the boldest skiers and snowboarders out there. The resort backs on to the Garibaldi Park, home to some of the best ski touring in Canada. You are in the big mountains here, so gather proper knowledge and we advise taking a qualified guide (thankfully there a lots of experienced guides in Whistler as they love living here too). If you're keen to learn more about skiing in the backcountry then why not make one of our off piste courses part of your season? You'll get to ski some of the finest off psite terrain in the world and learn about avalanche safety and traveling in the backcountry at the same time. Whistler Backcountry Info
What type of Season?
Hopefully now, you're sold on WB. But what kind of season in Whistler are you going to go for? Sign up for one of our ski courses or snowboard camps? Dirt bag it and do a season as cheaply as possible? Work hard, earn lots but ski less? Or do a combination of all of these? There are many ways to skin a cat. All these options can make for a fun and rewarding time, but what is the best option for you?
Take a Ski Course
ALLTRACKS, our company, runs snowboard and ski courses throughout the season and, not surprisingly, we feel this the best way to spend a season in Whistler. Not only will you have a great time with other like minded skiers, your skiing or snowboarding will improve much further than just riding on your own or with mates. You'll have the opportunity to earn a variety of ski instructor qualifications and learn more about off piste and avalanche safety. You can read more about our different courses here regardless of whether you are a skier or a snowboarder:
Ski Courses  or Snowboard Courses

Do a ski season as cheaply as possible
Some people understandably do not want to pay for a course. If you are looking to spend as long as possible for the lowest price then a training course is probably not for you. Keep things lean and limited but be aware that you will need to fork out for a season pass and accommodation along with meals, transfers, flights etc. By the time you add all these up, you might well be getting close to the cost of a course so consider things carefully.
Work
The big choice is whether to work full on back home and save, allowing you to enjoy Whistler without having your ski time curtailed. Or get a job out in Whistler and combine skiing with work. One of the nice things about Whistler is that there tends to be lots of jobs available as it's a big resort. There's information on how to go about getting a job later on in this blog.
Travel
Vancouver is the entry point in Canada for virtually everyone heading to Whistler. There are direct flights from most major European and North American airport hubs. For people traveling from the UK there are daily direct flight from London Heathrow with both Air Canada and British Airways. Air Transat, a budget airline, flies from London Gatwick to Vancouver 3/4 times a week. If you're coming from mainland Europe many of the major travel hubs have direct flights too, including from Amsterdam, Frankfurt and Paris amongst others. Qantas flies direct from Sydney and there are numerous options if you're coming from the USA. Basically – it is an easy place to get to! It might be a little far for 1 week's skiing if you're coming from Europe, but if you're skiing for a season, the journey is irrelevant.
Getting to Whistler from Vancouver Airport
If you are on an ALLTRACKS course, then you will typically be met at the airport by Guy Hetherington and taken up to Whistler on our transfer bus. If you're traveling independently you'll find it is straight forward to get up to the resort though. Our view on best bus option is Ridebooker
Ridebooker: Ridebooker is a Whistler based bus company that has regular departures to/from the airport. They can drop you off/collect you from your accommodation and you are able to pre book your journey online or over the phone. It has always proved to be reliable and straight forward. 
Taxi: Getting a taxi long distance might well seem extravagant for us skiers. However, if you are arriving as a group of 4 or more it can be good value so don't discount it. Although it is possible to jump in a cab when you arrive, I'd recommend booking in advance. Glacier Transport and Whistler Taxi both offer vehicles of varying sizes as do many Vancouver based taxi companies

Getting to Whistler from Downtown Vancouver
If you are traveling from downtown Vancouver then you can either consider the options above which can pick up from downtown, or you can take the greyhound bus which is the most inexpensive option: Greyhound Vancouver to Whistler
Living in Whistler
A well as world class skiing, living in Whistler village will be a word class experience too. It is a community based around the mountain culture of British Columbia and is an inspiring place to live for a season or longer. There is so much on offer regardless of your interests and you're bound to meet lots of friends with the same interests as you. Moreover, Whistler attracts people from all over the world making it an ideal place to broaden your horizons by mixing with skiers from around the world.
Season Accommodation in Whistler
Finding season accommodation in Whistler can be a challenge but perfectly doable. If you are on a course with us, then comfortable, central accommodation is included so you can rest easy. If not, don't panic. Here are a few tips. Either plan early (summer before your leave) or be able to move fast and be flexible.
Staff Housing
If you get a job for Whistler Blackcomb resort as an instructor, a lift operator, in a mountain restaurant etc then you stand a good chance of being offered a place in Whistler staff housing which tends to be very competitively priced. Although there are a number of different places, the biggest staff housing base is called Glacier. This is a great option for people in their first season as it is very well located (ski in/ski out) and exceptionally sociable. It is similar to a university halls or residence if you're familiar with that sort of set up. If you are older or want a quiet and more sedate environment, then you may wish to consider West Side which is another potential option.

Youth Hostels
There are a number of youth hostels in Whistler which allow long term stays and can also be useful for a few nights while you're between places. They are perfectly comfortable but are relatively far away from the centre of Whistler so not quite as convenient as other options: Whistler HI Hostel or Alpine Lodge
Renting an apartment or house privately
There are numerous private rentals throughout Whistler to cater to most tastes and budgets. If you are looking to stay as cheaply as possible, then it can be worth looking at areas a bit further out from central Whistler such as Creekside, Alta Vista, Nordic, and Alpine Meadows. You can get to/from Whistler form these areas by bus. More convenient locations are The Village, Village North, the Upper Village, White Gold, Whistler Cay Heights.
To find private accommodation, you can check out the local newspapers and their respective website classified sections, Pique Magazine and Whistler Question. There are often adverts on Craigslist too, although you should be aware of scammers. Nowadays Air B&B offers another possible option for finding accommodation in Whistler.

Finally, ALLTRACKS offer a few places for seasonal accommodation which you can rent monthly. Our accommodation is well priced but not the very cheapest available. However, you will stay in a very comfortable, well located chalet or condo. For more information about whistler seasonal accommodation, please contact us directly.
Finding work in Whistler
If you are from outside Canada then you will need to obtain a work permit to work in Canada. For the majority of people, this means applying for a working holiday visa, officially called the International Experience Canada (IEC) working holiday visa. These visas are available to people aged 18- 30 from many (but not all) countries. Typically they are available to people from Western European Countries and Australia and New Zealand.
Please take a look at the official Canadian Government Visa webpage for details on the application process.
Be aware that these visas are in high demand from some countries, especially the UK, and they tend to run out each year. So remember to apply early (ideally 1 year in advance) to stand the best chance of success.
Once you have been accepted onto the visa programme, you've got a number of options.
Alltracks Instructor Internship
Our internship is a great opportunity for people looking to go on and work as a snowboard instructor or ski instructor in Whistler. You can read more about this here: Alltracks Ski Instructor Internships or Snowboard Instructor Internships
Places on these internships are limited so you will need to apply in good time if you like the sound of this.
Work while taking a course
Although our courses are fairly intense, there is still time of people to work in the evenings or over the weekends which tend to be free. As ski training tends to finish by around 3:30pm there is time for a part time evening job. 
Work after a course
Each year, many ALLTRACKS guests decide to extend their stay in Whistler once there course ends. If you've got your visa, you could apply for a job. If you want to use your newly earned instructor qualifications, we will try and help you with introductions and references and many people have taken advantage of this. In fact, virtually everyone who has wanted to do so, has been successful in this. Lots of other customer service jobs are available too, such as working in a bar, cafe or restaurant, in the bike park over the summer or in one of Whistler's many stores.
How to find a job in Whistler and what job to choose?
Whistler Blackcomb Ski Instructor Jobs
If its a ski or snowboard instructor job you are after, please speak to Paul or Guy at ALLTRACKS in the first instance and we will do all we can to help. You will need to apply directly to the resort but we are here to support you and can help your with you application.

Whistler Blackcomb Lift Operators (Lifty) or Mountain Restaurant Jobs
The advantage of working as a lifty in Whistler or in one of the mountain restaurants as part of your season in Whistler is that you will get a season ski pass and have a high chance of getting a place in resort staff accommodation which is a bonus. The main downside is that you'll be working during the day in ski time which obviously limits the amount of skiing you will do. Saying that, you will get a couple of days off to ski each week and you'll get some riding in most days if you want. For these jobs, you will need to apply directly to the resort online: http://www.whistlerblackcomb.com/employment
It is worth following the twitter feed too, which includes job updates: https://twitter.com/WhistlerjobsWB
Some winter jobs are advertised from the previous April so it is sensible to plan ahead.
There are also Whistler job fairs during the year and you get get the details on these from the above links.
Resort Jobs
For other jobs, nothing beats visiting the business in person, neatly presented with a smile and a copy of your CV (resume for all you Canadians). Whistler is a big resort with lots of businesses dependent on work working, motivated seasonal staff so if you come across as happy, straight forward, hard working and easy to get on with, I am sure you will be in demand. If you are looking a jobs before your arrive, check out the Pique Magazine classified section and you could also contact the bars/shops and restaurants in Whistler directly. Be organised and there is no reason finding a job in Whistler should prove too difficult. Remember that in Canada, people expect an extremely high standard of service with a smile!
Professional Jobs
As Whistler is a mountain town with a permanent population of around 9000 people there are a number of highly skilled, more specialist jobs available for those doing a season in Whistler. It is the epicentre of the Canadian ski industry so whether you're an accountant, web developer or marketer, there are some great opportunities to combine skiing, living in a mountain town and earning a good living doing a stimulating job too. Just because you're on a career break, doesn't mean you need to stop of the ladder if you don't want to. Furthermore, because the ski school is the largest in North America, there are good opportunities to go into management in a supervisor positions for those looking to make a long term career in skiing instructing industry.