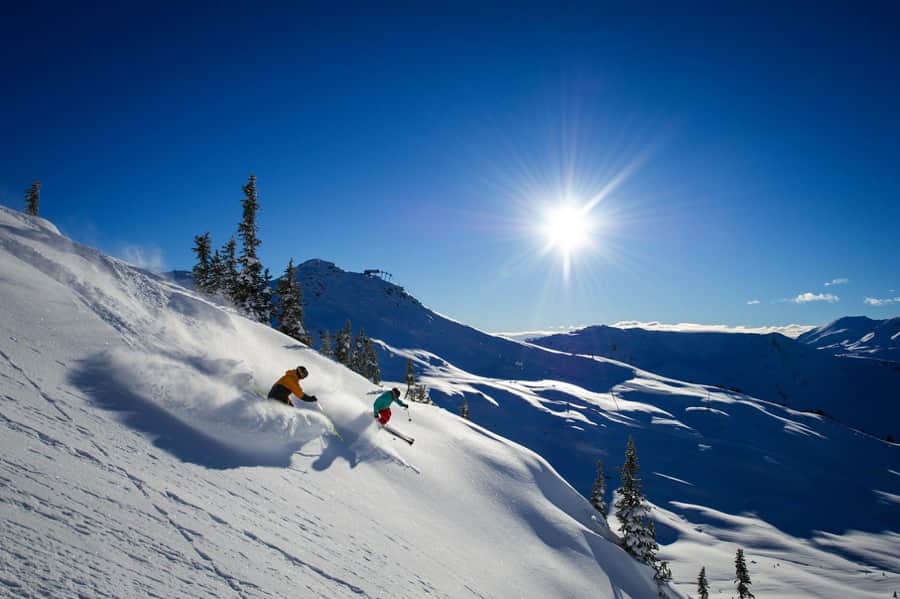 Working as a ski or snowboard instructor can seem like some far-off dream, but it's actually not as difficult as it may look. With the right mindset, preparation, and plan of attack, you can not only find ski instructor job opportunities, but you can land them.
That's not to say it's easy by any means. But by learning from those who've done it before, you can increase your chances of landing your dream job.
An Unbiased Look at What the Job Entails
Regardless of whether it's a 9-5 desk job or a seasonal gig on the slopes, it's critical that you understand everything a job entails before investing too much. Otherwise you'll end up misinformed, frustrated, and unhappy with your career choice. With that being said, here are some of the things you need to know about being a ski or snowboard instructor:
• What it's not. A lot of instructors go into the job thinking it will be more play than work. These are usually the ones that last only a few days or week. While you can have a lot of fun as an instructor, there's a major difference between working on the slopes and spending recreational time on them. When you're working, you have to watch out for the safety of others, make difficult choices, and constantly be ready to teach the same things over and over again. Don't let this deter you, but do understand that being an instructor is a job.
• Lots of interaction. The best instructors are the ones that work well with people. If you're not a people-person, the job will be even more challenging and mentally draining than you originally anticipated. As an instructor, the key is to find that balance between professionalism and fun. While there will be times when you need to be serious and professional with your students, there are plenty of other opportunities to have fun – since this is why most students are there. The latter is especially true if you end up teaching children.
• Paycheck expectations. Unfortunately, an instructor's paycheck usually isn't the biggest. A lot will depend on your certification, the resort you work at, and the experience you have, but you should only expect a small per-hour rate your first year. Pay in Whistler Blackcomb typically starts at $12CAD per hour, which is a good yard stick. After you get a few years of experience under your belt, it's possible to earn considerably more than this. You may also get tips, but it's best not to count on them. The biggest paycheck opportunities come when you get requests for private lessons or when former students return and request you. You can usually charge a premium on these types of occasions.
There's certainly a lot more to being a ski or snowboard instructor, but knowing these three things will put you in the right frame of mind.
Helpful Tips for Finding Job Opportunities
Still interested in becoming an instructor? Good – because there are plenty of incredible opportunities for you. You just have to know where to find them and how to land them. Here are some proven tips:
• Expand your horizons. If you want to increase your chances of finding a job, you have to be willing to work in a number of different places. While we're obviously partial to Canada – and Whistler Blackcomb in particular – you would be remiss to ignore opportunities in the United States, Switzerland, Italy, Germany, Spain, Croatia, and even Japan.
• Network online. Many of the top resorts and companies are on sites like LinkedIn. Create a killer LinkedIn profile and make it as comprehensive and professional as possible. You can then use this as a launching point for reaching out to particular resorts and to seek out new hiring opportunities.
• Let people know you're looking. Your best chance of landing a job comes when everyone knows you're looking for one. Send out a message on Facebook, ask your parents to get the word out, tell your friends, make offhand comments about it whenever you meet someone new. You never know who might have access to the job you want. If you really want to increase exposure, you can carry around a simple business card to give to people you meet. This will ensure they don't forget about you.
• Start looking early. Don't wait until a couple of weeks before ski season to start looking for jobs; they'll all be filled up by that point. The earlier you start looking, the better your chances will be of securing a job. For resorts in the northern hemisphere, start looking between July and October. For resorts in the southern hemisphere, December to March is ideal timing. If you call prematurely, some resorts will tell you to call back later. Keep calling back until you get an answer.
• Be willing to do anything. Employers want employees that are flexible. If you can show them that you're willing to do anything it takes to get your foot in the door, you'll make an impression. If that means starting off as a lift operator or teaching children's lessons, do it. It'll pay off in the long run and build patience and character.
• Obtain more certifications. The more certifications and "classroom" experience you have, the more you'll standout from the slew of other first-time instructors. The goal is always to make yourself look as qualified as possible, so don't ignore the value of your own training.
Alltracks Academy Ski Instructor Courses

At Alltracks Academy, we offer advanced ski and snowboard instructor courses that are designed to kick-start your career as an instructor while simultaneously helping you improve your skills and refine your talents. Our instructor courses last between 4 and 11 weeks and are backed by some of the best coaching in the world.
Whether you're looking for all-mountain or off-piste training, we have the courses needed to help you get certified and propel you into your next career. Additionally, we offer methodology clinics to prepare you for any assessed exams you'll be required to take – ensuring you the best chance to secure certification.
For additional information on our instructor courses, please don't hesitate to contact us today! We would be happy to answer any questions you may have and can provide you with additional resources.