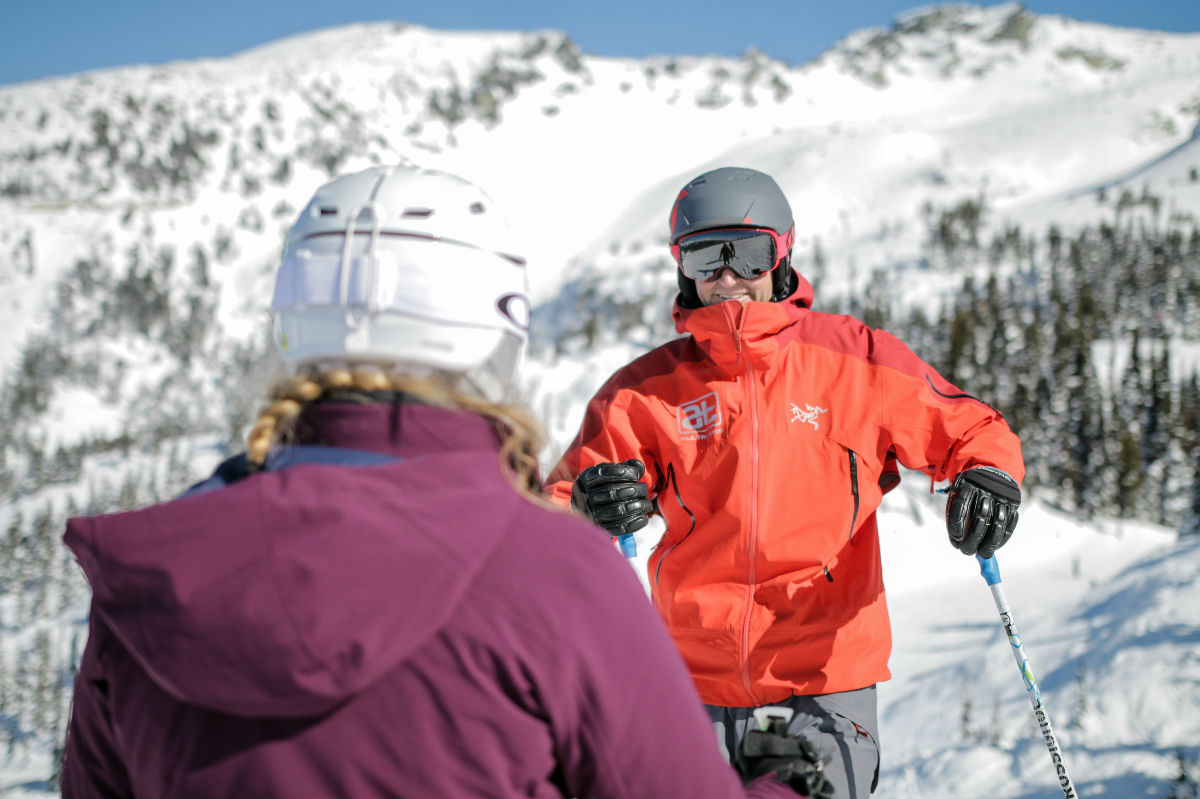 Ski Courses for Intermediate Level Skiers
It is a fairly common misconception that you need to be an expert skier to join an Alltracks course. Although we do offer training to lots of very strong, advanced skiers, we are equally happy and focused on providing intermediate ski courses too.
The reality is that lots of people (probably the majority) can usually only get a way to the mountains for a week each year, and whilst that means they can get around the resort capably and really enjoy their skiing, they often lack the precise technique of advanced skiers as well as the confidence to tackle deep snow and the most challenging terrain. Alltracks intermediate ski courses aim to rectify this.
The ALLTRACKS Training Formula for Intermediate Ski Courses
Our intermediate ski courses begin just like our advanced ones. We split our ski guests into groups of 6 maximum per coach giving the ideal training ratio. You get plenty of personal attention, the group can move quickly and you enjoy a fun, group dynamic. We always try to split people according to their level of skill and confidence and by the end of your course, solid technique should be second nature.
Component Ski Coaching for Intermediates
After the initial group split, most mornings we work on what we call "Component Training". This focuses on a particular aspect of your ski technique and we work through drills that help improve it. These deliberate sessions include a lot of in depth feedback and video analysis.
Challenge Ski Coaching for Intermediates
As well as the component sessions, most mornings include challenge training. Unlike the component sessions, we will not provide every solution, as we strongly believe that discovering things for yourself is key to really remembering a skill. We will push your technique and performance on these sessions.
Free Range Ski Coaching for Intermediates
Generally in the afternoons, we explore the best snow conditions across the most appropriate terrain for your level. As the course progresses, you'll be skiing some of the most exciting ski terrain to be found anywhere in Canada. Whistler really does offer a huge variety of skiing, regardless of the level you are when you arrive. You can read more about Whistler here:
Whistler Ski Resort Info
Our aim for intermediate skiers who join us is that they leave skiing technically well, full of confidence having had a fun and rewarding time at Canada's best ski resort. If you're interested in finding out if one of our 2-11 week ski courses is for you, please get in touch anytime. We're more than happy to discuss your level of experience, skill and confidence in order to make sure you get the most out of your next ski trip.
+44 (0)1794 301 777