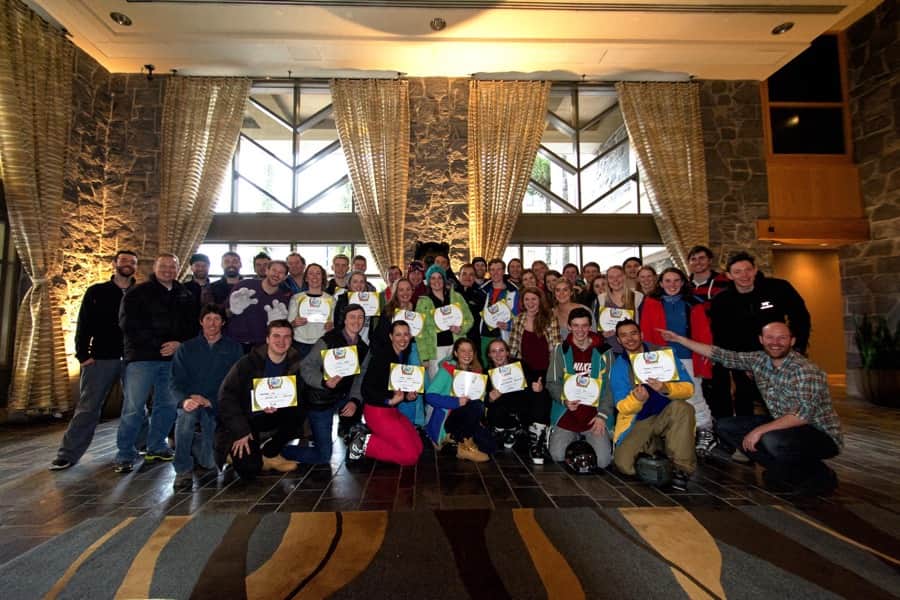 Successful Ski & Snowboard Coaching With Alltracks
On our ski and snowboard instructor courses, we're used to seeing some great exam results. Of course, we can never guarantee that someone will pass their CSIA or CASI exams, but we have high expectations for all. Last week we saw another 100% pass rate for both skiers and snowboards, with every snowboarder not just passing, but being marked above the standard pass mark. With this success, it prompted me to think about what makes the difference to ensure success in skiing and snowboarding.
What makes for this success? First of all, the effort and skill of our guests. Some arrive exceptionally strong skiers, but others begin the course at an intermediate standard and it's great to see these guys especially do so well. Many arrive being able to ski comfortably down most resort terrain but they lack the confidence and finesse of really good skiers in more challenging terrain. After a few weeks, the difference is obvious with virtually everyone making huge strides forward.
Secondly, the coaching. When comparing ski courses, I always think it can be hard for potential guests to differentiate between the sort of coaching on offer and possibly many people make the mistake of presuming the coaching offered is much or a muchness. At ALLTRACKS we put our coaching right at the top of the agenda and there are a number of concrete differences with our coaching:
Confirmed Maximum Coaching Ratio of 6 per coach: Like most things learning in a group is generally fun, but keeping the group small allows for more personal attention and feedback and keeps the group moving allowing for much more actual skiing then being in a large, unwieldy, group.
Considered Coaching Programme: Although our coaches are smart and experienced enough to tweak the training according to weather and group dynamics of the day, we have an underlying system set out by Guy Hetherington. Guy is literally one of a handful of CSIA Level 4 examiners in Canada making him one of the top skiers and trainers in the country.
Individual Coaches: If you want to work for ALLTRACKS, it is not enough to just turn up with your Level 4 qualification. Our coaches all demonstrate a real enthusiasm to ski and to train other skiers. Technical prowess is important but we want all our guests to have an absolute blast on the mountain whislt improving.
Thirdly, by being based at Canada's largest resort. Whistler's terrain and snowfall allow our students experience such huge variety. Many European skiers arrive skiing well on groomed sloped but still flounder in powder. Whistler's usual deep snow conditions ensure all get plenty of practice in powder snow and start being able to rip in that too.