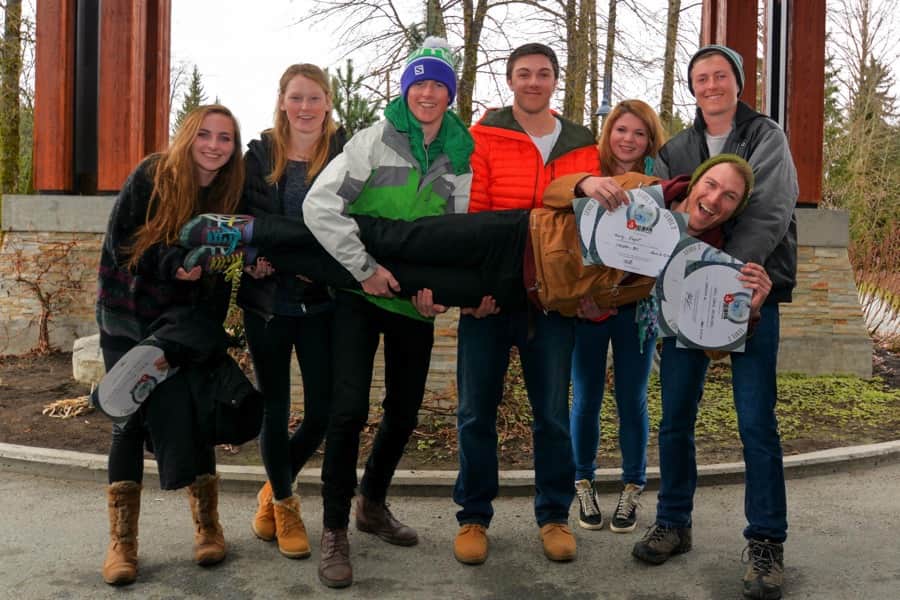 As someone who is preparing to enter college or university after finishing school, why not do something different?
After all, higher education will be waiting for you whenever you choose to enroll. Consider taking a year out to travel, build your CV with work experience, or even do something wild like embarking on a gap year ski season and you won't be disappointed.
Understanding the Gap Year Phenomenon

[youtube id="bTzViNACCt4″ mode="thumbnail" align="center"]
While people have been taking gap years for a number of decades, the formal term is relatively new. They are becoming increasingly popular and many schools and employers now encourage them. From 2006 to 2013, the American Gap Association (AGA) saw enrolment numbers skyrocket from less than 1,500 to nearly 6,000 students.
Much of this is due to the fact that those who have taken gap years in the past become major advocates. Students who have successfully completed a gap year in the past report being as much as 75 percent more happy or satisfied with their post-university careers. An incredible 88 percent believe it made them more employable, while 60 percent say their choice to enroll in a gap year directed them to their current career path or academic major.
Jean Fan, Director of Community at UnCollege, said it best in her TED talk (above). In short, there's no disputing it: all students should take a year off from school – from those who want to truly excel at the next level, to those who are questioning the current system, to those who just want time to pursue personal projects.

[youtube id="Wwy6gQ3dT74″ mode="thumbnail" align="center"]
As you can see, the large majority of people are happy with their decision to take a gap year. But what are the specific reasons for prolonging your education or career in favor of a gap year? Let's take a look at five of them:
• Explore new places. The most obvious benefit is the chance to explore new cities, countries, and geographical landscapes. These opportunities help you gain a better sense of cultural understanding and broaden your horizons. From a very surface level perspective, this gives you things to talk about and discuss with other people. On a deeper level, it shows you that everyone is different and unique; knowledge that will benefit you later in life.
• Gain new life skills. Depending on the type of gap year you take, you'll gain new life skills or perfect existing ones. This practical in-field experience is arguably more valuable than anything you learn in a classroom setting and can accelerate your professional trajectory.
• Bolster your resume. Employers, hiring agencies, and universities understand the value of experiential learning and hands-on opportunities and weigh them accordingly when reviewing resumes and applications. While you shouldn't take a gap year just to bolster your resume, it's a very beneficial byproduct.
• Become more independent. Depending on the type of gap year you take or the organization through which you plan it, there will be some level of structure. However, regardless of how much planning there is, you'll still be on your own to some degree. This quickly teaches you independence and responsibility.
• Relax and recharge. It may not be a long-term advantage, but the chance to relax and recharge before entering the next phase of your life is a welcome benefit. It allows you to refocus your thoughts and put life on pause.
Planning Your Gap Year
You can literally spend a gap year any way you want. You can choose to take your gap year through a Year Out Group accredited organisation (our company, Alltracks Academy, is one of these), or you can choose to plan everything on your own.
The benefit of using a company selected through the Year Out Group is that the hard work is done for you. There's a whole array of potential problems and issues you'll face if you're travelling abroad – from visas and vaccinations to work permits and travel arrangements.
What's more, there are many internship and gap year companies out there who promise the world without delivering when it comes to the crunch. An company that has been accredited by the Year Out Group (UK) or American Gap Association (USA) has so meet strict safety procedures, management and project quality standards that have been carefully vetted for you – leaving you with the cream of the crop.
Check out the Year Out Group's website as a starting point – they offer helpful FAQs, information regarding which deadlines you need to meet, and how to get in touch with the right groups.
On the other hand, if you do choose to plan it on your own, you get the freedom to customise everything to your liking. Whatever you decide, make sure you start early and pay careful attention to the details.
Best Ways to Spend a Gap Year

So yes, the beauty of a gap year is that – ultimately – it really is all up to you. However, here are a few ideas you'll at least want to consider during the planning process:
• Volunteer in a third-world country. If you want an eye-opening experience, consider volunteering with some sort of organisation that helps third-world countries or underprivileged people. It will completely change your life and leave you with a much grander perspective of what the world is really like.
• Promote a cause you believe in. Do you feel strongly about a particular cause like clean energy, global warming, poverty, domestic violence, or agricultural sustainability? There are organisations all around the world that would be thrilled to have you help them. Not only will your work matter, but it could also lead you to future career opportunities.
• Work as a ski instructor. Do you have an adventurous side that craves new experiences? Many ski resorts and schools offer internships and ski instructor courses, followed by the opportunity to teach. This is a great opportunity to gain new skills and possibly launch a career.
• Travel through Europe. Another idea for those with an adventurous side is to backpack through Europe and experience different cultures. Thanks to the highly connected rail system, you can bounce around to cities like Madrid, London, Paris, Amsterdam, Brussels, Rome, Venice, and dozens of other renowned destinations. Just learning to navigate through various countries and overcome language barriers is an educational experience in itself.
While these may be some of the most popular ways to spend a gap year, the list is by no means comprehensive. There are thousands of unique ideas and you can literally find opportunities in every corner of the globe. If something interests you, find a way to make it happen.
Want to Spend Your Gap Year Skiing or Snowboarding?

At Alltracks Academy, we're firm supporters of gap years. In fact, we encourage every student to take one before enrolling in a university course or entering the workforce. Not only is it a great opportunity to learn a new skill or invest in a good cause, but it's also an excellent chance to gather your thoughts and prepare for the next chapter in your life.
Please let us know if you're interested in taking a gap year with us. We offer a number of instructor courses and internships that range anywhere from 4 to 11 weeks and would be thrilled to discuss the details with you. Just head to the contact page to get in touch and speak to one of our team.