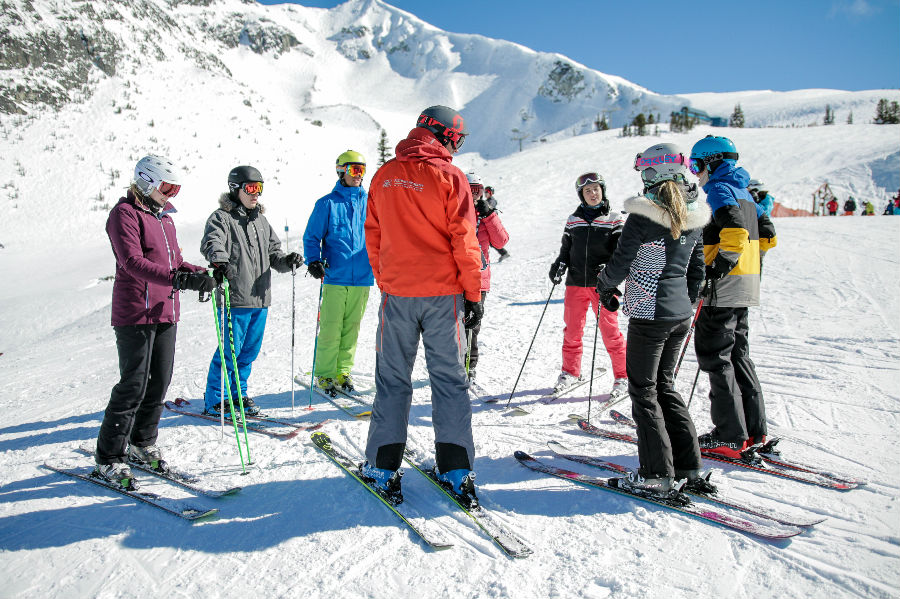 Where are the ski instructor courses held? 
All our ski instructor courses take place in Whistler, which is frequently voted as North America's #1 resort. Whistler is the top resort for keen skiers, and it is a thriving and exciting resort to be based in. With an average annual snowfall of almost 40 feet and over 200 runs, no other Canadian resort comes close to offering the same combination of varied terrain and massive snowfall.
Being based in Whistler you'll have access to all the amazing lifestyle around the resort, as well as the world-class skiing too. You'll get to sample the amazing ski runs, and you'll also be based in central, well-located accommodation too, with other trainees.
Who can go on the ski instructor courses?
If you're interested in becoming a ski instructor – then our ski instructor courses are perfect for you. However, they're not limited to people who want to pursue instructing professionally. We have many people join us on our ski instructor courses who are more interested in spending time perfecting their skiing techniques and learning new skills (whilst also gaining a qualification as an added bonus). Our ski instructor courses are also a great choice for people who want to spend extended time in Whistler, or who want to spend their time off (such as a sabbatical or gap year) doing something fun, educational and beneficial.
You'll get the chance to improve your skills, perfect your technique, whilst also earning your ski instructor qualifications and having the time of your life in one of the best resorts in the world.
How long do the instructor courses last for?
We offer a variety of ski instructor courses, and they vary in duration. Depending on how long you wish to stay in Whistler for, or how long you have to gain your qualifications, will probably affect the course you decide to choose.
Established for over a decade, we offer the widest range of ski instructor courses varying in length from 4 to 15 weeks, allowing you to qualify as Level 1, Level 2 and Level 3 instructors. Why is this important? It means you can pick a course that not only suits your schedule, but that suits your budget too.
If you're pushed for time, you might choose our intensive 4 week ski instructor course, however if you have more time available, you could opt for our extended 11 week combined ski instructor and off piste course. The choice is yours, and the best way to decide is to take a look at all the courses we offer.
What can I expect from the course?
The foundation of every Alltracks ski instructor course is the highest quality coaching in a supportive environment. This is what we're all about, so you can book your Alltracks course knowing you'll receive lots of support and gain lots of valuable knowledge along the way.
Guy Hetherington (CSIA Level 4 examiner) leads our coaching team and we have some of the very best Whistler instructors to hand too. Our team are friendly, encouraging and great fun to be around – meaning you have the best possible time. We want you to improve, but we also want to make sure you are skiing with a smile on your face.
Each ski instructor course will have a slightly different structure or format, and shorter courses may be structured differently to the longer and extended courses. However, all our courses are designed with the optimum output and best results in mind.
As part of our Alltracks courses, you'll also get access to frequent video analysis, which is a great tool for analysing your technique, and ensuring you're exam ready. Our methodology clinics in the resorts will also ensure that you as prepared as possible for any assessed exams as possible. Our coaches are experienced examiners themselves and will leave no stone unturned in analysing your technique. This approach leads to brilliant progress and great results.
How many students will be on the course? 
As with all our courses, our ski instructor courses puts your learning first. Our ski coaching is always limited to six students per coach so you will have the added benefit of individual attention from your coach. This means your progress is faster, and it also means that sessions can move quickly.
Where will I sleep during the course? 
During your course you'll stop in our comfortable chalets and condos. They have great locations and amenities will ensure you feel right at home. In your accommodation you'll have a comfy living room to relax in, a well equipped kitchen for cooking, and even free wifi internet to ensure you can stay in touch with everyone back home. Some of our accommodation even has hot tubs and swimming pools to relax in!
We know that a good night's sleep is very important when you're learning new skills and skiing every day, so you'll be able to rest assured knowing that you have a comfortable bed to go home to. You'll enjoy spending time in your accommodation and relaxing there in your spare time.
Will I come away with a skiing qualification? 
Numerous ski instructor training qualifications are available on our courses, depending on the length of the course and the level of your experience. For example, you can qualify as Level 1, Level 2 and even Level 3 instructor on our courses. The Canadian Avalanche Association (CAA) Avalanche Skills Training Level 1 (AST1) is also included on our ski instructor courses. The more advanced AST2 is also included on the Combined Instructor and Off-Piste Course.
Is there time for a social life during the course?
Yes definitely, your social life will be a big part of your experience with Alltracks and it's what makes the courses with us so memorable and enjoyable. Your accommodation will have you living with other attendees, and you'll even be able to attend various social gatherings and enjoy the amenities Whistler has to offer.