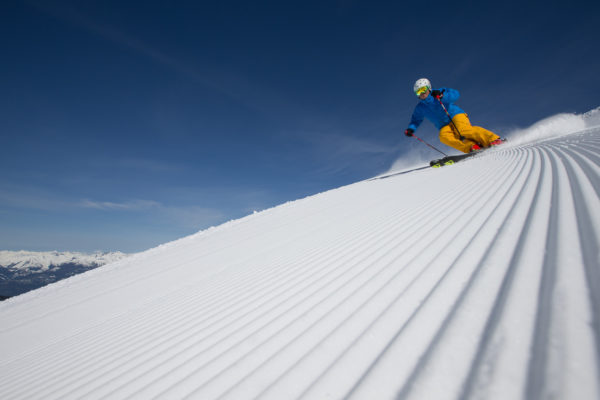 Thinking of enrolling on one of ALLTRACK's Gap Year Ski Courses, but unsure which one is right for you? The following FAQ should answer most questions you have about the services we offer, but feel free to get in touch with us directly if you have any more concerns or doubts.
How big is Whistler resort?
The largest resort in North America, Whistler Blackcomb has over 8,100 acres of skiable terrain, with more than 200 runs serviced by 37 lifts.
How much snowfall does Whistler receive?
Whistler receives an average annual snowfall of 39ft (11.9m), meaning it's unparalleled for depth and steepness elsewhere on the continent.
How many people are there on the courses?
It varies from course to course, but usually around 25-50 people on each course. Each course has a maximum of six people per coach, ensuring that everybody gets the individual attention and feedback they need to improve.
When do the courses run?
The courses run from November to April, though the exact timing will depend on which course you want to book.
How long do the courses last?
Again, it depends on which course you wish to join, but they last between a minimum of two weeks and a maximum of 11 weeks.
Are your courses ATOL and ABTOT protected?
Yes, all of our courses are both ATOL and ABTOT bonded, meaning you can rest assured that your money is safe in the face of any eventuality.
Can I become a qualified instructor?
Yes, our most popular gap year choices are our Ski Instructor Courses, which run for four, five, six, seven or 11 weeks depending on the course you choose.
What level of qualification can I achieve?
You can receive a qualification up to CSIA Level 4 instructor, which is the highest qualification available in Canada.
Is it possible to become a paid ski instructor in Whistler?
Yes, our Ski Instructor Internship Programme offers the chance to obtain a paid ski instructor job at Whistler following the attainment of your CSIA Level 1 and a post-internship interview. To date, every single person who has passed the CSIA Level 1 exam after an ALLTRACKS course has successfully secured a job at the resort if they wanted to.
Do I need experience to take the ski instructor internship?
Yes, you must be an advanced and confident skier to take this internship, as well as having an enthusiastic, positive outlook on life. Good communication skills and some relevant experience in an educational or leadership role is also preferred.
Can I ski on untouched powder?
Yes, our Off-Piste Ski Courses offer you the chance to hone your skills away from the resort on untouched mountains. There's the opportunity to go heli-skiing and access some 432,000 acres of additional terrain with this two- or six-week course.
Can I combine the instructor course with the off-piste course?
Yes, both courses can be combined. This option lasts 11 weeks.
Can I learn about avalanche safety?
Yes, basic avalanche safety is included on both the instructor course and the off-piste course. You can attain the Canadian Avalanche Association (CAA) Avalanche Skills Training Level 1 (AST1) on the former and the AST2 on the latter.
Can you teach me how to improve my tricks and jumps?
For those who want to fly inside the resort like they can on the mountain, the Freestyle Ski Course is the perfect option. It teaches how to improve jumps within a safe environment.
Can I combine the instructor course with the freestyle course?
Yes, the freestyle course can be combined with the instructor course for an 11-week package, or it can be purchased as an additional bolt-on (£600 for five freestyle-specific sessions) to all but the shortest courses offered by ALLTRACKS.