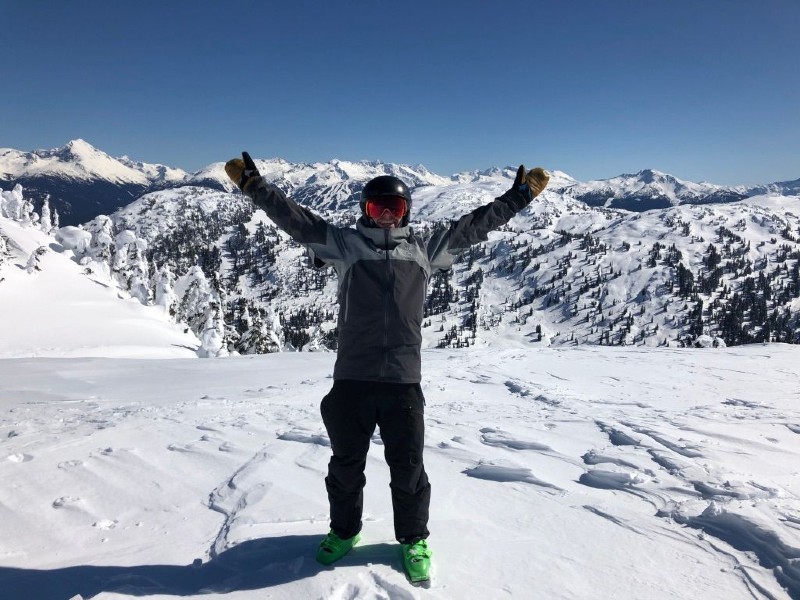 WHEN WORK MEETS PLAY: AN INTERVIEW WITH FINN TARGET
Ever dreamt of skiing in the mountains all winter long, and swimming in lakes all summer long? Well, Finn Target, a friend of ALLTRACKS and Ex Student does exactly that, but professionally… we spoke to Finn about his adventurous life in Whistler, Canada, how he has got to where he is and what it's like to be literally:
'living the dream'.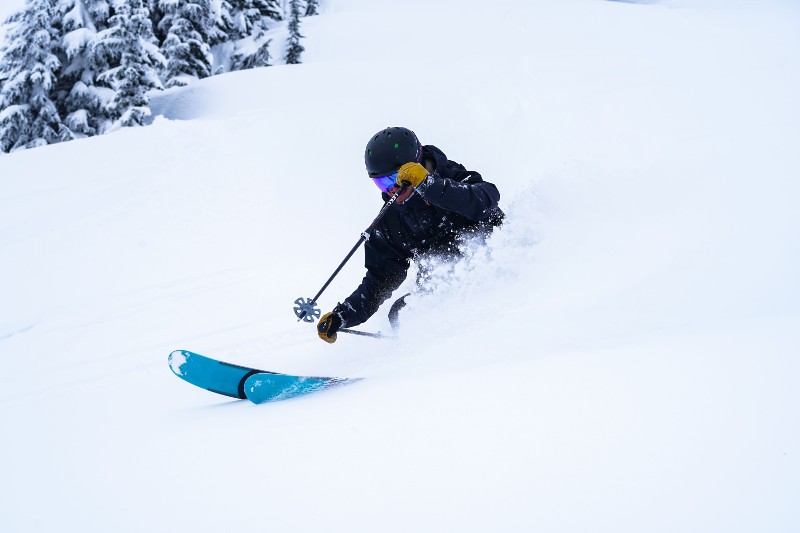 How are you doing, and how is everything in Whistler at the moment?
I'm doing really well, COVID hasn't affected us quite like it has in much of the rest of the world. We have mountain biked, hiked, camped etc all summer and we have not had any official "lockdown". It helps that British Columbia is seven times the size of England with 50 million less people… The mountain opens on Thursday 26th November, and yes it'll be very different but I'm stoked to get back on the planks! I went for a ski tour at the weekend and the snow up top is already great.
How long have you lived there now and what took you out there in the first place?
I think this will be my 8th winter here, and I've been full time in Whistler now for 6 years. I was repping on a NUSNOW Uni trip to Val Thorens in my final year at Uni and got chatting to (now my best mate and fellow Freeride Coach out here) Rory Hackett, an ex Alltracks student. I wanted to do another winter somewhere and was thinking Europe again, but Rory told me about Alltracks and about Whistler. The great ski courses, the big mountain mecca of skiing, the pow… I got home, looked into it and that was that. Met a lovely gal on my first winter here and we've made a pretty sweet life here now.
It's great you have such a strong relationship with Alltracks – how did this relationship develop, and do you still work with them?
I think it helps that Paul, the owner of Alltracks, and I are both Scottish! I kept in touch with Paul and Alltracks when I left Whistler for one winter and when I headed back out here, I helped Guy out with resort admin, more on the guest side of things. I also took over the Instagram account, tripled their followers with some fun content. Roll forward a couple years of teaching and coaching skiing, and now we're nearly full circle. Hopefully this winter I can finally crack the level 4 instructor exams. I've coached some Alltracks groups over the past three winters and they're some of the most fun groups to teach, ski and après with!
We know you are a phenomenal skier, but tell us more about working towards your Level 4 Ski Instructor's qualification. What courses have you done to get to where you are now, and how long has the process taken you?
You're too kind. One of my favourite quotes is "You are always a student, never a master, you have to keep moving forward" – Conrad Hall. So, the goal posts have definitely changed over the years but the desire to be the best at what I do hasn't. It's a long old process to be one of the top ski instructors in Canada and arguably the world. I've tried to stay well rounded on my career path though, you don't want to be a pure tech nerd with skinny skis on all day every day. My passion is big mountain Freeride skiing so I've gone down that route along with some freestyle stuff on the side, obviously doing all the CSIA training too. You wouldn't expect to start as a graduate lawyer and be at the top of your game in two years, so I always tell people that yes, you can make a career out of ski coaching, but it'll take you at least 5 years to start earning good money. In my opinion, I think most careers have a similar path in that sense.
If you actually want to know the courses, I have done:
CSIA Level 1
CADS LEVEL 1
CSIA Level 2
CSIA Snowpark Level 1
AST Level 1
CSIA Level 3
NCCP Level 1
CSIA Level 4 Course & Trainer Development Module
CSIA Level 4 Exams x 2 (so far)
IFSA L100 Coach Cert
Then I'm also one of around 20 globally fully certified PMBIA Mountain Bike Coaches, but that's summer.
Are you sponsored?
"Sponsored" to me means paid by a brand or company to ski/ride as a professional athlete, so I would say no, I am not sponsored. I do get paid to ski and I am a ski professional but I'm not a professional skier. I am however "hooked up" by Group Rossignol and ski for Dynastar Skis and Lange Boots. Some people chase these offers but I was lucky enough last winter to get approached by a few brands with offers and I'm super stoked and grateful for that. Group Rossignol make incredible Freeride, all mountain and piste skis as well as one of the best range of boots out there. I like a 'big boy' fat ski for free riding so I'm pumped for this winter on my M-Free 118 Dynastar!
What does a typical ski coaching day look like to you?
I'm lucky enough to work as a coach for the Whistler Freeride Club, arguably the most successful Freeride club in the world and definitely one of the biggest. So my weekends are with these ripper athletes, taking them on everything from on piste ski drills to sh!t your pants big mountain terrain with cliffs, mandatory straight lines and some very steep stuff. It's pretty cool, our Head Freeride Coach, Derek Foose, has been in the game for 20 years is now a presenter on the Freeride World Tour, so if you watch that this Winter you'll see Derek. Derek, Gavin Phillipson and Jen Ashton, along with the other extremely talented coaches, have I think now put three athletes onto the World Tour and several into the Junior World Tour.
I fill the rest of my work time with private clients and I have had a lifetime of luck with these guys who have taken me heli and cat skiing a handful of times so far.
And your days off?
Days off? No days off. I love a day lapping Peak chair on Whistler mountain, spending as much time in the air as possible. Or going for a ski tour if I ever have a day off.
You mentioned that during the summer months you are a mountain bike coach – it seems you have it totally nailed, skiing and biking all year long! What do you particularly enjoy about what you do?
I said to someone recently, the best thing about living in Whistler or the Sea to Sky is that hyper activity is totally acceptable. Always doing sports or as much as possible. Coaching is something I love, I studied Sport & Exercise Science so I guess I'm kind of using my degree? I like passing on my knowledge to people and watching them grow. People who come here are so eager to learn. I think the life myself and many of my friends here have created for ourselves is the classic "create a life you don't need a holiday from". I worked in London for 18 months and if you're reading this from your 9-5 bank job in London… well, there are much more fulfilling and fun career paths out there. Just saying!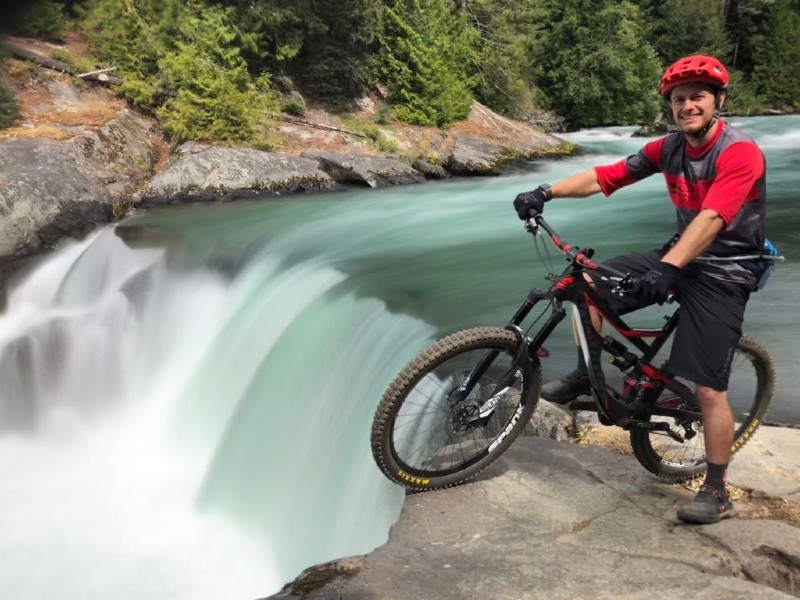 Whistler is obviously best known for being a ski resort, but what is it like there in the summer?
It is literally adult Disneyland, or, as my friend Ed said to me when he was here, "it's like the biggest 'centre parks' you've ever seen!". Summer is the busiest time of your life, not an hour is wasted. Biking, hiking, river floating, camping, disc golfing, over landing, travelling around BC, lake days, rope swings… the list is endless. By the end of summer you're definitely ready for a winter!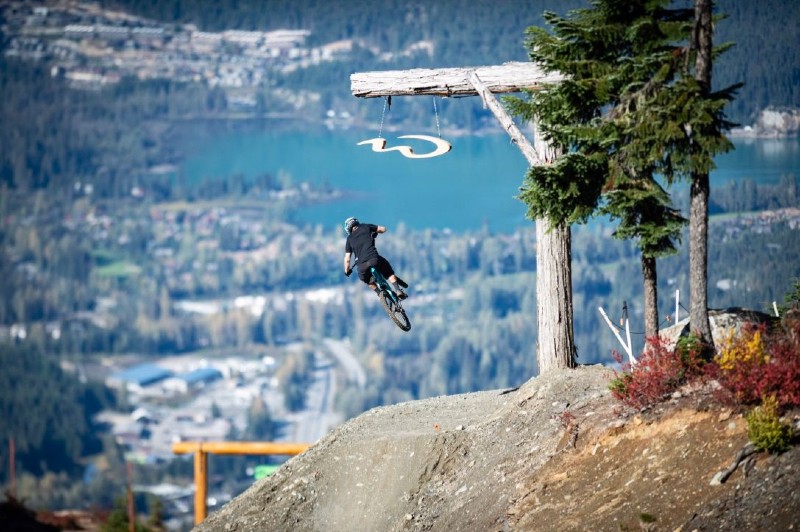 Endless fresh snowfall, maple syrup and lovely people are what comes to our mind, but what are your top 3 favourite things about living in Canada?
Great question.
Mountains are pretty rad.
Skiing on these mountains is epic.
Mountain biking is too much fun.
Is there anything you miss from the UK?
I do miss a good Sunday roast. Rugby. A great curry. A greasy kebab! Cheeky Nando's. Tesco. Waitrose! All my mates back there and family. But I wouldn't change any of it…Unless you could get Scotland tacked onto the side of Canada.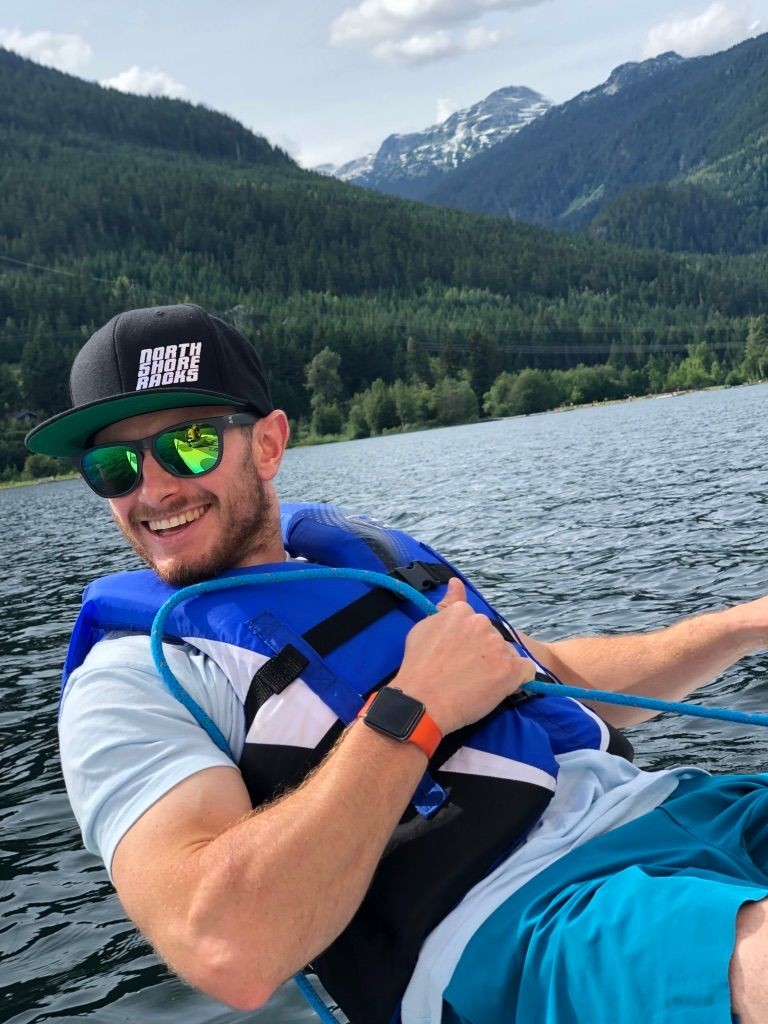 Do you have any specific advice for someone who might be reading this thinking they'd like to move to Canada, and follow a similar path to you?
I think Shane McConkey said it best: "You have one life, live it!". But seriously, you can do this. Not in one winter on your gap year, but if you put the time and energy into it, you can have a career in the mountains. Just like you can have a career in the big city. And if not, then Vancouver is just down the road and is way more chilled than London, but with many of the same opportunities.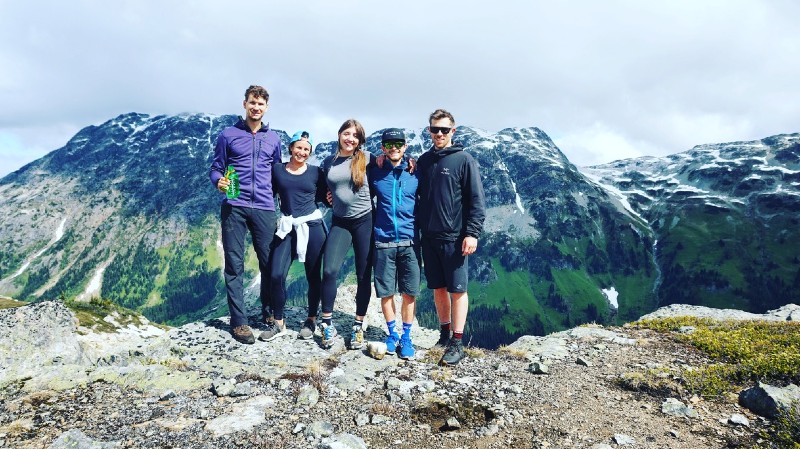 Photos from Finn Target