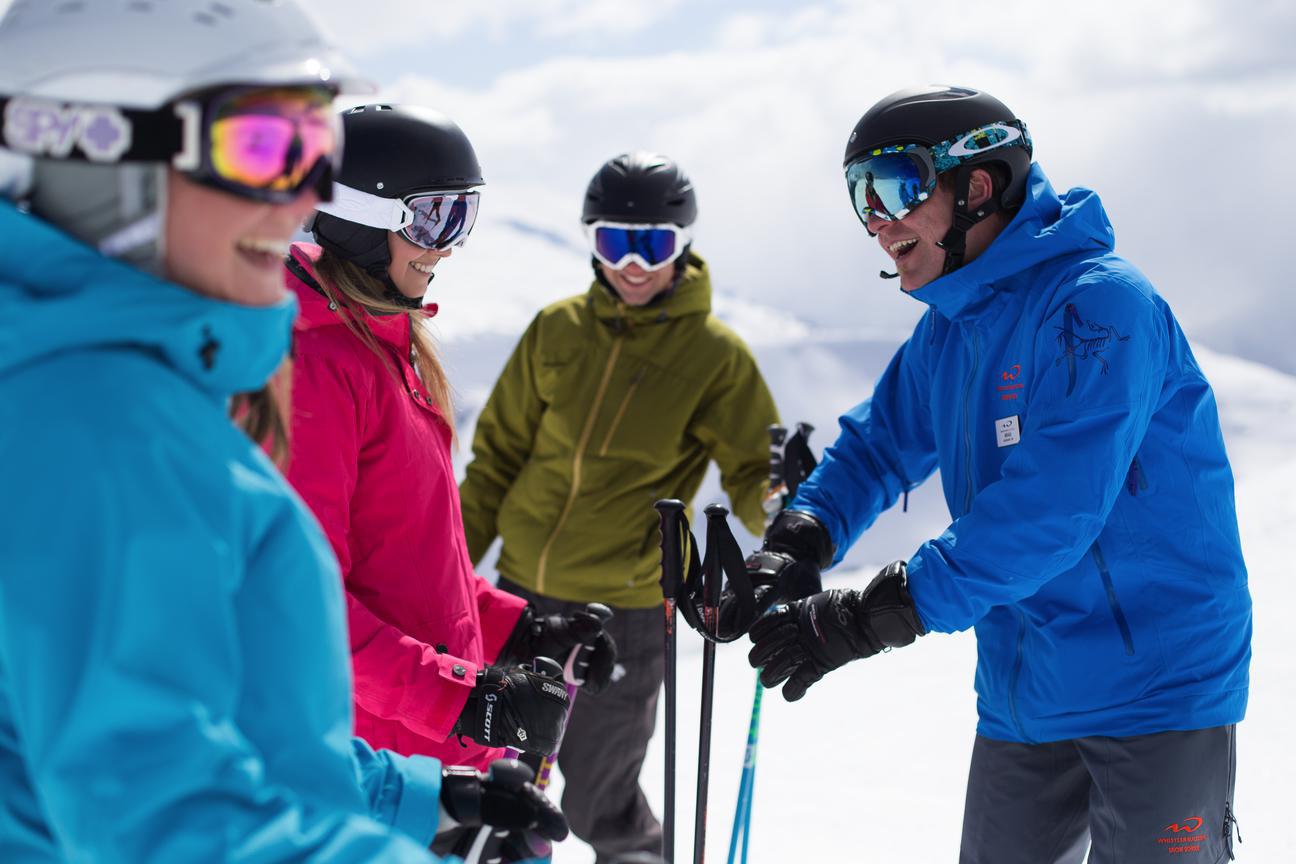 Qualification as a ski instructor opens up an enormous number of employment opportunities, enabling people to enjoy an incredible diversity of occupations and benefit from an international job market. There are few vocations that offer such a potential for flexible, exciting and rewarding work, which perhaps explains why gap year ski season courses are so popular.
If you're considering completing a ski instructor course in Canada or a snowboard course, take a look at some of the options available once you've successfully completed your training and become certified.
Varying Client Groups
Ask the general public what ski instructors do and most will mention ski school instruction, individual coaching or leading groups of more experienced skiers on off-piste skiing expeditions.
In reality there are dozens of different groups of people that benefit from niche forms of instruction, or instruction that concentrates on a particular aspect of skiing that isn't necessarily all about technical excellence.
You Could Teach Paralympic Disciplines With Adaptive Skiing
The success of events such as the Winter Paralympic Games shows that people with disabilities are capable of breath-taking prowess in a wide range of winter sports. Even if they don't make it to this world-class standard, there are still large numbers of differently abled skiers and snowboarders who want to learn how to ski or improve their performance.
Specialist ski instructors provide everything from beginner tuition through to personal coaching, offering instruction not only on general skiing techniques but also on how to make the best use of adaptive equipment. They may work in resorts – for example Whistler is home to Whistler Adaptive Sports Program (WASP) – in ski centres or as personal coaches.
Many instructors find they obtain particular satisfaction from this type of work, as there is the double challenge of enabling their clients to improve and finding innovative methods of overcoming any impairment in performance which a disability may bring.
You Could Work in Corporate Events
Skiing or snowboarding doesn't have to be just about physical prowess and skill. It can also be about working together, effective communication, listening, sharing, delegating and much more; in short, winter sports are an opportunity to hone those workplace competencies whilst enjoying the slopes. Winter corporate skiing events and team building exercises are extremely popular and there is always a need for ski instructors to take on this sort of work.
As well as needing all the skills necessary for successful coaching, instructors in this field need a particular aptitude for group observation and the ability to draw out team building opportunities within a ski session. Some instructors may go on to take specific coaching or leadership qualifications, although this isn't essential for the role.
You Can Travel All Over the World
When you obtain a qualification in anything from a reputable governing body, it's often possible to use it in many other countries. Those people holding the CSIA or CASI Level Two qualification, for example, can work not only in Canada, but also in the UK, Japan, Italy, Australia, New Zealand and Switzerland.
This opens up a wealth of possibilities for an international lifestyle. Whilst forward planning is required (obtaining the necessary work permits for some countries can be time consuming), it's possible to enjoy living and working in several different countries with the right qualification under your belt.
A Ski Instructor Has Transferable Skills
Much of what a skiing instructor learns isn't related specifically to technique. Learning to teach arms an instructor with universal principles needed to assist others in the development and improvement of a specific skill set.
A good knowledge of teaching methods, group control, effective communication, lesson planning and understanding of basic techniques are just some of the abilities instructors learn as part of their qualification process. Because a significant number of ski-related jobs are seasonal, many instructors successfully transfer their skills to alternative employment settings.
Take a look at what you could be doing when the snow's vanished for a few months…
Become an Outdoor Activities Instructor
If you're a good all-rounder who has a passion for mountain biking, rock climbing or water sports, then switching roles in the warmer months to instruct in another sport is a popular career choice for many ski instructors.
One of the major advantages of being located in a mountainous area is that when the snow melts, there are often amazing opportunities for people to participate in a wide range of pastimes that are best undertaken in hilly terrain. So it's really no surprise that Whistler Blackcomb also doubles as one of the world's top mountain biking destinations and hosts the Crankworx mountain biking festival each year.
Aside from needing to convey a different set of technical skills, the requirements for a mountain bike instructor or a climbing coach are very similar to those needed by a snowsports instructor. Being able to remain in one location is particularly appealing for instructors with families or other local commitments.
Explore Your Options as a Mountain Leader
Hiking is a perennially-appealing activity that attracts people of all ages and abilities. During the summer, many ski resorts across the globe become popular destinations for walkers keen to enjoy the spectacular scenery and unspoiled trails that areas such as Whistler (Canada), Zermatt (Switzerland) and Chamoix (France) enjoy.
This means there are always opportunities available for qualified mountain leaders to safely lead groups or individuals on treks that vary from an undemanding stroll through to tough climbing routes on some of the world's most treacherous peaks. Many ski instructors find that their CSIA or CASI qualifications provide a useful foundation on which to build a career in this area.
Teach English Anywhere in the World
It may sound like a stretch to transfer your teaching abilities from the snow to linguistics, but strong communication skills are the bedrock of any successful TEFL (Teach English as a Foreign Language) teacher.
Foreign language schools are frequently found in ski resorts, giving instructors a valuable opportunity to keep their coaching skills up to scratch whilst still earning a good income during the snow free months of the year.
Check out this introductory guide on teaching English abroad from theleap.co.uk to plan your route into this area.
Being a Ski Instructor Is Flexible, Adaptable and Varied
Unlike many other occupations, ski instructor jobs are available in many different countries and in a variety of forms. This enables qualified instructors to dovetail their ski instructing role with widely varying sets of personal circumstances.
Whether you want to use instructing as a way of financing further travel and personal adventure, or need a job that will provide a stable career with an amazing mountain lifestyle, ski instructors have an enormous level of flexibility in their working environment.
You're not limited to skiing either, as I'm sure you've seen by now if you've read this far. With so many different ways in which a ski qualification can act as a springboard for intriguing career ideas and innovative employment options, it's little wonder that undertaking a high-calibre, certificated course is such a popular option.
If you're a keen skier or snowboarder and fancy doing something new, exciting and full of fresh challenges, why not undertake a CSIA or CASI course and get ready to make your job the next big adventure?
Photo: Trysil by Skistar Trysil licensed under Creative commons 4