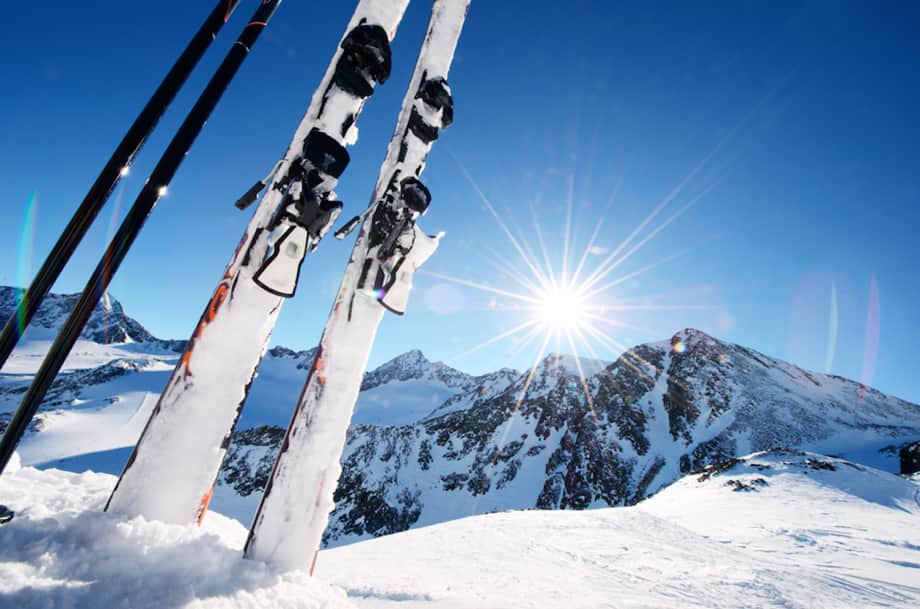 A ski is a ski, right? Not quite.
Making distinctions between different types and different qualities of skis is vital if you're looking to make the best of a snow season. Material, weight, shape and flexibility all play a role in determining the best skis 2019 can offer. While the top skis for one person might not tick all the boxes for someone else, we're pretty sure that those listed below are bound to destine the skier who chooses them for greatness on the slopes.
Head Kore 93 (Men's All Mountain)
Our first pick is a pair of Head Kore skis like no other: the Head Kore 93. Marketed by Head as a ski for all terrain, we were sceptical. Can we really achieve the best of all worlds on one pair of skis?
The Kore series is all about being lightweight – certainly a fashionable trend at the moment, but Head Kore 93 stands out as a high-tech blessing for the freeride market. At 93 millimetres underfoot, it's the narrowest in the range, and the karuba wood at its core makes it a bouncy and fun ride. Graphene also lends its famously excellent strength-to-weight ratio to these top skis, making the swing rate (the weight distribution of the skis) super light and easy to work with.
It ranks highly for stability, despite being incredibly lightweight, and has a tight sidecut radius to make it agile for tighter terrain. It's got high scores in floatation, quickness, playfulness, forgiveness, versatility and overall impression going for it. It's certainly one of the best skis 2019 has to offer. Scepticism gone, we'd say.
Downhill, touring or making it up as you go along, these Head Kore skis are a cut above the rest. If you're an advanced skier who's unwilling to compromise your thirst for all types of terrain, or if you're yet to find your niche, you can't go far wrong with these.
Nordica Enforcer 110 (Powder Skis)
A ski born of two great models gone before, the Enforcer 110 builds on the success of the Nordica Patron and the hugely popular Enforcer 100 to create one of the best skis 2019 can boast. A lighter, more flexible ski, it's just made for those powdery days.
With two sheets of metal and a Balsa wood core, there's flex here, along with comfort and the golden ability to yield easily to the commands of the skier, carving well on edge and even holding up on dreaded crud snow. The owner of a set of Nordica Enforcer 110s isn't necessarily in for a bumpy ride…
If you're up for a smooth ride on soft snow, and down for spending a little more time off the trail, you'll get great use out of these. This is a more playful ski than the 100, and immensely manoeuvrable allowing for great speed control when you realise you've got totally carried away speeding away on these bad boys. In tests, they score highly on stability at speed, crud performance, versatility and the big one, overall impression.
You don't need to be a pro to own them – in fact, you don't even need to be surrounded by powder, as they're great for backcountry and freestyle skiing too. Watch out, though, they're one of the top skis this year, they'll be sold out before you can say 'pow'!
Rossignol Hero
Yes, it's a whole collection.
The Hero Elite Multi Turn is great for light skiers – you get the power you want, without having to lug super heavy skis around. Unlike the Nordica Enforcer 110, these are best for those who like sticking to the piste, though off-piste is never off limits with this versatile Hero ski. As such, they're great even for beginners – although there's a wealth of untapped potential to get out of these skis once you improve, even up to professional level.
Their ability to keep giving in turns is a delight, if we do say so. A 'multi-turn' ski, they're arguably the top skis in this category, optimised for quick slalom turns as well as wider carve turns too.
The Hero Elite Plus TI is one for the racers. More advanced skiers will get control and grip out of these Hero skis, and great ability for dampening, as well as impressive stability.
The Hero skis collection as a whole has won praise for adapting performance skis for the mass market. They score well on overall performance, comfort, balance, versatility and fun, as well as being 'remarkably' user-friendly. We're not sure about the tone of surprise, but we know we'll be talking about this collection for a long time to come.
Blizzard Sheeva 11 (Women's Powder)
The Sheeva 11 for the 2019 season is a 112mm, responsive ski with the strength to match its fierce female riders. There's stability to boot for this wide, powder-orientated ski, and the tails and tips are pretty forgiving. The word on the slopes is that it's one of the top skis for bumps and even on crud.
Powder is truly where it shines, though, offering flotation because of its lightweight structure which is well designed for lighter female skiers. It's constructed from multi-layer wood structuring, and carbon fibreglass for strength, meaning it's light but super strong.
The turns are dreamy in deep powder, with a sharp tip shape and a 17.5m radius to work with if you get the 172 cm length. Alternatively, you can just rocket down the mountain if it suits you – it sure suits the Sheeva.
In fact, when it comes to the women's category, these have been touted as the best skis for 2019, performing particularly well on forgiveness, crud performance, versatility and overall impression. If you're a confident rider, these should be your go-to powder skis.
Not all skis are made equal
Investing in a good pair of skis is a solid decision. Not only will they last you for many seasons to come, but their specific designs will elevate your ride and boost your performance in new, unexpected ways. Crud may seem more workable, and turns may seem more accessible. Now you've learned to ski, step up your game by choosing the best equipment out there – you won't regret it.