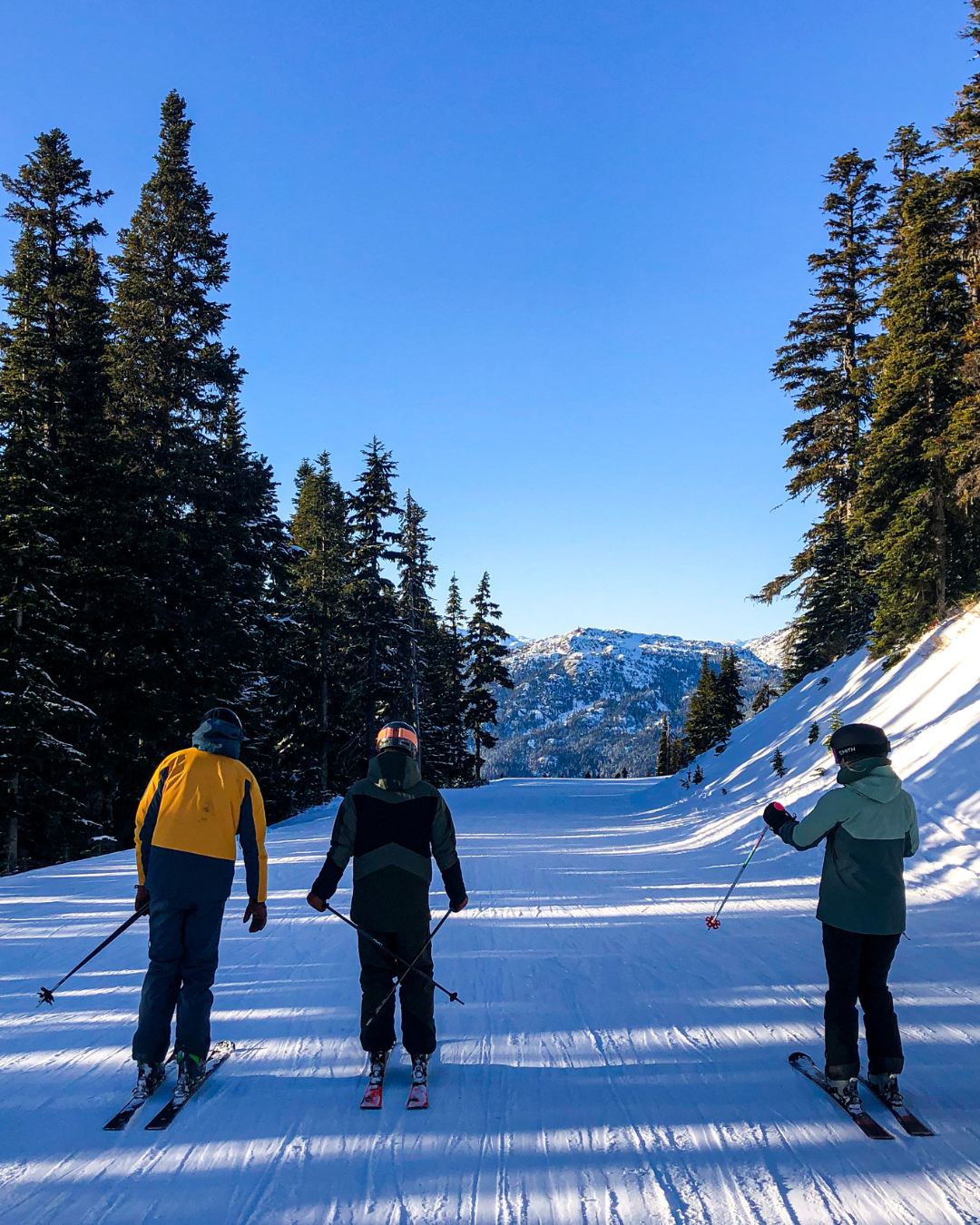 Hi, I am Ellie and after completing the ALLTRACKS 8 week combined ski instructor & off piste course during the 2021/22 season, I have spent this winter working for the Whistler Blackcomb Ski School. As a ski instructor, every day is an adventure. The exhilaration of skiing all day every day, combined with the satisfaction of sharing that passion with others is a feeling like no other. Not every day is easy, especially when you're at the mercy of Mother Nature, but when you spend your days surrounded by incredible scenery, it's worth it. It's even better when you experience mountain life in the largest ski resort in North America, Whistler. If you've always wondered what to expect from working the winter as a ski instructor, here's everything you need to know.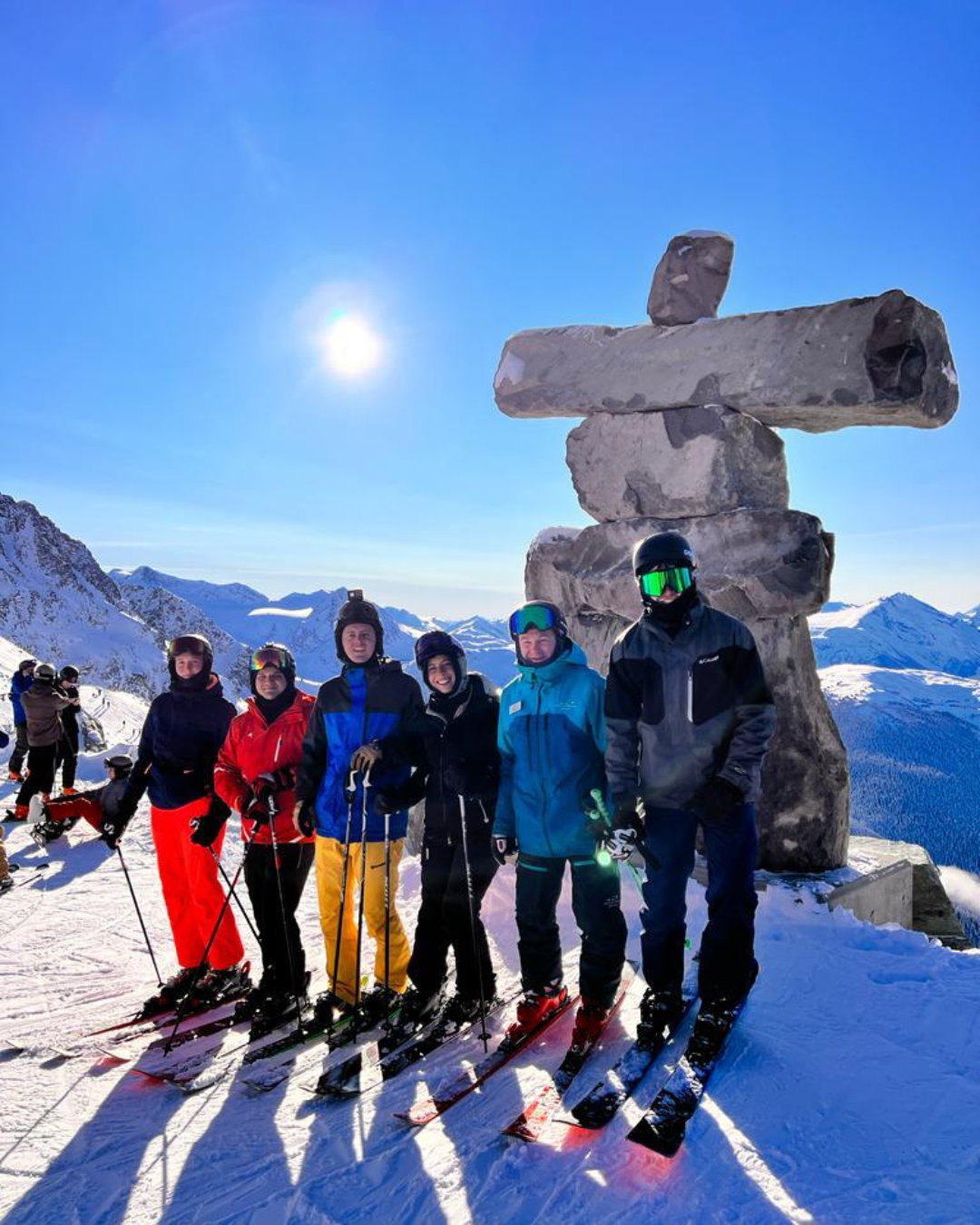 Ronan with his Alltracks group at the top of 7th Heaven, Blackcomb Mountain.
6:45 am: Wake up & first tracks
Waking up early is a small sacrifice when the reward is experiencing the first tracks on a freshly groomed run or untouched powder. I start the morning by checking the snow report and weather conditions, using them to work out how many layers I need for the day ahead. After fuelling up with a quick breakfast and coffee, I dress for the day and squeeze into my ski boots as I grab my skis and head out the door. I'm lucky to live a short distance from the base of Whistler, my commute a quick ski down into town. I clip on my cat tracks (to protect the soles of my boots), and head over to meet my fellow instructors who are keen to get those fresh tracks before the work day begins. We head up in the gondola, split into groups, and relish the fresh snow!
8:00 am: Morning meeting
The morning meeting begins at 8 am. It's a chance to catch up with colleagues, share experiences and stories from the previous day, and learn about any updates or changes to ensure we have a safe and fun day. At Whistler Blackcomb, instructors are assigned a level from 1 to 6 to teach for the day. Level 1 for newbie skiers just learning to stop, to level 6, those capable of skiing Double Blacks and keen for some terrain exploration. The higher your CSIA (or equivalent) qualifications, the higher level of student you are allowed to teach.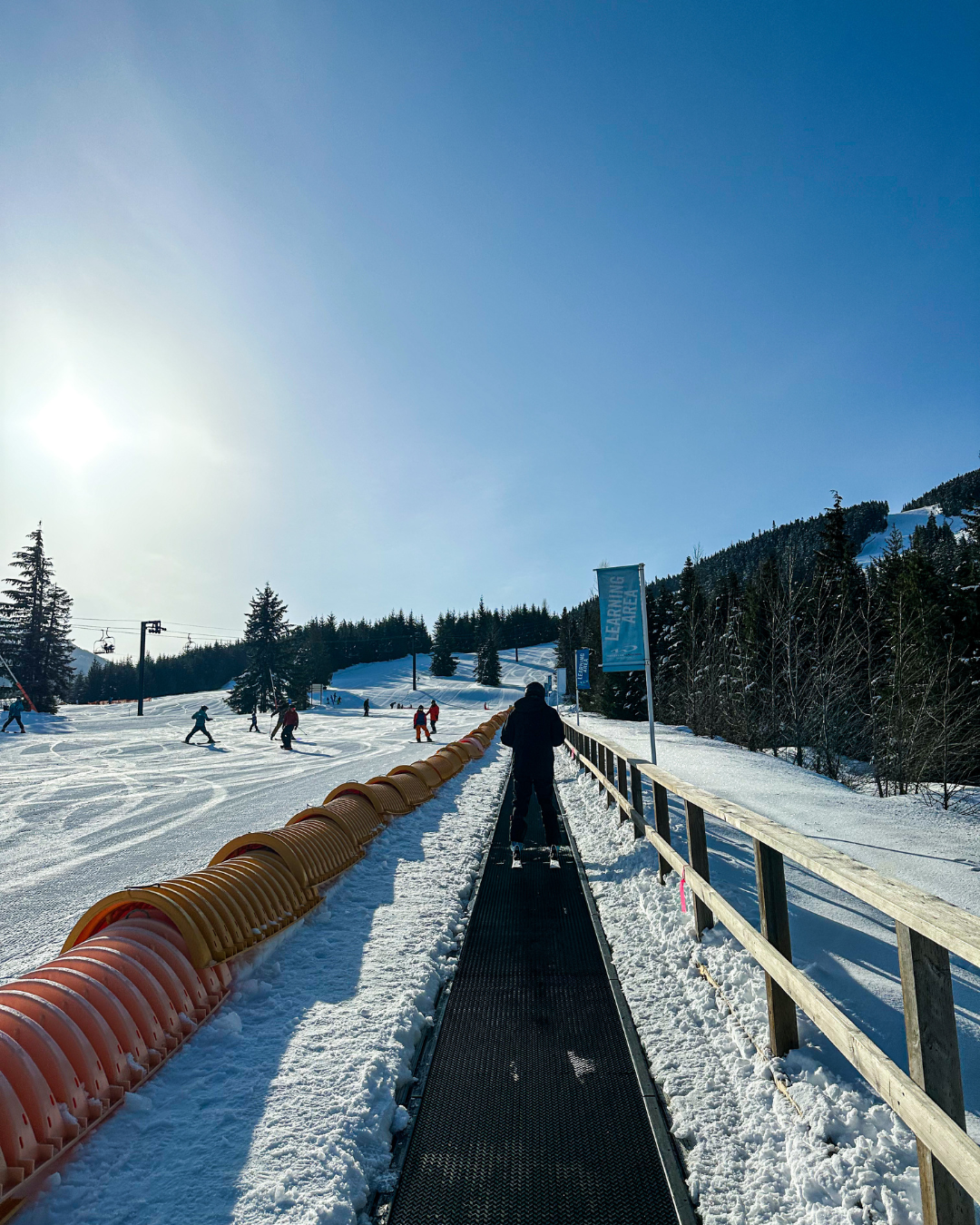 Riding the magic carpet in the beginner's area. Photo by Ellie Williams
8:30 am – 9 am: Guest sign in & ride the gondola
Excited skiers and snowboarders begin to line up for the check-in process. A maximum of 6 students per class and once 9 am hits, it's time. As you ascend in the gondola, it's a great opportunity to get to know your students. Every group is different, and each student brings their unique personality, skill level, and enthusiasm to the lesson. As a ski instructor, it's my responsibility to assess their abilities and tailor the lesson to their needs. Questions like "Where have you skied before?", "What would you like to improve on today?" and "What other sports do you play?" are great indicators of what ability your clients have and how the day will be shaped. 
9:20 am: Warm-up run
As we reach the top of Whistler Mountain, we're hopefully greeted by blue skies and clear visibility. First, I encourage the group to start with some dynamic stretching as it's vital to warm up your body to ensure you don't injure yourself. Before we set off, I lay some ground rules, ensuring everyone's safety is at the forefront of my mind. You may think you're the safest person on the mountain, but it's all too easy for something to happen when you're taking part in this dangerous sport. I guide the group down the easiest route for their ability, taking note of any technical improvements to be made as I continue forming the lesson. 
For beginners, I enjoy starting with the basics, teaching them how to balance, turn, and stop. This is done in the learning area of the mountain. We progress from gliding on the flat to ascending on the magic carpet (a travelator to ride on skis) as we work towards the beginner's chair lift. As instructors, we're encouraged to progress the students with a "minimum terrain, maximum speed" concept. This allows us to challenge the clients without increasing the difficulty of steeper or harder terrain before they're ready. For more advanced skiers, I work with them to refine their technique and introduce them to new challenges as we explore the mountain. It's a great feeling when your knowledgeable tips have contributed to improving someone's techniques or love of the sport.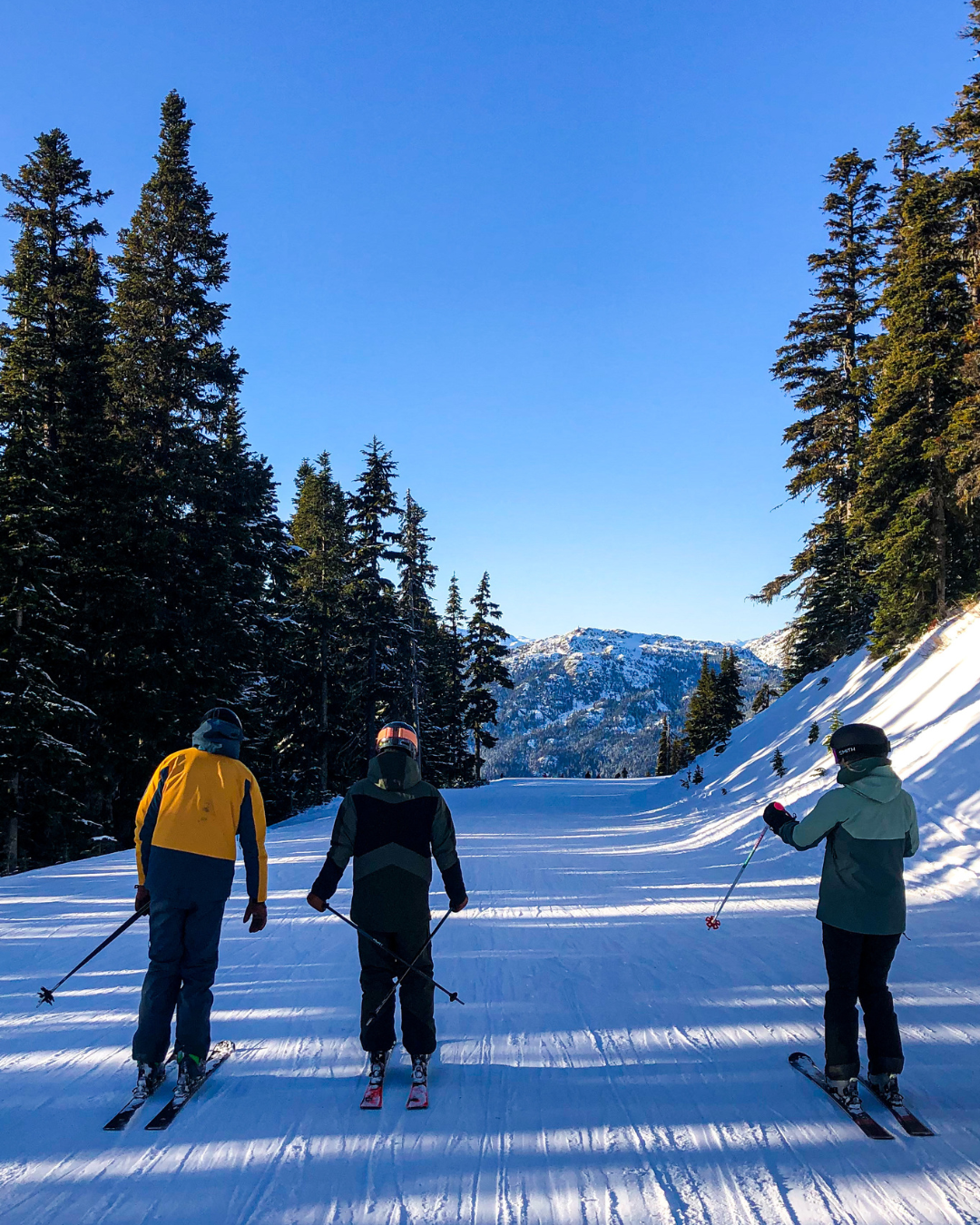 Cruising along to Orange Peel on Whistler. Photo by Ellie Williams
11:15 am – 12:30 pm: Lunchtime
Lunchtime is a chance to recharge and reflect on the morning's lessons. The 45-minute window is also an opportunity to catch up with fellow instructors, exchange ideas, and share stories. I love hearing about their experiences and learning from their approaches to teaching. When teaching children, lunchtimes are staggered with pre-ordered daily specials and sandwiches plus fruit, biscuits and hot chocolates to keep them fuelled all day.
1:15 pm: Afternoon session
In the afternoon, it's time to hit the slopes again. It's rewarding to see the progress the students have made throughout the day, especially when you know you've played a part in building their confidence and skills on the mountain. It's also a chance to teach them about mountain safety, including how to avoid hazards and navigate difficult terrain.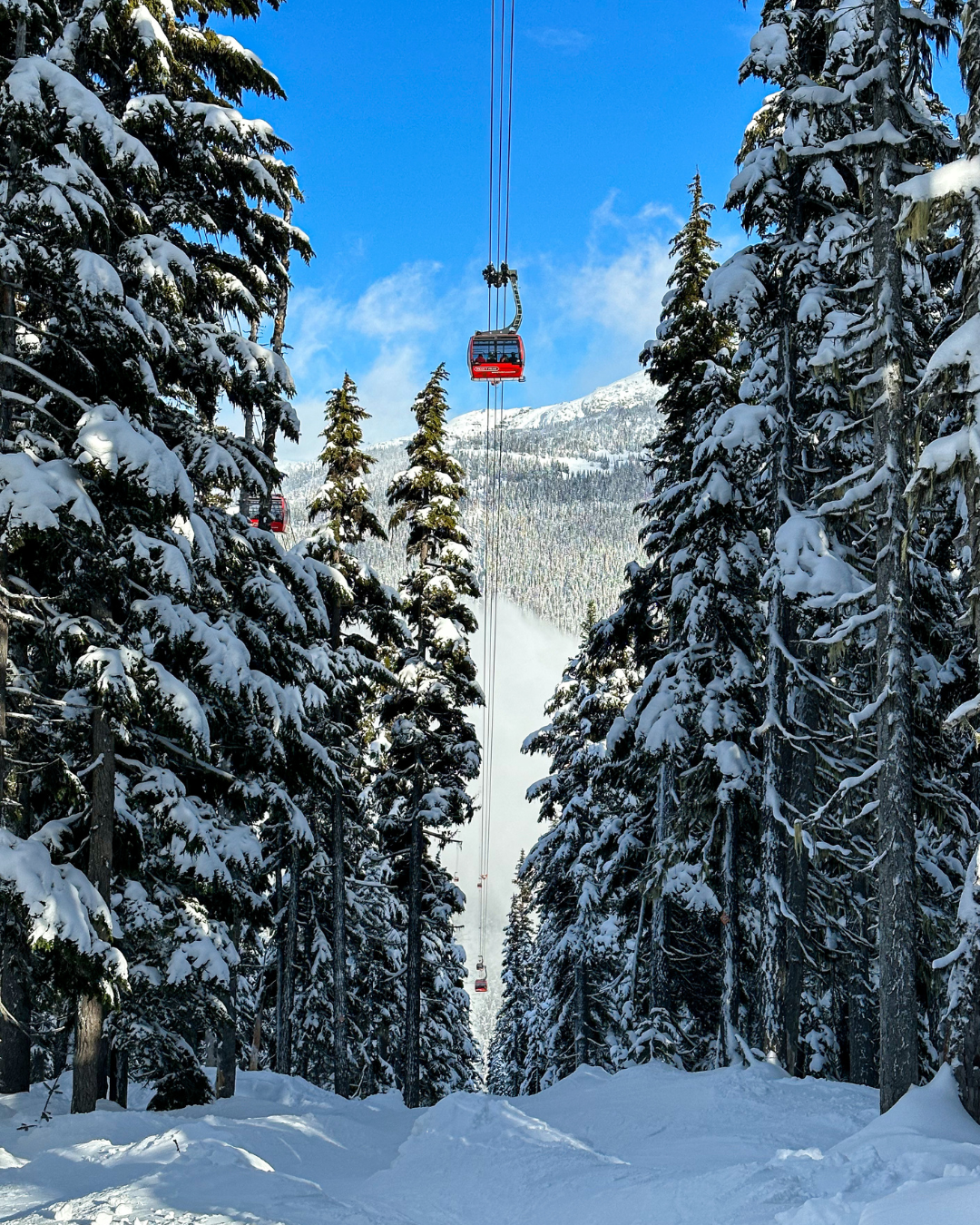 Navigating the trees underneath the Peak2Peak. Photo by Ellie Williams
2:45 pm: Descending down the mountain 
Next, it's time to make your way back to base. How much time is needed to descend depends on the group's ability. With lower groups, the wisest and safest choice is to download from mid-station. Although some guests may feel they've been cheated of that final stretch on the snow, it's important to remind them the last run of the day is often when things go wrong. The slope is at its busiest with everyone making their way off the mountain, combined with tired legs, changing snow conditions and a potential dip in situational awareness makes for a dangerous last run. 
3:15 pm: Sign out & head home
As the day comes to a close, I feel a sense of accomplishment and satisfaction knowing everyone made it off the mountain safely and had a fun and challenging day. I sign my group out, ensuring children and teens are safely reunited with their families, give the parents a de-brief of the day and check in with my supervisor to discuss anything to assist with the continuous improvement of the ski school experience. Then the evening is mine.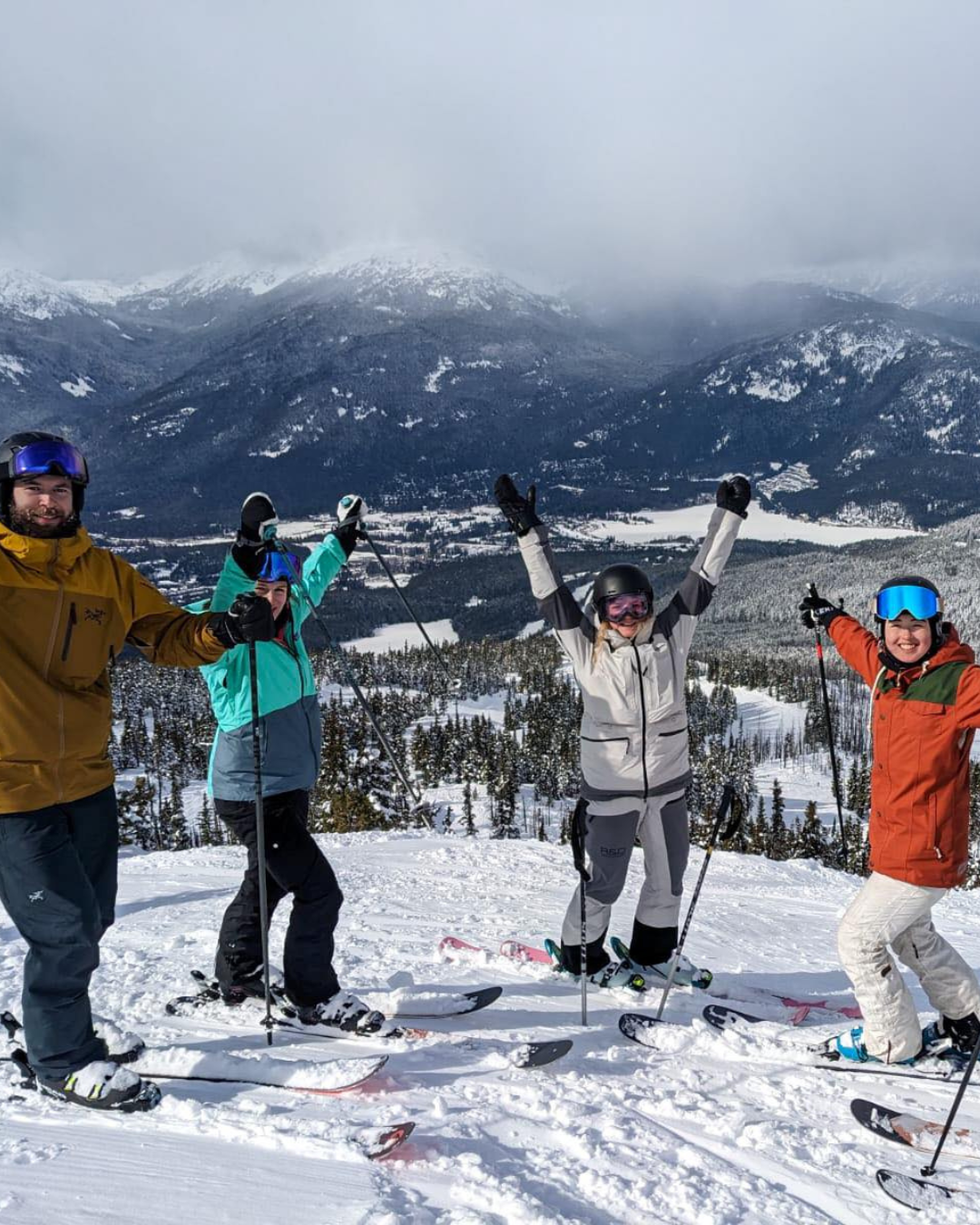 Happy faces from the Alltracks crew. Photo by: Tyler Blamey
Being a ski instructor is not just a job, it's a passion. Sharing my love of skiing with others, seeing the joy on their faces as they conquer new challenges, and being a part of their journey towards becoming better skiers is a privilege I'm grateful for daily. So, do you want to make this your everyday? Book your course today!