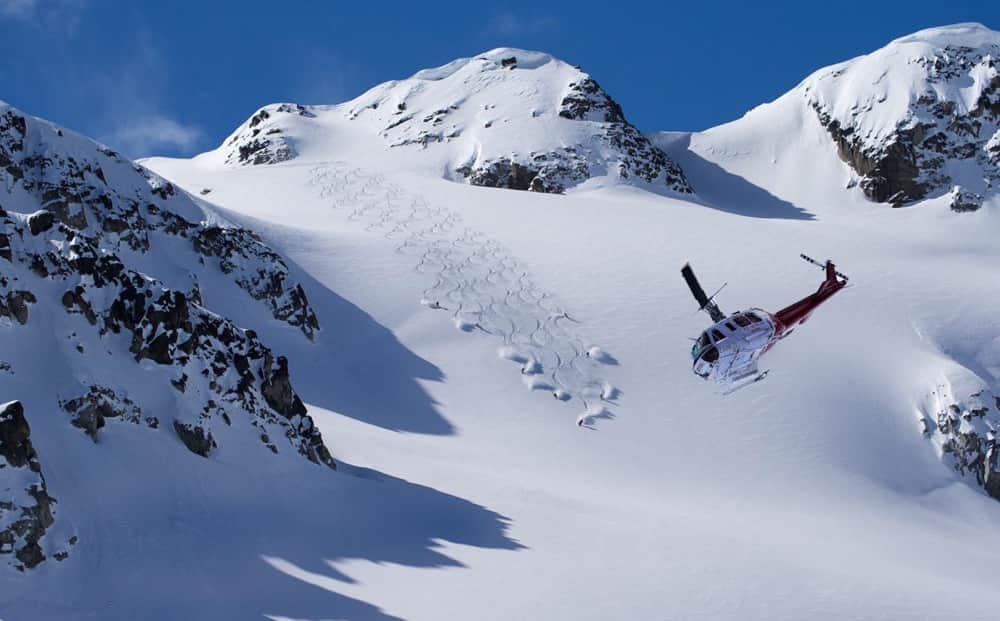 Heli Skiing in Canada
Every skier knows that Heli skiing in Whistler is the absolute pinnacle so stand by for the best day of your life! 
Whistler Heli Ski operates within an exclusive 432,000 acre tenure, an area fifty times the size of Whistler Blackcomb resort. The tenure includes one hundred and seventy three glaciers, countless powder bowls and some of the world's best powder skiing. To give you a better idea of the scale of this vast wilderness, it's 54 miles long and 33 miles wide! In addition to never ending terrain, the snow record of the area is up there with the highest in the world. The North Pacific storms regularly dump copious amounts of powder each winter and you'll enjoy skiing some of the deepest snow around. If you're visiting Whistler this season, make it a trip of a lifetime with a day of heli skiing or snowboarding.
Not only is the terrain and snow record fantastic, the guides leading you are some of the most qualified in Canada with years of experience guiding in the backcountry. You can be sure that you're in the hands of absolute experts who will help you to enjoy the day to the full. The guides will lead your safely whilst showing you some of the best ski terrain on the planet.
Off Piste Courses
For the 2016/17 winter season, we are delighted to be including a day of heli skiing in Whistler on our 6 week off piste ski course and our 11 week combined ski instructor and off piste course. It is of course also included on the respective off piste snowboard courses too. We schedule the Heli skiing into the latter part of the course. By then people will to skiing to a high standard and really able to take best advantage of the available terrain. Equally important is the fact that by the second part of the course our guests will all know each other well and it's even better to share a day of hell skiing with friends!
Bespoke Ski Courses
At ALLTRACKS, we can also include multiple days of heli skiing into a custom course if you're looking for a bespoke experience for yourself or friends and family.
If you're interested in finding our more about Heli Skiing Whistler or any of our other courses, please do give us a call on +44 (0)1794 301 777 or email us at [email protected] We love to talk heli!